By Kemi Kasumu
Education, many believe, is the best legacy.  If one chooses to spend his wealth on building houses and amassing properties living out the need to educate and properly train his child, the Yoruba parlance continues, that the child that he refuses to educate and properly train today will be the one that will sell off, in the future, all the houses and properties that he busied himself amassing with the wealth he fails today to educate his child with.  This perhaps is reason many societies place premium on education of the child.  Not only that but also, education is said to be power and the only achievement that is moveable without burden.  If there is anything that places man in the physical world above another man in term of status, it is education that he has which the other does not have.  Education is also said to be light that illuminates the way of whoever has it in order that he does not go astray.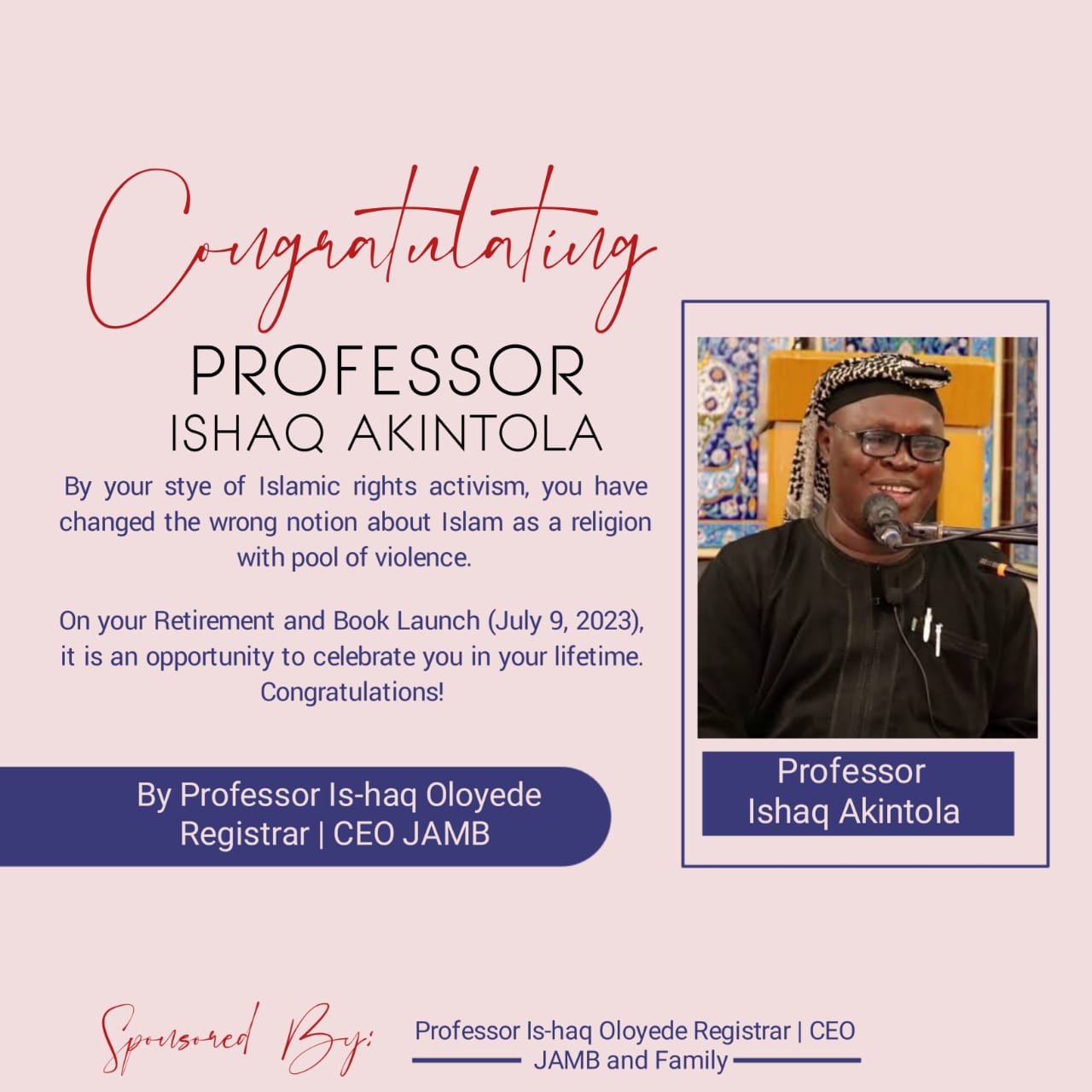 For this reason, the Federal Government of Nigeria and all the federating units in the country agree that since the best legacy that can be bequeathed to a child to succeed in life is education that it is imperative it is taken care of.  It was the reason at the onset of the Nigerian independence, each of the three leading founding fathers of the country, Sardauna Ahmadu Bello (Premier Northern Region), Chief Obafemi Awolowo (Premier Western Region) and Owelle Nnamdi Azikiwe (Premier Eastern Region) took it upon himself to educate his people from primary to university level.  It is obvious that the extent to which each of those founding fathers dedicated attention to education of every child at that time has way it appears that one region is more civilised today than the other, although in western education.  In the North, for instance, the education line they chose which is Arabic and Islamic based education has made them more knowledgeable in Islamic knowledge than their Western and Eastern Nigerian counterparts most of who best in English based knowledge.  Whichever, Tai Solarin said, "If you want to change the ideology of a people, you build school for them."  This philosophy by Solarin underscores the importance of education in any society so much that society where education is lacking, in most cases, chaos is not farfetched as the child lacking in education can do anything because he knows not.
Western Region that is Yoruba Land, got the lion share of education excellence rating because Chief Obafemi Awolowo's premium on knowledge building was so high that he made education free from primary to secondary school.  That was a time when primary school leaving certificate was value-packed enough to make one a man in life.  It was also at a time (like it is till today) when minimum requirement for any Nigerian citizen to ascend to any position in the country was school certificate.  Awolowo ensured that best among the secondary school leavers were sent for further studies in the universities abroad on scholarship.
Attaining this standard in a depressed economy has been so difficult which is the reason state governors like Rochas Okorocha of Imo, Nasir el-Rufai of Kaduna State and 'Rauf Aregbesola of the State of Osun decided to live on either salaries cut or total salaries deprivation.  Particularly, Governor Rauf Aregbesola of the State of Osun, it has been gathered, has failed to draw salaries since he came to office in August 2010 per adventure doing so, he probably thought, would enable him adequately fund his projects and programmes especially the education of his people at least for the pupils of public schools.  It was unbelievable until the governor said it openly at a public outing in Osogbo and nobody has faulted that statement. He said, "I used to say it, you people do not believe it. The state provides accommodation for me; the state fuels my vehicle, takes care of the security for me but I have not taken salary from the day I became the governor and I don't intend to take it.  Nobody has ever asked us how we are managing to pay salaries since we started getting less than N200million as allocation since September 2015. N1.7 billion is spent on workers' salaries every month. By God's grace, I am going to pay my workers' salaries before Sallah."  Aregbesola also promised in that speech that his administration would complete all the projects it had embarked upon before the end of his tenure in 2018, despite the financial challenges confronting the state.
Aregbesola is one of the successors to Awolowo, who was a founding father of Nigeria and Premier of Western Region of which Osun is strategically one.  He therefore needs to work hard not to let the legacy drop down on his own side.  Awolowo did all that he achieved in the West particularly in the area of education excellence just like his counterparts were also doing their own in their respective regions without oil and, in all, they did their best educating their people alongside building their regional infrastructures with either cocoa (West) and cotton, hide and skin, groundnut (North).  The three regions also ran their affairs at affordable costs  without stress.  But today, each of the three regions has further devolved into states so much that in Western Region alone, there are today six states, in Northern Region 19 states and in Eastern Region there are now the Igbo and Niger Delta zones making up 11 states.  Then came the oil and the moment the oil was discovered and because of the reality of the free money that it brings, successive governments in the country began to go lazy and that was clear with nonchalance they began to show in matter of agricultural development.  Cocoa began to die off unfunded.  Percent of annual budget voted to agriculture dwindle by deliberate policy.  Banks therefore show no concern in giving loan to farmers as their interest rate jacked up to the helplessness of the poor farmers.  Groundnut pyramids and cotton bundling in the North and other cash crops that Nigeria lived on died because of oil that was giving free money.  So, these accumulated economic sustainability over the years was to hit hard one day on respective administration of both the centre and the states which have no other means of earning a wealth except from oil.
That was there in addition to the splits of the regions into states which then made financing of government business now far more expensive as, for instance, six states' administration content is not six times the administrative content with which the entire Western Region was run successfully in those days.  If for instance Western Region was run with one governor (premier), 24 commissioners and one thousand civil servants, it is now six times of that and it is the reason the government system in Nigeria is so expensive.  It means that the number of people that are doing the same work that one governor (premier), 24 commissioners and one thousand civil servants were doing before has tremendously increased such that the more the number of work force the less the output in terms of production.  That is the reason the current administration President Muhammadu Buhari seems to be favourable to collapsing the states into regions (whether he has the ample of time to do it is matter of another time) to reduce cost of governance and boost capacity building and economic production of the country from the regions that will re-emerge.
This is imperative as failure to discover the associated problem was reason many government responsibilities have become difficult to be attended to especially in the area of education.  Naturally, if the government policy says minimum requirement for ascending to any public position in Nigeria is school certificate, the government must make education free up to that school certificate level.  But everybody is just pretending like they do not know what is right in this regard because they know that if they prove it, it will burst out at the need for money to fund it.  Therefore, governments at all levels have played lip service to the right to quality education of every child at their respective levels.  The responsibility of giving education to the child therefore is thrown down upon individual private bodies whose business marginalises the poor from accessing quality education due to the exorbitant, unaffordable tuition fees being charged.
Where this is reality in all states across the country, some of the states are still seen striving hard to live up to the standard required.  Governor Rotimi Amaechi, during his last administration of Rivers State, ensured that not only education was affordable to children of the poor but also that the environment of learning must be descent.  Same thing is Imo State under Governor Rochas Okorocha to the extent that it was reported during one of the then President Goodluck Jonathan's visit on PDP assignment to the state, he was said to have appreciated a "university" structure that he saw and that it was Ikedi Ohakim, former governor of Imo State who told him, "Your Excellency, it is not a university.  It is one of the primary schools built by then Rochas Okorocha-led APGA government of Imo State."  The same thing in Kano State where the governor (then Rabiu Musa Kwankwaso) tried tooth and nail to ensure that the quality education legacies left behind by the Nigeria founding fathers were not allowed to wash away.
But how far have they been able to do that in a situation where oil that is the only cash-cow of the economy upon which the fate of all government projects depend is in comatose?
Corruption is another problem.  Recently, report has it that where the Nigerian state earned N96.212 trillion from oil sales since 1958, the report revealed that the five-year Presidency of Goodluck Ebele Jonathan alone earned a total of N51 trillion.  Although the report addresses all the 12 administrations since 1958 till date but as a case study, if Jonathan administration earned N51 trillion in five years, questions should be asked why was the Federal Government of Nigeria under him so poor that – away from its claim of Nigeria as Africa's largest economy – not only it took loans to pay salaries or finance recurrent expenditures but also, education suffered tremendously during that period?  Recall that it was the period of five years of that Jonathan administration that university education had its worst hit ASUU strikes and the rest of that.  So, despite the fact that even at the mono-economy of oil when oil was sold for between $100 and $150 at the international market, nothing was done to ensure that the need for education development was addressed.  It spread from there to inability of the government to fulfil its obligations of paying as at when due allocations meant for the states to them to enable them take care of their responsibilities.  And even the Excess Crude Account in which excess accrued from oil boom at the international market, jointly run by federal and states, questions need be asked what they did with the money.  Thanks to Economic and Financial Crimes  Commission (EFCC) which has continued to unearth how money that should be allowed to circulate to both federal government and states to enable them fulfil their statutory responsibilities ended up in individual pockets either as then ruling party (PDP) leaders or government officials.  Through the unearthing very many disgusting revelations have been made such that $2.1 billion which as at the time President Buhari took over if exchanged at N197 to a dollar would be over N770 billion was not only diverted to funding PDP campaigns but also do even fund elections in states like Ekiti where $35 million was said to have been released for 2014 Ekiti State governorship election at a go.  Whichever way, that $2.1 billion was enough to turn education system around from primary to university level in this country.  But no, because of corruption and impunity, Nigeria was denied the opportunity to grow by such amount.
Despite that, some states strived hard to ensure they didn't lack behind especially in the area of education.  Some of the states, for example, have been mentioned. Of important note among them is State of Osun where Ogbeni 'Rauf Aregbesola has been governor since he came to office in August 2010.  Of important note also is that, apart from the fact that the governor is said not to have drawn salaries for himself since that August 2010 sacrificing his entire salaries for the development of the state where other governors like Imo State's Rochas Okorocha lives on 50 percent salary cut, he has also ensured, despite the dwindling economy far before the administration of President Muhammadu Buhari took over on May 29, 2015, that his state education performance that was down too low by WAEC rating before he came to office was improved upon.
All that was on but most of the news about the many positive things in that state being done by the governor was not getting to prominent space in the outer world.  Why? Many have asked.  And the reply that came was, "It is politics of pull-him down that is being embarked upon by his political adversaries."  It then makes Osun a very interesting reference point that should be dwelled into in this report.
And in trying to dig deep into the administration's performance, taking education as a case study, it was discovered that what Governor Aregbesola has done in ensuring that Osun State school project wears a new look is second to none despite the financial challenges facing the state.  This report takes a look at the giant steps so far taken by the Osun State government in the education sector and the benefits that students and other stakeholders stand to derive from the mega projects which is spread across the state.  For pupils of Osun public schools, therefore, learning in a conducive environment with state of the art infrastructural facilities is now a dream come true.
Like Amaechi (Rivers), Rabiu Musa Kwankwaso and now Abdullahi Ganduje (Kano), Babatunde Raji Fashola and now Akinwumi Ambode (Lagos), Aregbesola's decision to build about 170 mega schools, spread across three senatorial districts of the state was borne out of the recommendations of 2011 education summit, which he had to put together to examine the condition of public schools, challenges facing those schools and formulate a qualitative policy that would pave the way for new educational policy and with the construction of mega school infrastructure.  The summit, chaired by Professor Wole Soyinka, a Nobel Laureate, featured heavy weights in education sector like the former Vice Chancellor of University of Lagos, Professor Ibadapo Obe and Dr Peter Okebukola of the National Universities Commission (NUC) at the end of which far-reaching recommendations were made, which today have carved a niche and created distinct identity for the Osun State in terms of enviable infrastructural facilities in public schools.
The new educational policy gave birth to reclassification of schools, namely elementary, middle and high schools. Though pockets of criticisms from the opposition and other interest groups greeted the new policy, especially the merger of existing schools as a prerequisite for the take off of the policy, the decision of the state government had been applauded by many for its success, quality, uniqueness and architectural master piece of schools, which now dots the landscape in Osun.
Under the new school policy, the primary school system gave way to the grade system with the former Primaries 1-4 with the age range of 6-9 years, merging into what is now called Elementary school, in Grades 1-4. Primaries 5 and 6 and junior secondary schools 1-3 merged together to become middle school and now to be known as Grades 5-9 with the age range of 10-14 years, while the senior secondary students are grouped together in Grades 10-13, in what is now known as high school.
Besides, the elementary schools currently have a maximum capacity of 900 pupils in a purpose built state-of–the-art school. Other features include the provision of school uniform, books and balanced diet meals. The schools were designed to be within the neighbourhood for easy access for all students.
For the middle school, the maximum capacity ranges between 900-1,000 students, with the provision of state-of-the-art educational infrastructureand catchment to be between 2-3 kilometers, while the high school will have a maximum capacity of 3,000 students with hostel facilities. However, the curriculum did not change rather, what changed were physical infrastructure and more conducive environment.
At present, many of the mega schools, located in the three Senatorial Districts have been completed and commissioned for use. Notably among them are AUD Elementary School, Osogbo; Salvation Army Middle School, Alekuwodo; Baptist Central Elementary School, Ilare, Ile-Ife; Wole Soyinka High School, Ejigbo and Anthony Udofia Elementary School, Osogbo.
Though, Osogbo High School is still under construction, Ataoja High School had already been completed. Both imposing edifices, located along Iwo-Osogbo and Gbongan-Ibadan expressways are beauty to behold.
Speaking on the new education policy and schools' infrastructure, the Permanent Secretary, Ministry of Education, Mr Lawrence Oyeniran said the new grade system is the global trend and approach to modern education for effective teaching and learning, explaining that in adopting the grade system, pupils of the same age bracket are grouped together with fewer students in classes.
He observed that multiplicity of schools had decayed infrastructure over the years, culminating in poor funding, shortage of teachers and inefficiency, saying with the new policy and building of mega schools, the state government had succeeded in reversing the rot, by making quality education available to all children without discrimination, with public schools' structures better than private schools.
Another interesting feature of the new education policy is the introduction of O' Meal school feeding system, which affords pupils in elementary schools opportunities of enjoying free and nutritious meals everyday during school hours.
This scheme has gained international endorsement as well. In November 2012, Partnership for Child Development (PCD) United Kingdom and the Government of the State of Osun signed the Osun Elementary School Feeding Transition Strategy Plan Document to further strengthen the programme.