*Statement didn't deny Tinubu didn't sponsor AD against APC – Stakeholders
*Say, 'Yesterday we took Edo, today we are in Ondo, tommorrow is Ekiti, we move on no matter anybody's plot'
*Let the Tinubu's reconciliation move be enough – Ekiti top monarch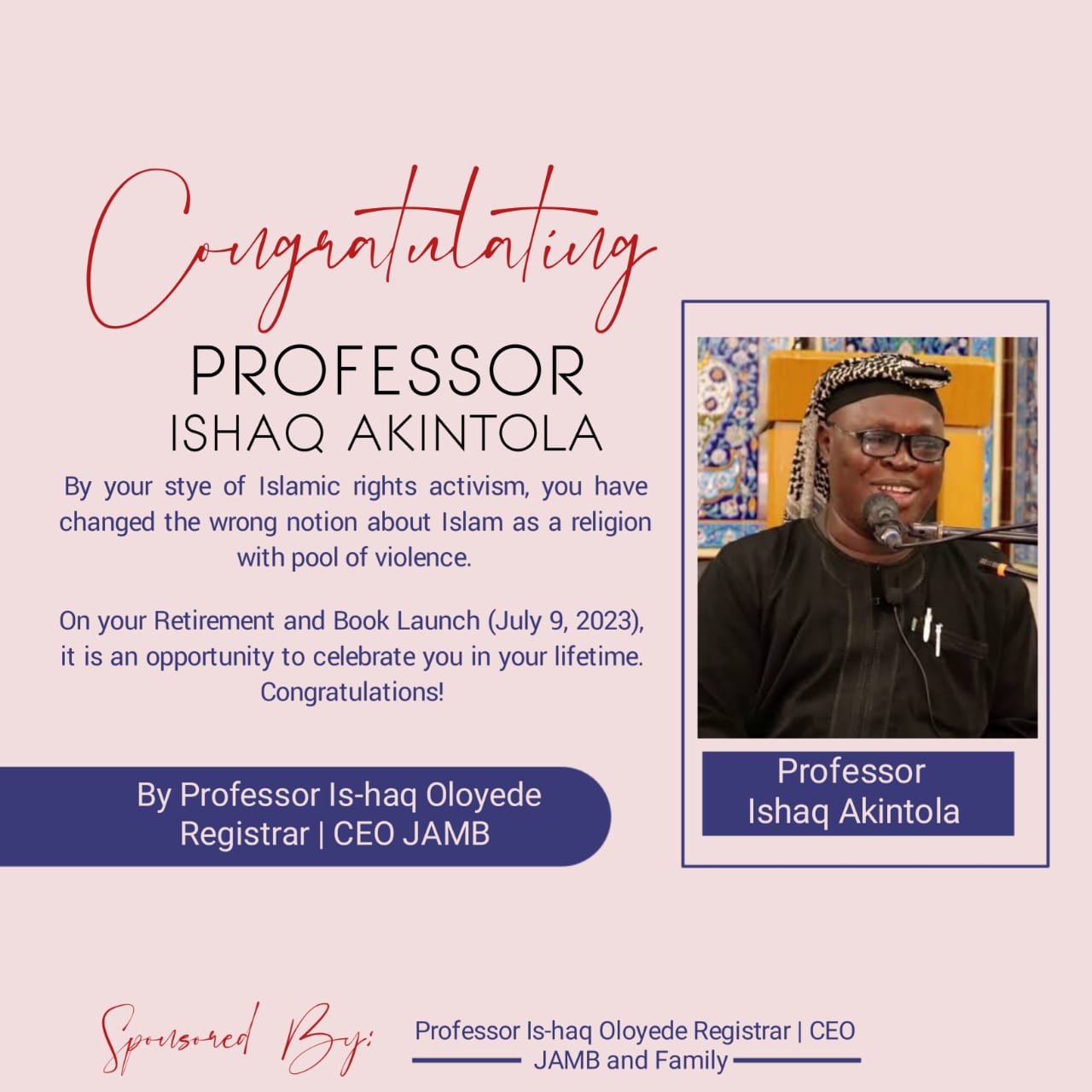 By Kemi Kasumu
After the Ondo State electoral battle had been fought and won, despite his support and boycott of his loyalists, a national leader of the All Progressives Congress (APC), Senator Bola Ahmed Tinubu, has congratulated the winner of the Ondo State Governorship polls, Chief Olurotimi Akeredolu (SAN).
In a statement personally signed by him and made available to news men, Tinubu spoke like a person whose body language was open to reconciliation as, according to him, all the aggrieved members of the APC need to come together.
He said, "I appeal to all party members including those who have been disaffected from the primary until today to come together for the good of our party and its progressive ideals."
Tinubu, who recognised President Muhammadu Buhari in the statement as 'the national leader of APC,' hailed the President, saying his stature and dignity had helped to guide 'the APC to another victory that should advance the progressive aims of the party and the people.'
The former Lagos State governor said in the statement that, "Following the announcement by the Independent National Electoral Commission (INEC) with regard to the governorship elections in Ondo State, I extend congratulations to Mr. Oluwarotimi Akeredolu SAN on the outcome of the election and for his perseverance and persistence in seeking that office," he said in a statement he personally signed.
"I must also congratulate the people of Ondo State for their generally exemplary conduct on election day and for demonstrating their will to shun the regressive politics of yesterday by returning to the progressive brand of politics that has been the trademark of the people of that state.
"I congratulate all party members in the state, particularly the party leadership in the Southwest.
"Finally, I must express profound congratulations to President Muhammadu Buhari, the national leader of the party, whose stature and dignity helped guide the APC to another victory that should advance the progressive aims of the party and the people.
"To all the people and parties in Ondo, your election has been had and held. Now is the time that all must work for the continued development, prosperity and peace of your state and our beloved country.
"I appeal to all party members including those who have been disaffected from the primary until today to come together for the good of our party and its progressive ideals," the statement said.
…How victorious APC stakeholders view Tinubu's new statement
It would be recalled that the question of national leader of the governing party had always been issue with some of Tinubu's loyalists claiming that he is the major stakeholder in the APC merger and so that, he was the national leader of the party and not President Buhari as envisaged by many.  A particular reference was made to a statement made by then APC spokesman who later emerged as a minister in Buhari's government.  He declared to newsmen that time that Tinubu and not Buhari was the national leader of the party.
It would also be recalled that Tinubu and his loyalists including Governors Rauf Aregbesola (Osun), Abiola Ajimobi (Oyo) and Akinwumi Ambode (Lagos) and others loyal to him in the APC merger arrangement had been showing indifference since their party began to engage in major elections as important as Edo and Ondo states' governorship races.
Many saw the politician's (Tinubu's) unpleasant words to the party's national chairman, Odigie-Oyegun, on the eve of Edo election as plot to make the party, to which they all claim ownership, to lose to PDP.  To them, he did worse as they added that Tinubu did not only fail to be part of the Edo and Ondo victories but that he also went an extra miles to sponsor an opposition party against the APC at the just concluded Ondo State governorship election.
The question that some of them now asked as Tinubu sued for reconciliation was, "In his statement congratulating us now after we have won despite his antics, there is no place where he denied that he never sponsored the Alliance for Democracy (AD) against APC, our party."
One of them, a lawyer, who would not want to sound like opposing the Bola Tinubu's proposal for reconciliation, confided in our reporter saying that, "If then he didn't deny through that all important statement, his sponsorship of AD against our party, APC, it means that he actually sponsored the AD against APC.  He should then tell us, if he had said he would not forgive the Senate President, Bukola Saraki, on allegation that he did anti-party during the Senate leadership struggle, what should we call what Tinubu himself has down in Edo and, mainly, in Ondo State with sponsorship of an opposition party against our collectively owned party in an all-important election as the governorship of Ondo State as we saw?
"We were all made to look like fools and betrayals.  We were told that we are enemies of Yoruba Land.  We were promised a futile electoral outing but the fact that, despite him and his allies' support, we delivered Ondo State from PDP back to APC means that President Muhammadu Buhari's popularity cannot be brought down by anybody because the President and we that are his loyalists are not for personal gains but for the benefits of the generality of the Nigerian people.
"And, so, we started from Edo, now we are in Ondo, tomorrow we will be in Ekiti and that is how we will, by the special grace of God, move on, no matter the plot of anybody, until our change message will will spread and embraced all over so much that even, where PDP are strongly in control, they will have no option than to embrace change for better Nigeria," the source, who was called by The DEFENDER to react to the Bola Tinubu's statement submitted but under strict condition of anonymity.
'Let the Tinubu's reconciliation move be enough'
But a top politician now traditional ruler in Ekiti State, who made an unsolicited call to The DEFENDER at about 9.00 Monday morning said, "I called to react to the Asiwaju's statement congratulating Akeredolu and Buhari over the Ondo election victory.  Because I am now an Oba and so cannot discuss politics openly but I want you to report to the people of Nigeria that it is enough with the acrimony and so they should accept that with that statement, Tinubu himself is open to reconciliation and that is politics for you."
Asked if it was also politics that a party leader could sponsor an opposition party against his own party, the caller said, "You journalists are the ones writing all these things about Tinubu sponsoring the AD's Oke or backing PDP's Eyitayo Jegede at the last minute to defeat APC's Akeredolu.  Tinubu himself has not said anywhere that he sponsored AD and even if he did and he has sought reconciliation, your bad friend today can be your best friend tomorrow.  That is our understanding of politics which is not clear to all of you that are using the eyes of a journalist to look at politics."
He was then asked to speak on the stakeholders'  question raising it as an issue that the statement the Asiwaju made congratulating them over the election victory did not deny the popularly publicised claim that he sponsored the AD and the caller said, "Look, there are many things going on in politics that are not open to you.  It is Obaship that took politics away from me. Today, I am father to all of them but we can come out to help solve many political problems but not in the open sometimes because, whereas you think you are being fair to all, others may not see you that way.
"We did very many nasty things as politicians in our days, but Tinubu himself should not bicker beyond this stage because that will be very dangerous for him.  Everybody knows that Buhari is popular, despite anything.  I can however acknowledge to you that with Ondo State election campaigned for by President and won gallantly by his candidate the he did, it means that the popularity of the President is truly intact as reported earlier, by The DEFENDER," he said.