On Sunday January 15, Nigeria observed yet another edition of Armed Forces Remembrance Day where, at all levels of government and human endeavour, activities of the current Federal Government were assessed with many giving pass marks particularly on war against Boko Haram insurgency.  Although the government at the centre itself has not called it Uhuru (a complete success) as it still strives more seriously on daily basis to keep its eyes on the remnants of the Boko Haram insurgents, whose headquarters it, no dispute, had collapsed during the Eve-of-New-Year onslaught that brought Sambisa Forest, eventually, under the checks and control of troops of the Nigerian Armed Forces.
What is sad is that, there is disconnect between the religious, political groups, ethnic nationalities and government, which attempts at all times to make it look like government has done nothing.  This is not done in any society desirous of growing and developing.  It is not healthy except the people's loud demand for better Nigeria for which reason they installed the government is not from their hearts.
Nigeria has never been this divided along religion, ethnicity and politics.  During Chief Olusegun Obasanjo regime, if Nigeria was divided along religion, politics or ethnicity, Chief Bola Ige of Alliance for Democracy (AD) would not be supported by the Obafemi Awolowo's political sons and daughters of Yoruba Land to serve under that government of the Peoples' Democratic Party (PDP) generally believed to be party of Northerners.  The consequence of a government dividing a nation along those lines is what President Buhari inherited which is reason it has been very difficult for people of a particular session of the country – and even currently leaders of a particular religious organisation – to see the good things his government is doing.  This is not healthy for a nation desirous of developing.  No where a people always see negative and refuse to see positive sides of their government that development and true governance is ever manifested.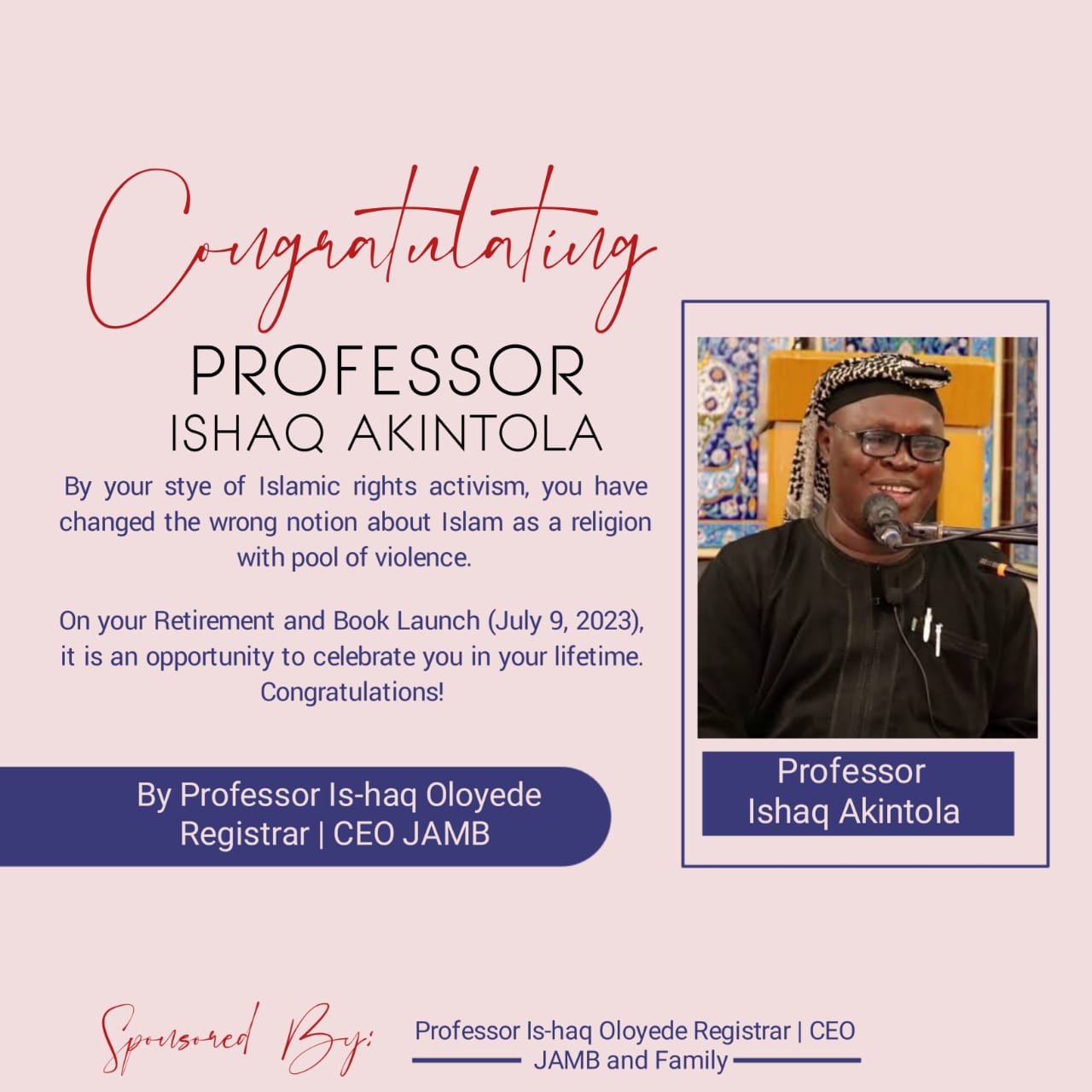 Nigeria is a country where many people desire everything that is good and glamour but, unfortunately, in the name of playing religious, political and ethnic politics, the same people ignorantly or deliberately draw themselves distantly from the good and glamorous things of life that they desire.  At this time, a Nigerian President that America has used his achievements and integrity to preach to other nations of the world to emulate and a neighbouring country, Niger's presidential candidate used his name and photo to campaign and win, it is expected that such a Nigerian leader would be appreciated in his own country by being given the support he requires to truly change the Africa's largest country for better.
As major distributors in the market, as politicians (intra or inter-party), as civil servants, serving security officers and personnel, as individuals, every Nigerian should begin to ask himself or herself a question, "What is my own contribution to the process of making Nigeria change for better?  When the government makes laws, how many of those laws have I myself as a citizen, government agent, security agent, business or market person, ordinary man in the street obeyed? Why do I flare up anytime I am checked by security agent for doing the wrong thing?  Is it because I know that the wrong thing I am doing is the best way to go or why? As religious leader, how loving and tolerant am I to other religious people under me in offices, in the homes, in the streets, etc?"
Citizens should sit up occasionally and ask themselves questions such as these because, there is no way things will continue to be done the same way and different results will be expected.  People must change their attitude for better and the bad things in their hearts which propel them to doing wrong and being on the wrong or opposite side of development all the times must change.  It is then different result will come.  It is then all the prayers that religious people offer can be acceptable to God.
In the last six months that The DEFENDER joined the online publishing, as member of the mainstream Nigerian media community, this has formed part of the things that it preaches with his style of reporting and the quality of stories, personalities that it features, all of which are intentioned to take media practice more seriously away from sensation and hold up to responsibility anticipated of media in nation building.
It is high time people took Nigeria seriously whether as security people, academics, legal practitioners, media practitioners, accountants, engineers in all sub-fields of engineering, members of the financial sector, judges and judiciary workers, labour unionists, civil servants, artisans and market women and men.
While these categories of Nigerian people are expected to buckle us and take the country seriously by cooperating with the process and efforts of government at changing things for better, those in the government too should ensure that they do things rightly.  No system is perfect, not even the over 255-year old can come out boldly to claim perfection.  Perfection remains the quality claimable only by God, the singular manual of the world and all that are inhabited in it.  But with rubbing minds together between the leaders and the led at all times, the government will always get it right.
That is not to say that there are no people in the country, who, whether the government is doing good and right or not, will not be cooperative for growth and development.  Where that proviso is problem is when the media make that category of human beings in a given society so vocal to distract the good-doing ones from the right path and confuse the vulnerable masses of the people into believing that their misleading utterances and actions are right.
The Nigeria of late has two major categories of people, one is a whole and the other subdivides into two sub-categories.  The major categories namely, of people who love to have good things of life for themselves and others and choose to be and remain disciplined, supportive of anything that the government will do to get those good things of life in place by, themselves, choosing to be selfless, law-abiding and loyal to the nation.  The other category being of people who want the good things of life for themselves only and do not care whatever (no matter how evil or criminal) is done to achieve it by themselves and whatever government is doing to get the good things of life done in the interest of the nation and generality of the people, not only, does not matter to them but also, they frustrate it from taking place.
Take example from how President Buhari fixed the nation's refineries under five months in office and crude refining began locally to ease the access to petroleum products in one of the leading oil producing nations of the world.  Under the same period of five months, for the first time in the history of Nigeria, the current government had generated 5,070 megawatts of electricity.  But some militants, who said many things in their publuc statements that put them up as being sponsored by some opposition politicians across place, started blowing off the achievements just to make a point that not only their own regime would be judged as bad and nonperforming but that this current one must also be seen as a failure.  To whose credit now?  Readers can now put these three categories of people in the country on a scale for sincere analysis.
This negative section of the people further divides into two: those of who want to destroy because they profit or benefit from the destructions and bad things happening to humanity in the country (these are pure agents of the bad political opposition that some Nigerians practice) and those who just want to destroy without necessarily profiting or benefitting from doing so (they are strictly speaking agents of satan, according analysis of a prominent Nigerian).
In this case, once a government has good intention – just like the current one is generally, and globally too, is acknowledged to be – to change things for better and make the nation of Nigeria better again like what it used to be when its economy in terms of quality of life and currency was better than or equal to that of America, UK and so on, the President Muhammadu Buhari-led Federal Government has got, therefore, to stand firm against the other category and sub-categories of people whose activities (in actions and utterances) militate against moving Nigeria forward and stop them in order to be able to do well.  People who celebrate and glorify corrupt and criminal people, already jailed or standing trials, in any given country should not be allowed by any government.  If there is any law that propels a government to allow the activities of such people to thrive, that law is suspicious and must be reviewed.
That should be the primary assignment of the law makers in the National Assembly or state legislatures. Lawyers should play their own role, no matter what their profession says about "right to defend your client", any lawyer who recognises the fact put together by economists that "what affects environment affects the business," will realise why he should stand with the nation against them.  Lawyers should know that if insecurity agents, corrupt and criminal people, some of them are placing above the interest of the nation claiming technicalities and the rest, are let loose plunging the nation into chaotic situation, they will be unable to practice that legal profession in peace.  Same for the Judges; where a Judge is corrupt, he will compromise justice and where justice is compromised the tendency that the people will naturally seek justice through whatever means is available to them cannot be far fetched.  So, Judges of Nigerian courts from the customary to the Supreme Courts must stay above board and collectively key into the Buhari's fight against insecurity, criminality and corruption and even ensure that whoever aids them by any means should be given express trial in prosecution and sentenced as required by the law.