By BASHIR ADEFAKA
My friend in the Diaspora America, Abass Adetunji, called me Sunday morning saying, "Prince, let me tell you, Buhari will win this election. But if Atiku loses, he will cause violence and let me tell you, sir, if after winning the election there is any widespread violence, I will be forced to condemn President Muhammadu Buhari because he has been warned of what these opposition politicians could be up to. And so, he should put all security forces including the anti-corruption agencies on red alert as a matter of urgency."
I returned to Lagos Saturday evening from Ogun State where I had relocated to vote but the elections were shifted, as a result of reported cases of bribery by opposition to officials of Independent National Electoral Commission (INEC) particularly the states' Resident Electoral Commissioners (RECs) to help them compromise the Card Readers in their favour. There was also report of sensitive election materials hijacked and the rest.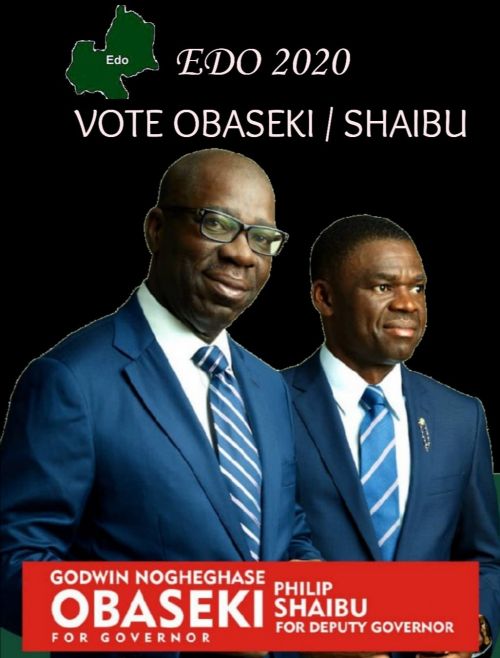 I had a good sleep and woke up morning of Sunday 17 February 2019 to go on with life. Some Atikulated and Peoples Democratic Party (PDP) around me did not see anything wrong in those widespread of fraud and money influence by opposition which led to cancellation and rescheduling of the polls from Saturday 16 February 2019 to Saturday 23 February 2019. They do not see any evil in a PDP's chairman in Kaduna who only few days ago made a call and is evidenced in video clip that whoever would vote for Buhari should be killed and, just in acting on that call, 66 Fulani in Kaduna including 11 little children and a number of women were killed on the eve of elections Friday 15 February.
A supposedly educated and senior journalist at a forum in Abuja even queried why that chaos inciting Kaduna PDP chairman was arrested by DSS when Governor Nasir el-Rufai, a public officer under immunity and who warned the international community against negative interference in Nigeria's internal elections telling them the implications, was not arrested. It meant that both the guys and the senior journalist (name withheld) know but pretend not to know the truth and right thing because they are beneficiaries of bad system and want the bad system to continue.
To them, they see the polls shift as President Muhammadu Buhari's desperate move to save his seat. They even claim that the President shifted the polls to manipulate the outcome of the exercise. It is just like what they say any time the Economic and Financial Crimes Commission (EFCC), Code of Conduct Bureau (CCB) or Code of Conduct Tribunal (CCT) made effort to rid the country of financial and code of conduct offenders.
Every Nigerian agreed that Nigeria had suffered from lack of effective institutions. I am an uncompromising supporter of President Buhari but that apart, when are we going to begin to have our institutions work if we continue to block or read witch-hunting to clear need by EFCC, CCB, CCT even Federal Inland Revenue Service (FIRS) to move against such offenders therefore weakening them from functioning?
It will be mischievous for anybody to forget, just because for the claim of supposed hunger in the land (?), that failure of these institutions to function independently in the past led Nigeria to the state Buhari took it over from PDP, after 16 years of running its affairs without anything to show. One of the PDP's former President, Olusegun Obasanjo, indelibly acknowledged the level of corruption of his vice president, Alhaji Atiku Abubakar and confirmed his indictment in America and even revealed how former American President Jimmy Carter told him, in manner that he was so embarrassed, that he, as sitting President, was surrounded by huge and king of corruption.
Obasanjo actually confessed his dilemma wondering how it would look like for him to surrender his deputy to investigation at that point. Alas! Because Obasanjo had an issue against President Buhari, which the President has now started speaking revealing why, the former President suddenly turned around to say Atiku has apologised to him and that he has forgiven him. That statement confirmed that Obasanjo still lives in the fool paradise of "Few Nigeria's Owners". Even former PDP National Deputy Chairman (South), Chief Olabode Ibiyinka George also gave his own side when he reportedly said he believed that Atiku will not steal again. Are we in a country of great minds wanting to meet up with peers in the world or in a banner republic?
But it is no longer news that problems Buhari has with Obasanjo include the President stopping his over 500 Obasanjo Farm Limited's staff from the payroll of the Federal Government, refusal to make his point man, Olagunsoye Oyinlola a minister on the ground that the APC government was not out to make politicians ministers but that he could wait for board appointment and, last but not the least, refusal of President Buhari to give the Mambilla Power Project contract to Obasanjo alone, which he said would now be split into four and let other Nigerian contractors benefit. Oil bloc licence issue is another Buhari's offence against Obasanjo and Power sector they sold to themselves without iota of intention to supply electricity to Nigerians despite that the government has now, for the first time in history of Nigeria, generated power to 7,000 megawatts. There are more.
Every Nigerian elite, who have ganged up today against Buhari projecting confirmed corrupt personality sitting on spirit of impunity as candidate to unseat the President sitting on account of integrity and rule of law so a party that was four years ago sent out of power for having badly mismanaged the country's resources thereby plunging the nation into unprecedented economic calamity before Buhari started fixing it, has no single crime or established corruption case they can nail the President with. All they can say is that he is "weak because he is old (although Atiku is as well old and even sick) and that he is sitting on huge corruption". But Buhari has challenged them at all times to point to one corrupt public official under him with evidence, they failed to do so.
An Atiku that they want to be president then said he and his family own the Keystone Bank Plc that was sold under their PDP government and Keystone has published its directors' names, yet nobody is calling for prosecution of Atiku for misinforming the public about ownership of Keystone Bank, of which slush funds, as Bank PHB, Atiku has been proved to have been beneficiary to the tune of N156 million. Atiku has led all institutional battles against insecurity, judiciary corruption, banking corruption, legislative corruption and even, when Daily Trust was invaded for revealing military strategies to Boko Haram, he and his party people played role in attacking the military saying it was gagging of the press.
In a nutshell, perhaps having considered the desperate opposition PDP's effort ensuring that this election leads to chaos and serious violence, my friend in the Diaspora America, Abass Adetunji, called me Sunday morning saying, "Prince, let me tell you, Buhari will win this election. But if Atiku loses, he will cause violence and let me tell you, sir, if after winning the election there is any widespread violence, I will be forced to condemn President Muhammadu Buhari because he has been warned of what these opposition politicians could be up to. And so, he should put all security forces including the anti-corruption agencies on red alert as a matter of urgency." This election is a battle between the talakawas stood for by President Buhari and the rich stood for by the elite led by Obasanjo. The people must win.
My Diaspora friend continued by calling my attention to the Economist Intelligence Unit (EIU), which predicted in October 2018 that PDP's Atiku Abubakar will defeat President Buhari. He said EIU is the research unit of The Economist Magazine. No one should tell us he does not know what role The Economist itself as an international magazine has played cumulating to its EIU's prediction of Atiku as winner of 2019 presidential election. It will be recalled that Atiku was the loudest voice when, in trying to sanitise Nigeria's financial system for better economy from of corruption, the Central Bank of Nigeria (CBN) announced that in a report that two representative offices of foreign banks in Nigeria (HSBC and UBS) had been closed, bringing the number of representative offices of foreign banks to eight at the end of June 2018.
Although the CBN did not give reasons for the closure of HSBC Representative Office (Nigeria) Limited and UBS (Nigeria) Representative Office Limited, both located in Lagos, PDP presidential candidate, Atiku Abubakar, spat into the air and caught it up again with his own eyes saying over his dead body. A perceived reason for the close came from him saying it was due to "bad economic system of President Muhammadu Buhari" and tried to score some political capital through that until revelations started emerging that, whereas only one HSBC and UBS office, respectively closed down in Nigeria, each had over 142 offices closed down in home country of United Kingdom with HSBC still carrying around the record of indictments in United States as haven for looted monies particularly from Africa.
Because of Atiku's intervention on behalf of the two global banks, South Africa also touch-lightened and sacked the two banks from further operating in its country. It thus meant that whereas South Africans were united even against sitting President over anti-corruption war, Nigerians led by Atiku, now desperately wanting to be President of Nigeria, are fighting their own globally acknowledged and honoured Africa's anti-corruption crusader leader and President for insisting that corruption must be killed before corruption kills the whole Nigeria and its people. That is the person EIU of The Economist Magazine predicted would defeat Buhari in 2019 election, although the Presidency and other well meaning eminent Nigerians countered them and dismissed them as prophets of doom who would only predict in support of their looting partners.
Of important note is that the EIU's prediction, if President Buhari and members of his government, armed forces and intelligence agencies can look at it very keenly, had clearly said that Atiku and other opposition would push for change despite that Buhari's government is making positive improvements on the already damaged economy but that in trying to do that, it would so difficult that the opposition would want to achieve the change through violence.
It stated: "Nevertheless, as the country's leadership struggles to shift Nigeria into a more sustainable path to economic development, the risks to stability will intensify as more Nigerians question what they have to lose from pushing for violent change."
It is this "violent change" that the opposition, as predicted by their Economist's collaborators that President Muhammadu Buhari has been warned to fully prepare against. Now, after many denials by Uche Secondus, National Chairman of the PDP, Atiku, its presidential candidate, Kola Ologbondiyan, the opposition spokesman and its CUPP gang up of political parties, the violence predicted by The Economist's EIU is coming to past. It is the reason few days to elections a PDP chairman in Kaduna State incited its people to kill whoever they know would vote for Buhari and on eve of elections 66 members of the President's tribe, Fulani, were killed. It is the reason INEC offices been set on fire in Plateau State, Abia State and Anambra State. It is the reason vehicles engaged to lift sensitive materials were attacked by gun men in Akwa Ibom killing two people on eve of elections.
Anyway, I want to question sincerity of INEC in ensuring free, fair and credible elections if it could order police accompanying those sensitive election materials to chosen destination not to carry arms, which was what I gathered. If this is not true, I need a better truth.
Just before I put down my pen, it must however be mentioned here that one of the world's largest political risk consultancy firms, the Eurasia Group, countered The Economist's EIU prediction that said Atiku would win as it predicted the outcome of the 2019 presidential election saying President Muhammadu Buhari will, in all certainty be the winner.
Eurasia Group was the one that predicted in 2015 that Buhari will defeat former President Goodluck Ebele Jonathan and has now again around 9 February 2019 predicted victory for incumbent President Buhari in the next Saturday's election.
It further explained that the Director General of Atiku's Campaign, Senator Bukola Saraki, was distracted by the battles he is facing in the National Assembly coupled with the weak campaign being run by South-East governors, who are not too happy with the emergence of Atiku's running mate, Peter Obi, as key reasons Atiku may lose to Buhari.
The Group which was founded in 1998 by American political scientist, Ian Bremmer, said Buhari has a 60 per cent probability to win.
This was contained in its recent Political Forecast displayed on its official website ahead of the Saturday's showdown.
It said, "Opposition candidate Atiku Abubakar has regained some momentum in recent weeks, but President Muhammadu Buhari remains favored to win (a 60% probability)," the group said.
"On election day, the ruling All Progressives Congress's (APC's) significantly greater control of local political structures and resources, it governs 23 states compared to the opposition's 12, will boost voter mobilization and solidify Buhari's advantage.
"Wike was annoyed by Atiku's failure to consult him on key decisions, Saraki remains distracted by a tough Senate reelection battle in Kwara State, and the Southeast governors are hampered by many conflicting motivations, including their own lack of political clout (which makes them reluctant to overtly challenge the federal government) and their wariness of Atiku's running mate Peter Obi, a former governor of the southeastern Anambra state who they view as a political outsider.
"The lack of enthusiasm on the part of some PDP governors is a problem for Atiku because these officials control significant discretionary funds at the state level (known as 'security votes') that are easier to access without triggering graft concerns," the Eurasia Group said.
Finally, President Buhari is expected to now seize the opportunity of the one week polls shift by INEC to reorganize its security agencies, other structures and institutions required in making the rescheduled elections free, fair and credible and away from influence of blood merchants wanting to cause violence if they lose, because the opposition has seen clearly that the election weather will not favour them and are more therefore prepared to make Nigeria ungovernable for Buhari once again like they did with Niger Delta militants in 2015 post-election era. This is the reason that some supporters of the President home and in the Diaspora are now making bold statement to tell the President that they will blame him if widespread violence breaks out upon Atiku losing, "because he and PDP will not accept the outcome and Buhari must put all the security forces on alert military, police, DSS, immigration, customs, civil defence, all!" One of them told me on Sunday morning of 17 February 2019.
*WAKE UP is opinion column of an Isolo Akure Prince of Ondo State and Lagos-based media practitioner/proprietor, Bashir Adefaka. Reach him via his email: omope72@gmail.com or text him via 08163323906.