By BASHIR ADEFAKA
Today is the day of 2023 Owayoko Festival of the Isolo Town's people of Ondo State, South West Nigeria.
It is the day of the Osolo of Isolo Kingdom, when all roads lead to his palace in the Akure South Local Government's autonomous and ancient community as His Royal Highness Oba Edward Kolawole Adejoyegbe Adewole, Osalade II, plays host to dignitaries including functionaries of Ondo State government and Akure South Local Government council and royal friends of the pragmatic Osolo of isolo from across Yoruba Land.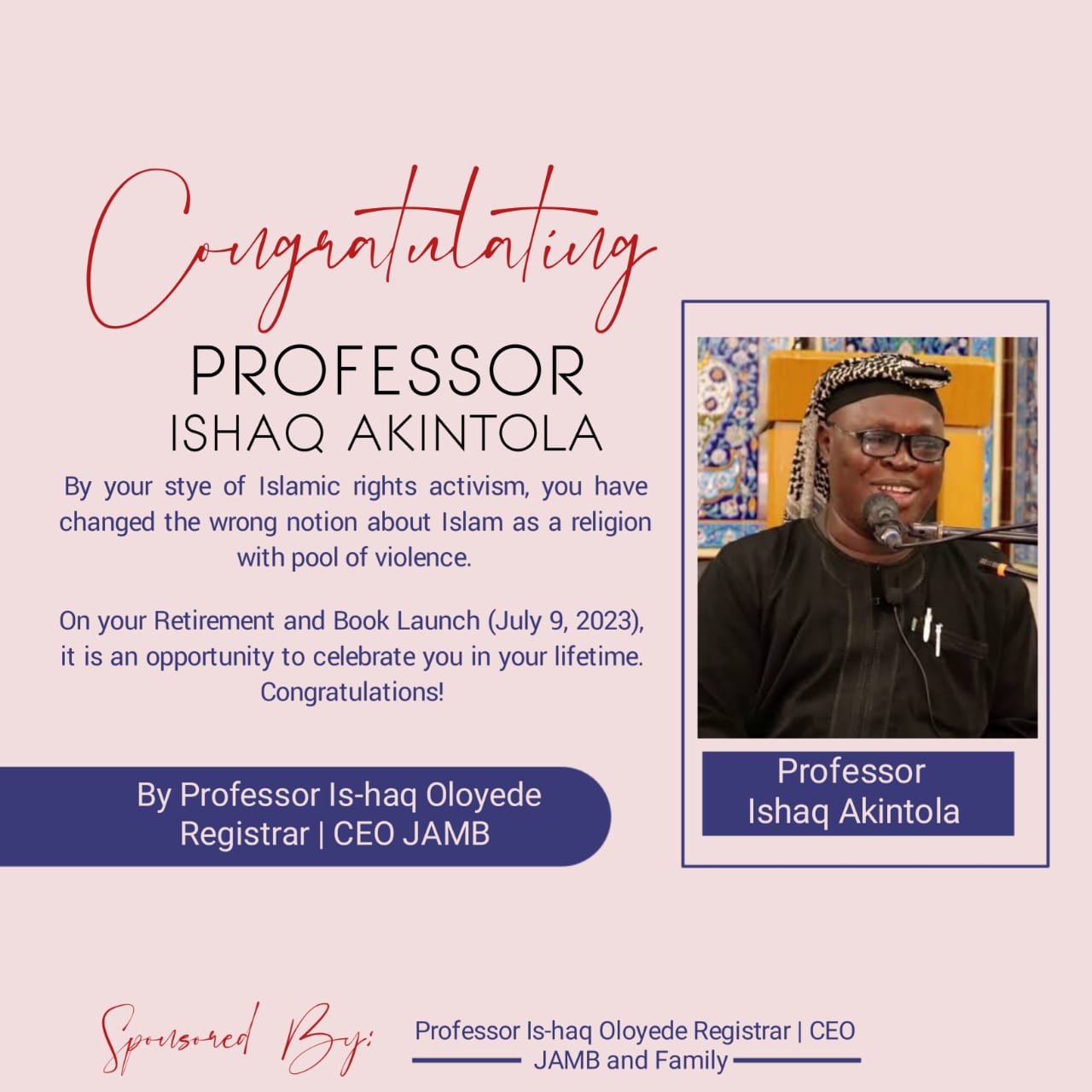 It is a Day I am proud of, a day that I had looked up to see happen more and more again in the lifetime of all of us. We give all the glories to the Lord, the Almighty Allah for giving us this Day that was kickstarted yesterday with 'Idasu' where Queen Adetuti Adewola, wife of the Osolo, led many damsels to and from farm bearing tubers of yam on ther heads, as they walked dancing elegantly home into the palace where the king received and prayed for the Queen and all the yam bearers.
On behalf of all the Princes and Princesses from the immediate past Regent, Her Royal Highness Adesola Oluwatuyi, the Chairman and Secretary,  Committee of Princes and Princesses of Isolo Kingdom, Prince Babatunde Saliu Adefaka and Princess Dupe Adewole, respectively, and the entire good people of Isolo Town, I thank our "Talk and Do" Governor, Mr. Oluwarotimi Akeredolu, SAN, CON, his State Executive Council, Speaker Members of the 9th and 10th Ondo State House of Assembly in succession and Chairaman Akure South Local Government Council, for their interconnected roles and efforts that have led us to where we are today, having holistically engaged in the project of governance that finally permanently provided fully backed legal and legislated solution that saw to the official Presentation of Instrument of Appointment and Staff of Office to our king and Osolo of Isolo Kingdom, Oba Edward Adewole on Thursday December 15, 2022.
Owayoko is a major tradition of Isolo Kingdom that transcends to be called occultic, because it is a festival that – in a modern world we are today – seeks to bring together all sons and daughters of Isolo during which adherents of all the religions have no point of clash. All groups are lined up behind and seated round the throne of their king in celebration of opportunity that God has given them to witness another yam festival this year. I did it with my late principal and 'father' Oba (Dr) Olusanya Adegboyega Dosunmu, CON, Fta, then sitting Olowu of Owu Kingdom, Abeokuta in the Ogun home state of my wife.
In some other communities, celebrating the commencement of new yam eating is called yam festival. But in Owu Kingdom, where the veteran broadcasting journalist and unpretending evangelist, His Majesty Oba Dr. Olusanya Adegboyega Dosunmu reigned on the throne as Olowu and paramount ruler, yam festival has been encoded into a different brand. Olowu's paramountcy encompasses 18 kingdoms from Oke Ago Owu to Ojodu, Ifo, Ijoko and other towns boundaring Ogun State with Lagos State on the Abeokuta-Lagos Expressway axis.
The ancient kingdom, one of the two communities said to make up Abeokuta, celebrates new yam eating as Odun Omo Olowu – the 13th of which was held on Saturday October 6, 2012 and more celebrated in his lifetime before Oba Dosunmu's demise recently and the coming of Oba Saka Matemilola to the throne.
Like Owu Kingdom, Isolo is another of the few Nigerian communities that is active trying hard to keep hope alive for the nation's diverse cultures by not abandoning the festival because of the influence of western cultures on Africa. That is why the festival of Owayoko is and will continue to be relevant and be celebrated in the ancient kingdom of Isolo. In Owu, the slight amendment was then for it to be celebrated, not really as yam festival but as the Odun Omo Olowu. In Isolo, it remains its traditional name of Owayoko and the beauty of it is that, it has a lot of aspects that are attractive to sons, daughters and people across faiths.
I remember the Evangelist king of Owu Kingdom would say, "this yam cutting is not fetish and so whether you are Christians or Muslims, fear not, it is eatable for you". He said so at one of the celebrations attended by President of the Islamic Mission for Africa (IMA) and Proprietor of Crescent University, Abeokuta, Prince Abdul-Jabbar Bola Ajibola, SAN, CFR, LL.D,, now late, and former President Matthew Aremu Olusegun Obasanjo, GCFR.
As I welcome honoured personalities and friends of Isolo, who will be celebrating today's Owayoko Festival with our king, I congratulate His Royal Highness Oba Edward Kolawole Adejoyegbe Adewole, Osalade II, while wishing him, his Oloris, princes and princesses on the throne, all members of the Osolo-in-Council and residents, many more celebrations of successes!