By Abiodun KOMOLAFE
In deference to the dictates of the Holy Book, it is not my practice to jump into issues, especially, when they are laced with politics. However, turning the other eye is always not an option when an organization abandons its core mandate to regale an unsuspecting public with very tepid, hurtfully unfactual and sillily inaccurate assertions that are capable of igniting conflagrations of unimaginable proportion.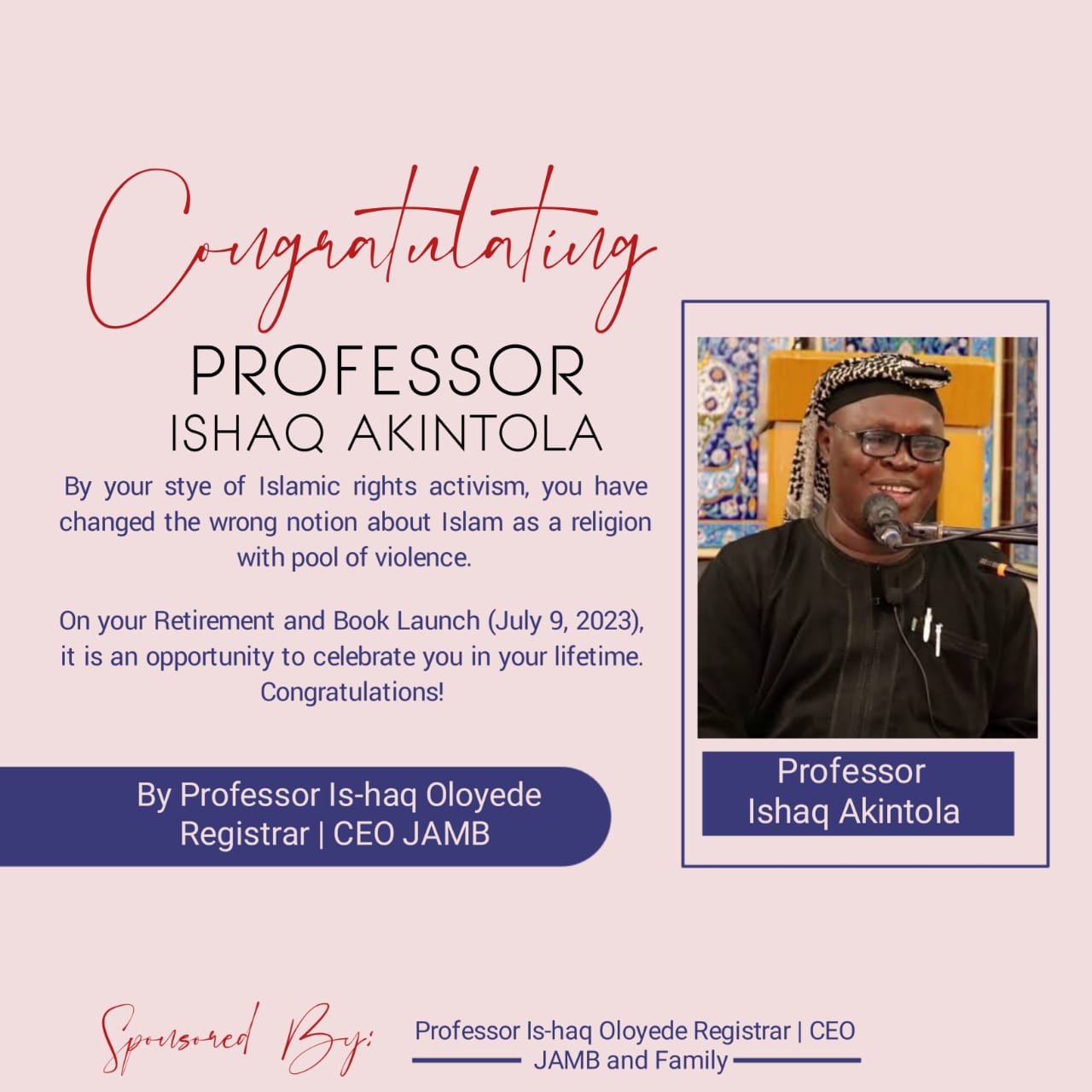 A statement, purportedly issued by the Civil Societies Coalition for the Emancipation of Osun State (CSCEOS) in which Governor Rauf Aregbesola of Osun State was accused of "illegally diverting over N7billion of N11.744bilion out of N84billion Paris Club funds accrued to the state by the federal government" (Thisday, January 6, 2017) refers.
To understand the issues, some questions become pertinent. What is Modulated Salary structure and how applicable is it to Osun state's salary situation? Was there an agreement, Memorandum of Understanding (MoU) between the government and labour on the modulation of the latter's salaries and for what reason? Indeed, what's the salary status of a typical Osun State civil servant as at December 2016?
With a particular focus on Osun State, Modulated Salary structure refers "to the payment of salaries on the basis of what is available. Full salary to Workers in Grade Levels (GL) 1-7 and at least half or more to those on levels from 8 and above."
The existence of an agreement between the government has never been repudiated by Labour. It was indeed the magic wand that bailed the state out of a protracted wage crisis in 2014. In the heat of that crisis, the Aregbesola government placed its cards on the table and gave labour an opportunity to choose between staff rationalization and salary apportionment, or modulation. After intensive deliberations by its congress, labour opted for the latter. Going by the principle behind this agreement, which is still in effect, Osun state could be rightly adjudged to have paid salaries and pensions till December 2016. But this is without prejudice the outstanding which the governor knows would have to be paid as soon as the fortunes of the state improve. Believe it or not, the governor has never stopped expressing his administration's appreciation to the workers for their sacrifice at a time like this. These facts are understood by Osun workers and their Labour leaders and that is why there has not been any irrational action from the workforce. 
Prior to September last year, workers were always paid, based on agreed rates put in place by the Hassan Sunmonu-led Osun State Revenue Apportionment Committee, comprising representatives of labour and other stakeholders. Nonetheless, certain categories of workers had their salaries jerked up in September 2016 as a result of slight improvement in allocations to the state, principal among which was the Paris Club Refunds. By way of explanation, workers from GL 1-7 were paid their September to December 2016 salaries 100 per cent; GL 8-10, at 75%;  and GL 12 and above, at 50%. Similarly, passive workers, or pensioners, on N1, 000 to N20, 000 collected 100 per cent pensions; while those on N20, 001 to N80, 000 collected N75 per cent; and pensioners on N80, 001 took home 50 per cent. Arrears of balance of 2014 leave bonus were also paid while local government workers and pensioners were not left out. Lest I forget, the Academic Staff Union of Universities (ASUU) also commended the governor for earmarking N1billion for Osun State University and the jointly-owned Ladoke Akintola University of Technology (LAUTECH). And, in the real sense of it, only a prodigal administration will not prepare for the raining day!
George Fabricius made an apposite remark about performance when he wrote: "Death comes to all but great achievements build a monument which shall endure until the sun grows cold." If one may ask: has integrity so lost its pride of place that an elder-statesman and a labour veteran of Hassan Sunmonu's stature and status in the society could no longer be trusted with defending the interest of labour, his primary constituency? For how much 'shekels of silver' could Osun labour leaders have mortgaged the interest of their colleagues? In reality, did Osun even have the financial war chest with which to have greased Labour's palm to the detriment of those it was elected to represent? 
To the best of my knowledge, indigenes and residents of the state alike, especially, those who were around, pre-November 27, 2010, will agree with me that, in spite of its socio-economic peculiarities, Aregbesola was well-prepared for the task ahead as governor. In the area of infrastructure and roads, there is no doubt Osun state has been transformed. For instance, roads from Ijebu-Jesa, my Native Nazareth, and adjoining communities were at a time so impassable that one could simply wonder if there had ever been a government in place. But to our amazement, Aregbesola came on board and changed the narrative by getting those roads fixed pronto. As a matter of fact, not only in Ijesaland were such feats recorded but other parts of the state also felt Aregbesola's presence.
Well, while it is not my intention to bore Nigerians with rhetoric on the governor's achievements, it is gratifying to note that this mission-minded man of uncommon courage has done excellently well in rekindling the hope of the good people of Osun State who defied all odds on August 9, 2014 to resubmit their political totality and administrative authority to him. Undeterred by the antics of pathological critics whose first instinct is to circumvent, not support, ideas, however innovative, he has to a large extent succeeded in replicating his feat as Commissioner for Works under Bola Tinubu in Osun and I'm sure he'd have done more, but for paucity of funds. Little wonder the opposition is still in shock with regard to Aregbesola's feat in the state without taking into consideration that it was the shout of 'Halleluyah' that brought down the 'Wall of Jericho'.
When the going was good – in terms of allocations accruing to the state, civil servants were paid as and when due. Indeed, Osun was not only at a time rated as the highest paying state in the country, it was also giving '13th month' to its workers across board. Apart from the employment and retraining of teachers to compliment the works of existing hands, his government also embarked on the training of some of our students in institutions outside the country. And, when it dawned on us that Agriculture was the way to go in the face of challenges confronting the state, his government 'went back to land.' So far, so fair! His administration has sent no fewer than 40 of our youth to Germany to learn technical skills in Agriculture. Of course, this is in addition to other schemes which overall intention is to restore the lost glory of agriculture. People-friendly policies and programmes were also put in place through which interest-free and subsidized loans were given to farmers. Then, everyone and anyone who had cause to be happy did; and Aregbesola was seen, even by his enemies, as the best thing to happen to our state.  
Again, while one is not attempting to give approval to delay in salary as a way to go by any responsible government, the state's present pass is, in my view, not an indefinite inconvenience but a  temporary setback which demands the understanding and cooperation of all to surmount. As things stand, Ondo, even with its 13% derivation, is, as we speak, "broke", with not less than six months in salary arrears to its workers. If my memory serves me right, only some few weeks back, its workers protested and  picketed its Accountant General's Office for his refusal to pay them just one out of their then-six months' arrears in salary, pensions and gratuities. The situation is not any different in Taraba, Ekiti, Akwa Ibom, Cross River, Oyo, Kogi, Kwara, Zamfara, Delta, Imo, Enugu, even Anambra States.
At the national level, it is not a fairer tale! For example, just some few days back, the National Association of Resident Doctors (NARD) threatened indefinite strike by mid-January, 2017, over "unpaid salary, non implementation of the National Health Act and poor infrastructure in the sector". And, officials of the Federal Road Safety Corps once threatened to start obtaining bribe from motorists if they were not paid their November salaries and allowances before December 25, 2017. Indeed, the list is endless!
But, how for God's sake did we get here? Basically, it will be unfair and stunningly ignorant to believe that Nigeria's slide into recession started with Muhammadu Buhari's administration; that the events which culminated in Goodluck Jonathan's exit from Aso Rock started on March 28, 2015; or that the unfriendly economic situation which succeeded in 'throwing 1.7 million Nigerians into the job market in nine months' was a product of the present administration's 'planlessness'. In the case of Osun, in as much as we all agree that Nigeria's failure as a country did not start just yesterday, it may therefore amount to standing the truth on its head to assume that the only way out of this situation is by singing from the same, old hymn book of disappointment as if such is a sure ritual to accessing Bola Ige House!
Without being immodest, Aregbesola's leadership style has demonstrated to us that if we put things right with regard to the resources that accrue to the state, especially from agriculture and other mineral resources, we will have enough to the extent that we'll not have to run cap in hand to Abuja for handouts. 
Yes! Our state is endowed with natural resources. But will the almighty Federal Government allow us to take ownership of them?
May principalities and powers, assigned to rubbish our leaders' efforts, scatter!
*KOMOLAFE writes in from Ijebu-Jesa, Osun State, Nigeria (ijebujesa@yahoo.co.uk)
*Abiodun KOMOLAFE,
020, Okenisa Street,
PO Box 153,
Ijebu-Jesa, Osun State.