By Kemi Kasumu
At 82, nothing gladdens the heart of Prince Abdul-Jabbar Bolasodun Ajibola (SAN) better than remembering that he has been able to achieve the peak of his aims in life.  And when The DEFENDER visited him at his Olusegun Obasanjo Hilltop GRA, Abeokuta home to find out what really is that peak of his achievements, the first President of the Nigerian Bar Association (NBA) said, "…I am able to build a house for the Almighty Allah in this world."
To a materialist, Ajibola's response to this reporter would sound shocking.  It can also be understandable it would.  A man from the depth of settlement under the rock town called Abeokuta, who rose to becoming all the things that greatness is called globally, it would be shocking to a materialist when such a big achiever does not pride himself in the achievements of big mansions, positions as former President of the World Bank Arbitration Panel, retired Justice of the World Court at The Hague, former Nigerian High Commissioner to the United Kingdom, former Minister of Justice and Attorney-General of the Federation, former Co-Chairman, Commission on Boundaries between Nigeria and Cameroon, one of commissioners on the Eritrea-Ethiopia Boundary Commission, organized through the Permanent Court of Arbitration, former head of many high powered Federal panels and delegations and, above all, a man who single handedly established a university that under 10 years became noticed not only in Nigeria but also around the world, such a man to any materialist should celebrate by those achievements but is shocked that of all things of life, Bola Ajibola singles out the multi-million Mosjid Al-Jabbar that he erected in the heart of his Islamic Movement for Africa (IMA) Centre in Abeokuta and said, "This is the best of my achievements in life."  That is wonderful enough.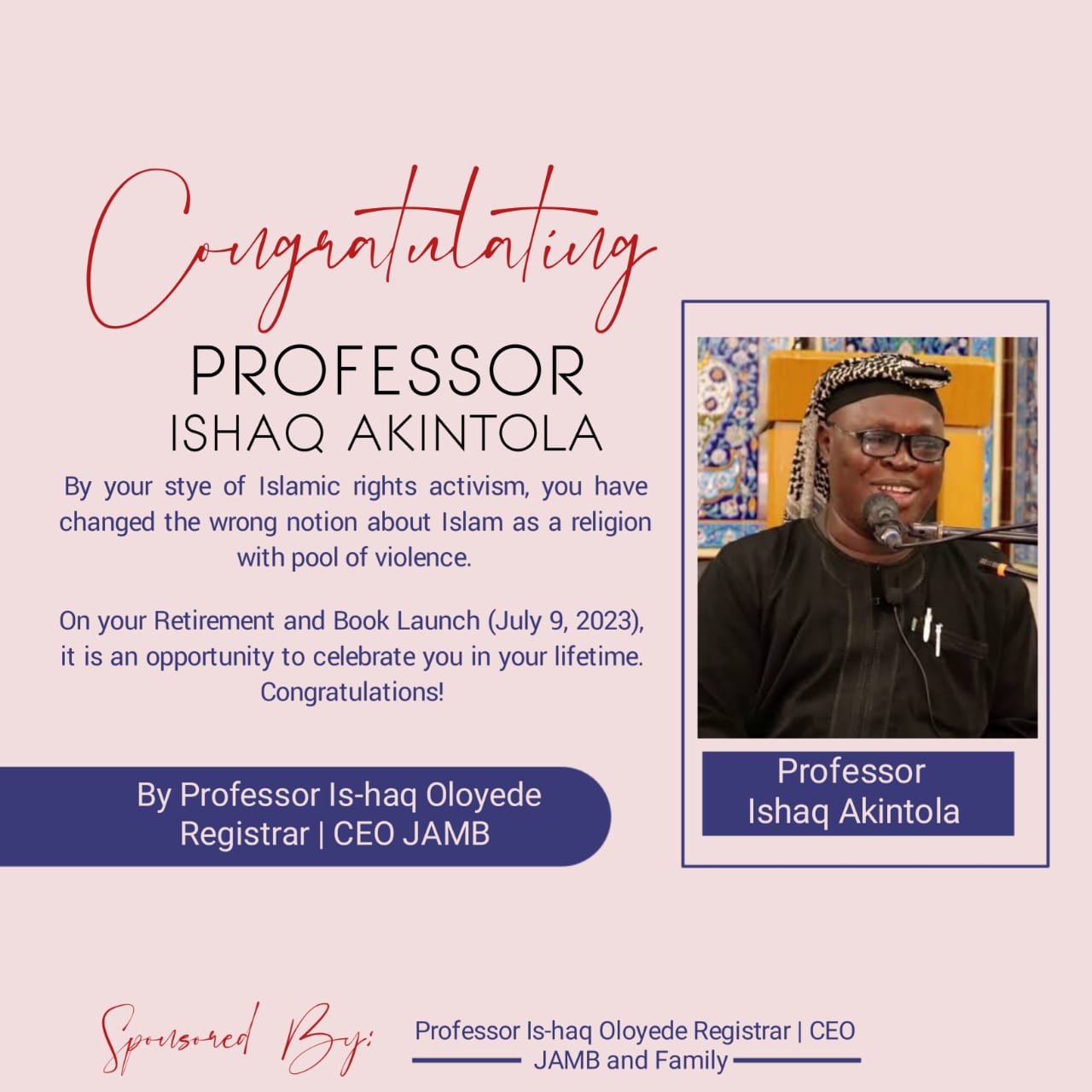 Popularly called Prince Bola Ajibola, the son of a late Olowu of Owu Kingdom, Abeokuta, Ogun State, isn't a small name in the names of the world.  To crown it all, his activities in the same mosjid-Allah (house of God) that he has been able to build has catapulted him to a new position of one of 500 most influential Muslims in the world, according to a recent international publication which rated President Muhammadu Buhari, GCFR, as 17th and Sultan of Sokoto and Sarkin Mu'mineen of Nigeria, Alhaji (General) Muhammad Sa'ad Abubakar III, CFR, mni, as 22nd most influential Muslims in the world.
All these put together being the reason, when he sits back in the comfort of his Olusegun Obasanjo Hilltop GRA, Abeokuta home and recounts the many blessings that have accrued to the Crescent University, Abeokuta which he sold all his property to establish about 11 years ago, the Olori Omo Oba Owu Kingdom, Prince Abdul-Jabbar Bolasodun Ajibola, SAN, CFR, KBE, LL.B, B.L, FCI, NAILS, LLD, says, "alhamdulillahi (that is, I give praise to Allah)."
Bola Ajibola was Attorney-General of the Nigerian Federation between September 12, 1985 through December 4, 1991.  He succeed Chike Offodile (1984-1985) who himself succeeded Richard Akinjide (1979-1983) and Ajibola was succeed by Clement Akpamgbo (1991-1993) who himself was succeeded by Olu Onagoruwa (November 1993 – September 1994).
Bola Ajibola, today, is renowned world class figure having served as World Court Judge at The Hague and had taken part in many adjudications affecting many great nations of the world.  He was also the Nigerian High Commissioner to the United Kingdom just like he was Vice President of the World Bank, New York, in the United States of America.
Next to the above achievement the legal luminary so much loves was the event that led to his deserving the honourary award of the LL.D. conferred on him by the prestigious University of Buckingham, United Kingdom.
He said, "I have four children that went to that university and the authorities were not settled until they sent for the parent of those children.  They said their moral and moral spiritual attachments to academic performances were excellent and that these could not have come from other than the home.
"When they came for me, they met me at The Hague and so they invited me for appreciation of being a good father.  They gave me the LL.D. honorary consal of the University of Buckingham presented to me by the British first and, until the current May, only female Prime Minister, Margaret Thatcher," he repeated to The DEFENDER like he told a national newspaper months ago.
Crescent University, Abeokuta encapsulate the entire happiness of Ajibola as he keeps describing any day he has a reminiscence of how the university of Islamic Movement for Africa, he says, "This is a day the first major achievements…"  The university established from his personal sweat, Ajibola never collected salaries for the six years three months and more weeks that he worked as minister of the Republic, has a Department of Mass Communication, headed by Dr. Kola Adesina, which not only teach but trains students in the entrepreneurial skills like in other departments.  The achievements are so huge that of Progress Report Newspaper and Radiance magazine have come by the Bola Ajibola's students courtesy the Kola Adesina-led Department of Mass Communications, Crescent University Abeokuta and many other products by students of the school have been presented, which make Ajibola sits back say, "I am fulfilled by the grace of Allah!"
Such achievements produced from scratch to the peak of the process and which had generated accolades from both National Universities Commission, NUC and other stakeholders in the universities community demonstrated that the university have more than just theory but also practical evidence of what Crescent University, Abeokuta is up to.
But Bola Ajibola has a background that ostensibly orchestrated this moral quality that he has transferred to his children.  It is the Owu home, where he comes from and the Baptist Boys High School, BBHS, Abeokuta operated by missionaries in those days, where discipline and morals were non-negotiable.
Owu, Abeokuta is an ancient Egba community where name matters. Again the BBHS where he attended, moral and spiritual excellence was issue. You were either a good character or you were thrown out of the school.  Anything short of good moral qualified a student for dismissal.
Cudgel and carrot style was it at BBHS and that can, today, be seen in many products of the former Christian missionary school like the Olusegun Obasanjos, the Bola Ajibolas himself, the G. O. K. Ajayis, the Oba Olusanya Dosunmus, etc.  They are great people who in their respective fields have made Nigeria great.
Ajibola, juxtaposing this beautiful upbringing of the past with what he seeks to achieve with Crescent University Abeokuta, said, "What I set out to achieve with the Crescent University Abeokuta is to train Nigerians to be good moral, fearful of God and still perform excellently well in the academic.  It has been with me since over 64 years ago during my days at the Baptist Boys High School, BBHS, Abeokuta. We were trained on the platform of good moral and fear of God and it was cudgel and carrot style.  Carrot means they would tell us: be good children, do not steal, do not be criminals, respect people and worship God.  And cudgel means any slight default on this expectation, you were out for ever.
"At Crescent University our watchword is in the moral and fear of God. That we impact in all our students. We are not rich but our riches abound in the fact that all our products are now being marvelled nationally and internationally. We achieved this feat through employed guidance and counsellors, who guide and advise the students in the academics and Imams, who preach to them.  Our lead Imam was purposely brought from Egypt and he does no more or less than train the studentsto fear God and have good morals.
Students pass in Crescent University as human being, not as brilliant beast
"Our students repeat not only because of academic failure but because they fail in their moral and spiritual dispositions, which we have now built into a course called Global Citizenship and which must be passed compulsorily.  You must pass in Crescent University as human being and not as brilliant beast.
"This is new dimension in education that we want our students to imbibe and we in our own way are not only doing that but also, we are achieving it.  So much that people are now bringing their children to us to undergo the kind of training that we offer in our school. That is what we do differently, which we call academic plus.
"We have duty to train the whole Nigerian students. Our good example and disciplinary policies on students also extend to lecturers and other staff.  We send lecturers away if they fail to toe our disciplinary and moral lines," he said.