By Yusuf Shehu Usman
At the root of Christian -Muslim no love lost relationship in Nigeria is the message of hate that is spread from both sides. The message has no basis in the fundamental principles of both religions as the religion of Islam means peace and in Christianity the central message is love.
If the adherents of both religions are practising their faiths according to the tenets of the religions and the commandments of God, there should exist between them, mutual understanding and tolerance for each other.
I think the message of hate being spread between the Christians and Muslims is the handiwork of greedy and misguided clerics who have allowed themselves to be willing tools in the hands of equally greedy and unpatriotic politicians.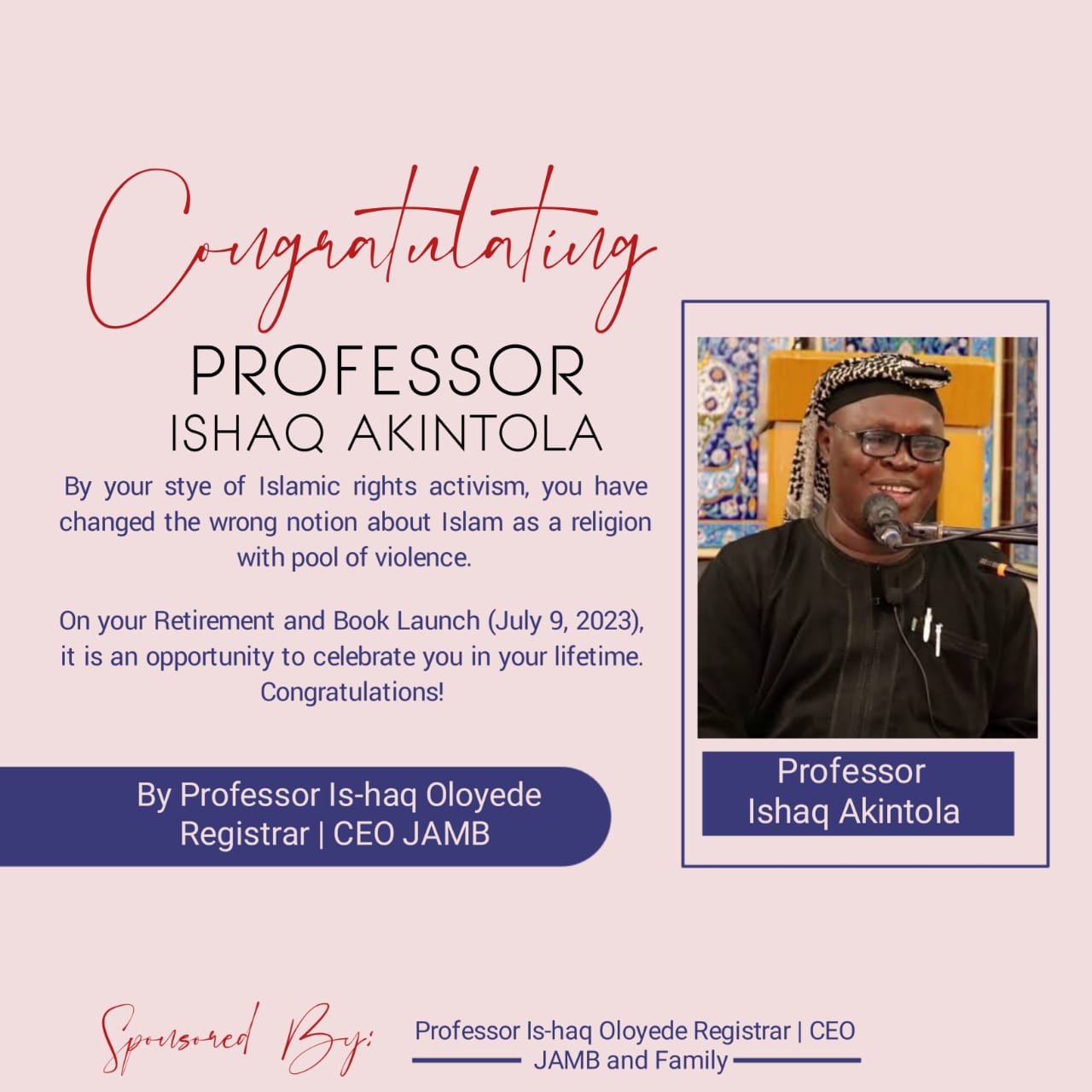 They both manipulate religion and cash on the ignorance and vulnerability of the common folks to plant the seed of discord among the people for their narrow and selfish political interests.
There is no justifiable reason for this unwarranted hatred as in the normal cause of relationship between Christians and Muslims in Nigeria, religion is not a dividing favor. In the market Christians and Muslims buy from each other and sell to each other. In our communities we live as neighbours. We intermarry and our children are friends. They play together, go to school together and celebrate each other's social and even religious occasions.
This is the reality of our coexistence and it has been like that since time immemorial and I believe we are now divided not by religion but by the mischief of politicians and their collaborators in the clergy on both sides.
To the common man in Islam and the Christiandom his perspective of religion is to attend the church or the mosque and worship his God and listen to the cleric whose duty is to educate and enlighten the congregation on their duty to God and humanity as the true way to salvation.
The ordinary Christian has nothing against his Muslim neighbour neither does the ordinary Muslim have any thing against his Christian neighbour and they have been existing like that for centuries.
The main and common problem of the ordinary Nigerian Christian or Muslim is not religion which both practice peacefully. The problem lies with the political and religious leaders who turn religion into a merchandise and using their privileged positions in the society to sell it as a toxic or adulterated good to unsuspecting customers. This is the true cause of the conflict and religion is the victim and not the reason for the conflict and misunderstanding between the people who ordinarily don't hold anything against each other on account of their different faiths.
In order to change the situation and restore the relationship to normal, we must work on the politicians and the clerics to have a change of mind and a change of focus in the pursuit of their political ambitions and the clerics to return to their conventional role of providing guidance to laity. The clerics should not mix religion with politics and if they must introduce political issues into their religious messages, they should emphasize those factors that promote peace, tolerance and mutual understanding between people of different faith because without peace no body will have the right environment to even practice the religion.
And for the rest of us , we need to educate our selves on the positive aspects of our religions to understand that hate is not one of those things we are commanded by God to propagate on earth but peace.
Good morning and happy working week ahead
*This piece by Yusuf Usman from his Facebook Wall with written request for his conscent.  Yusufu, a former staff of Nigeria Law School, Bwari, Abuja, lives in Abuja.
23You, Umar Farouk Modibbo and 21 others
12 Comments
Comments
Solomon O. Omaku Incidentally all religions preach peace and brotherhood, yet!
Wanche Christian Magani Let us stop being hypocritical about this issue ,the failure of this shameless government to realise and accept the existence of two religious beliefs in this country will soon lead to disorder. So the call to self defence is bad? Your Government under PMB watched the killings of Christians who are the majority in southern kaduna without doing anything and now the call to self defence is made and you are saying they should stop the hate preaching, why are the Imams in the mosque who preached about hate , the makaranta Alo, is the Arr ne you and your people call the Christians not provocative?
why was the following unguarded statement not investigated "By the grace of God, the dog and the baboon would all be soaked in blood" said by President Buhari on May 15, 2012? The North is determined if it happens, to make Nigeria ungovernable for Jonathan" said by Lawal Kaita on October 5, 2010? "Anyone, soldier or not that kills the Fulani takes a loan repayable one day" said by Elrufai on July 15, 2012?Why was El Rufai not investigated after he said he paid the killers to stop the killing… do you think there would have been peace in this country if this here persons are Invited or questioned? I am not a hypocrite to any religion neither a sycophant any political party……..
Matthew Appwal Attah @Wanche you have good reasons to confront the government of the day but we must be honest that this distrust and hateful messages started long before this government and party.
Yusuf Shehu Usman Wanche Christian Magani, I have tried to be balanced and objective in my examination of issues. The responsibility for peace in the society does not lie with the government alone. The responsibility of the government is to provide an enabling environment where every citizen can practice his religion in peace and without threat or intimidation but it is for the people to Forster among themselves a relationship that will support government's efforts. There is nothing or very little the government can do if the people do not want to live in peace. You should therefore understand that the problem is multi dimensional and therefore the solution should be comprehensive. The quotations you made in your response and selective. You glossed over the message of hate spread recently by Christian religious and political leaders because may be you support it. But that is not the point. It will only further exercebate the crisis and divide us the more. You have failed to proffer a solution to the problem but only made comments that will deepen the crisis.
Solomon O. Omaku Lets not mix issues, the "Biri jini kare jini" statement was made at different time, for for different issue, and as part of a statement for the good of this nation, I believe. While the Gov. El Rufai's statement, if true there is need to trade caution, cos two wrongs can not make right.
My brother Wanche, God knows why He made Nigeria a nation of Christians and Muslims, there nothing any of us can about this. So we either learn to live in peace like brothers and sisters that we are, or die in crises.
However, from indication this post was scripted to pacify, advise and suggest ways to calm nerves and avert possible re-occurence.
To those that have been affected by the unfortunate incidences; lets pray God to grant mercy to those who have passed on, give the living the fortitude to withstand shocks and replenish their loses.
Amen! Wanche Christian Magani
Like · Reply · 1 · 1 hr · Edited
Wanche Christian Magani Amen sir thanks
Solomon O. Omaku My pleasure, bros!
Jonah Ainoko Thanks sir.
Engr Zakari Ayitogo Well said my Lord.
Nuhu Wabi Thanks Yusuf Shehu Usman and Solomon O. Omaku. The questions are what is the way forward ? How do we foster good relationship and forge ahead ? Mr Wanche Christian Magani was only one sided in his analysis. He should have gone ahead to quote the utterances of the former first lady on northerners and particularly Muslims. The utterances of the former president on the war against insurgency etc. Anyway Barrister, I am still of the opinion that you the politicians created this dichotomy and are exploiting the scenario at the expense of the common man. If you do not desist the monster will ultimately consume you ( the politicians).
Like · Reply · 59 mins · Edited
Dorcas Solomon Wisdom
Prince Bashir Adefaka Wanche Christian Magani: You will need to exercise caution because you are already allowing your personal sentiment to derail the good post by Yusuf Shehu Usman. You see, while adherents of both religious faiths must exercise restraint in the kind of utterances they make, I must ask you to particularly take caution because with this post we have a path to taking peace. But why did you try to derail it simply you are being one-sided in how you gather the information you work with in this regard? Why is the call to self defence by any pastor with 500,000(?) not bad? And I will tell you why you must be careful the way you talk here because nobody can hide anywhere any longer (not even on Facebook using fake name or hiding his face or on android and begin to making inciting comments and diverting attention from path of peace and won't be reached physically except he or she does not type on the internet), not because I am a Muslim but because it is a fact, the Southern Kaduna that is now your talk show, remember that both Muslim and Christian groups killed there. Do you agree? There will problem if you don't agree because it won't lead us beyond here. But if per adventure you agree or any other person agree (which of course is the fact), the question you should ask is, why did Christian Association of Nigeria (CAN), because of their consciousness that they have many of their boys and girls in control of the media, why did they deliberately use the media to send wrong signals to the outside world as against what happened there? Some of them said 801 Christians had been killed (CAN) but Catholic went against them immediately saying it was not true and security establishments kept telling us exactly what happened there as being overbloated by some religious and political leaders. I believe both Catholic and the establishments because of the antecedents of CAN. But you restrict yourself to information by CAN, why won't have problem understanding simple logic? Continue on ….2….
Prince Bashir Adefaka …..2……
And you that are now believing and because of that are calling government all sort of ungodly names simply because you want to satisfy your sentiment? See what you wrote yourself, "the failure of this shameless government to realise and accept the existence of two religious beliefs in this country will soon lead to disorder. So the call to self defence is bad?" Can you imagine that you could be worse than the pastor in question? What you are saying is that, when the transgressor is a Muslim, all the powers in this world must be descended on him but once the transgressor is a christian, nothing must be done. You are not a good communicator if your message cannot appeal to both sides of the divide. You have come out with blatant lie that the government does not accept there are religious beliefs in this country. Now, give a proof because without proof, heavens will have collapsed by the kind of evils that men do with misleading information. Again, you now ask, "So the call to self defence is bad?" You should answer that question yourself but because I know you may not be in right frame of mind to answer it, I put it to you that it is bad. My reason? Tell me how many times Muslim leaders stood on Mimbar in the mosque and commanded the Muslims and publicised it in the media like Christian leader do (IMPUNITY!) that, "Muslims, kill any Baron you see around your house. Kill any Christian around our mosque or on our street, kill him, cut his head?" If a Christian can call for head of a Fulani or Muslim to be beheaded, don't we know it is the act of Boko Haram to behead and that it is not an act ascribable to any man of God? The highest you will see Muslims do is to call on the government to provide security. Continued on ….3…..
Prince Bashir Adefaka …..3…..
Recall the 1,000 plus Muslims that Christians killed on Sallah Day in Jos in 2011? Do you know what Amnesty International tell the Muslim leaders that took the video clips to them said? Why is it that all these were not fully covered by media of Nigeria and what did the government do about it? This is the issue. Did you hear Muslims calling for self defence? Because they know that self defence is not the way out. But you people, so long you are carried away by sentiment, will never see the wisdom in that peace effort even at almost impossible sacrifice. Boko Haram bombed UN House in the month of Ramadan in 2011 or thereabout, many fasting Muslims were killed in that bombing but CAN President Pastor Ayo Oritsejafor went and compiled the names of Christians involved and gave it media publicity and started crying, "They killed Christian in UN House." What manner of a religious leader is that? Yet all of you Christians were aware of the many Janazah (funeral) that Muslim Community did for their own side of the dead that time yet you joined in carrying the erroneous impression around, which you are still repeating here when we have a good lead to peace making by Yusus Usman. Everybody needs to be very careful because we are tired of all these religious sentiment nonsense! Continued on …….4……
Prince Bashir Adefaka ……4……..
Okay, The Sultan of Sokoto has gone round this country making peace to the extent that some Bishops in Enugu including Father Mbaka had to say that with his speech during his last visit his (Mbaka)'s perception of Nigeria and unity of Nigeria had been corrected as he and others agreed that Sultan had successfully united all the religious groups in the country. Of all these efforts by the Muslim leaders (forget about sentiment), where is Christian Association of Nigeria (CAN) from Ayo Oritsejafor to their current leader Samson Supo Ayokunle in all these? Tell me one peace speech any of these successive CAN leaders heading Nigerian Christian Community has given somewhere other than address the press about how a Northern Islamisation Agenda that since I was in primary school I have been hearing but has not yet come into the open. Why I will never agree with you whether you choose to punch me for this or not, still carried away by sentiment, is that as a Muslim, I DO KNOW IN ALL RIGHTEOUSNESS THAT NOBODY CAN SAY BECAUSE HE WANTS TO PLEASE GOD SO HE WANT TO EMBARK ON ISLAMISATION. NO, WE ARE NOT TAUGHT ANYTHING LIKE THAT. We manage not to cause trouble by our words, I would have told you here the many efforts you religious group has made to Christianise us through your intolerance to Muslims in hospitals, schools, public and private offices. I wonder if Dangote and Ishaq Rabiu and some Muslim directors in public sector were to do that Christians what you people will say. So, my friend, don't allow us to pour again all the things we should forget so that we can move forward in peace. If any religious leader has made inflammatory utterances capable of causing chaos in the country, the security agents should do their job that is final. Malla Yusuf Shehu Usman, thank for your intervention and do more. THE ONLY SOLUTION TO OUR PROBLEM IS TO STOP BEING SENTIMENTAL. And what this guy does not know that we do know about some of the people that divert from real issue like he has just done is that it is rampant among the people from the South East. If you go to WELCOME TO NIGERIA, a Facebook group, you will doubt if Nigeria can ever be peaceful again to the extent of what those people from that particular section put on the social media. So, everybody should rethink and let us, Muslims and Christian, move on with our peace and harmony. It is possible, except that some of us just don't want it but so long none of these people want to stick his neck to fighting a war, we have no choice than to open our eyes and heads and begin to do and speak well about ourselves and our country. No Church or Mosque a police station, DSS office or military command. We are better allowed government's agents to handle our situation than allow our person sentiment to do it, otherwise, people who don't are calling for war that will consume only them.