*Says his reign berthed beginning of Hausa-Fulani settlement in Lagos
By BASHIR ADEFAKA
"From that little beginning, a solid foundation for an enduring relationship was laid. With a symbiotic communal bond the Fulani community has been able to find a home in Lagos where they are recognised as veritable stakeholders and partners in the progress of Lagos."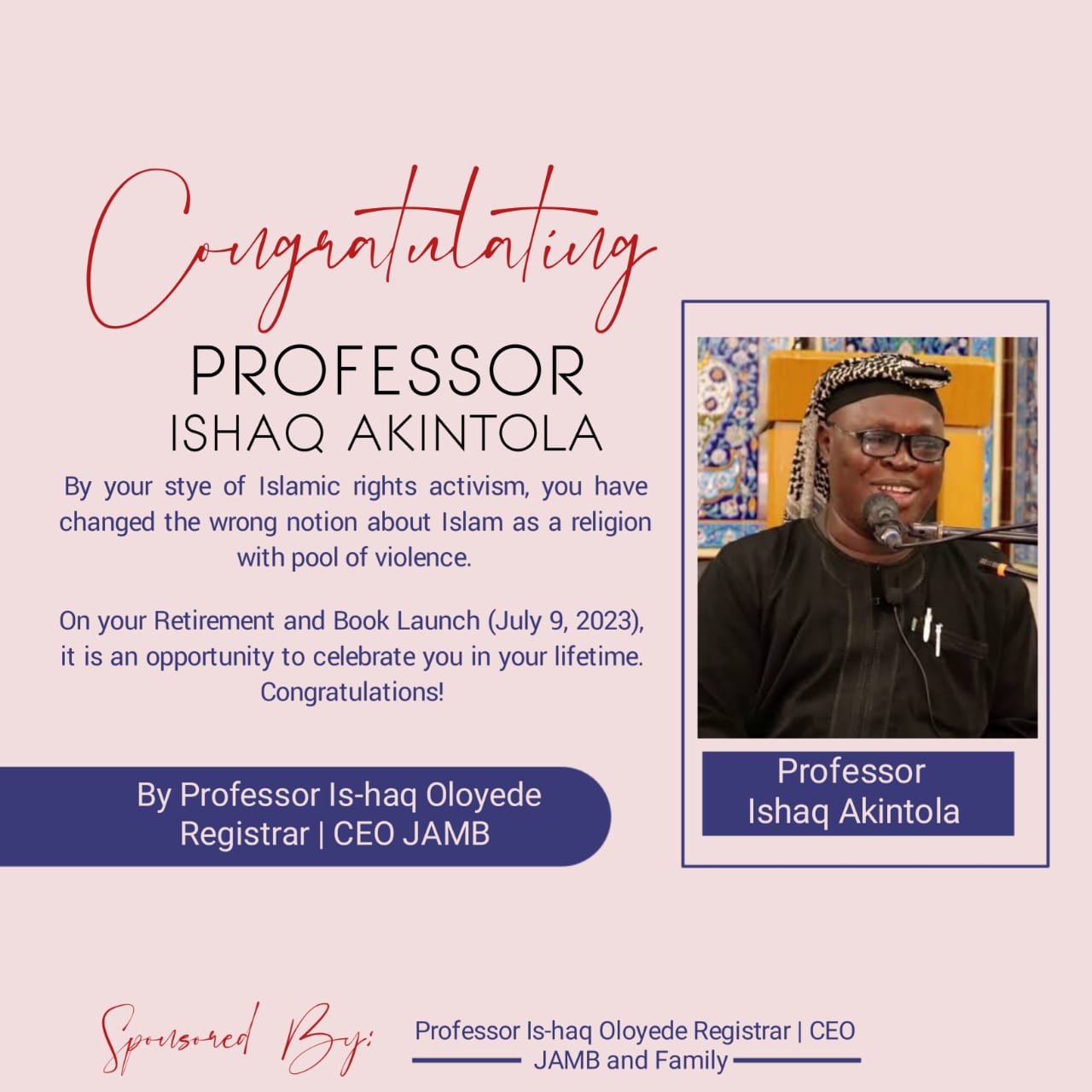 'Return of Late King Kosoko', the legendary Oba of Lagos, after his exile in Epe, was commemorated last week precisely between Thursday 15 and Friday 16 September, 2022, by the prominent King Kosoko Royal Family.
Remarkably, the peak of the event, which was held in the ancient King Kosoko Memorial Palace Museum, Ereko, Lagos, was graced by eminent dignitaries more spectacularly the Sarikin Fulani of Lagos and Chairman, South West Council of Fulani Chiefs and Vice Chairman, Arewa Council of Chiefs in Lagos, His Highness Alhaji (Dr.) Muhammed Abubakar Bambado II, who said his grandfather, Sarki Bambado I, spent time with King Kosoko as the first Fulani settler and bureau de change business mogul in Lagos his time.
The DEFENDER's investigations revealed that the anniversary tagged, 'Return of King Kosoko' was to re–enact the movement of King Kosoko, a former King of Lagos who was deposed and went on exile in Epe, but returned to Lagos in a night journey with his chiefs and warriors. He later became the Oloja of Lagos controlling Ereko part of the ancient kingdom.
In the fact-checks that we conducted, King Kosoko, the indisputable legend, was forced out of Lagos after the British Royal Navy's bombardment of Lagos in 1851, leading to his sojourn in Epe where he established the Eko Epe section with his lieutenants. It was later realised that wherever the King went he usually took along the commerce, which explained why the British had to appeal to him to return to Lagos, a request granted, and when he returned, the commerce, trade and unity that had departed also returned to Lagos.
His Majesty King Kosoko left Epe on 15 September 1862 and went through a night journey leading him to arriving at the Ereko Waterfront in Lagos the following day of 16 September 1862. Reminiscence of the whole experience informed the choosing of last Thursday 15 and Friday 16 September, 2022 precisely a week ago as the days to market 'Return of King Kosoko' to Lagos.
To this end, re-enacting, last week, the return of King Kosoko to Lagos means celebration of the 160th Anniversary marking the end of the legendary monarch's exile in Epe, where he already established a community named Eko Epe but had to be persuaded to return to base on appeal of the British Government for the main reason of helping revamp the ailing commerce and trade of Lagos occasioned by the dethronement of him through their colonial bombardment of his kingdom in 1851. Considering his influence on the commerce and trade of Lagos, per adventure and ruling from his palace at Ereko Waterfront, he later became the Oloja of Lagos after returning from exile.
Sadly, and naturally so, His Majesty King Kosoko died barely 10 years after his return to Lagos precisely on April 15, 1872 and was buried in the palace premises 10 days after precisely on April 25, 1872 an event that also justified the marking of 150th Anniversary of his Death by the Kosoko Royal Family of Lagos on April 15 earlier this year.
This fast growing multilingual digital newspaper can authoritatively report that King Kosoko had reigned barely six years having been coronated in 1845 and ruled until he was deposed and forced out of Lagos in 1851. And in April 2022, which was 150 years after his death, King Kosoko Memorial Palace Museum became recognised as a state monument by Lagos State Government, under the current administration of Governor Babajide Olusola Sanwo-Olu.
As part of events marketing the 160th Anniversary of 'Return of King Kosoko' was the award and honour event held, also on the premises of the palace museum, on Friday 16 September, 2022 with the Sariki Fulani of Lagos, His Highness Alhaji Muhammed Abubakar Bambado II, being a major recipient. At the award ceremony, the amiable Kosoko Royal Family made a promise in their address that, by 2024 when their new advisory board will be constituted, the Sarikin Fulani of Lagos will be included in their programmes so that performance of Durbar will commence right on the ground in Lagos.
In his response titled, "Over a century and a half history of Fulani in Lagos", Sariki Bambado II said:
"Recorded history – both oral and written – situates the arrival of the first batch of Fulani settlers in Lagos in the 18th Century. Their existence has spanned over a century and a half, specifically dating back to 1864 when the first batch of Fulani settlers who were majorly traders in kolanut and merchandise were hosted by the then reigning monarch of Lagos, Oba Kosoko, at his palace in the present day Lagos Island. The first acknowledged leader of the new settlers Usman Salgare emerged on the scene in 1907 effectively laying the foundation of a structure upon which a leadership hierarchy was built. A peace-loving people, the Fulani have a rich history of cordial and peaceful relationship with the host communities where they are domiciled and engaged in business activities.
"Years later, Sir Muhammadu Bambado I, became the indisputable leader of the emerging Fulani community. He was a bold and enterprising Fulani merchant who in his visionary drive further deepened the relationship between the Fulani and the host Lagos community as well as gradually building a thriving business empire that grew luxuriantly on Lagos Island. From his abode within the Kosoko precinct of Lagos Island, Bambado's business acumen and untiring entrepreneurial drive gave him a head start as he made his foray into different business ventures.
"Sir Bambado went a step further to serve as a veritable liaison personage between visiting Hausa and Fulani from the northern Nigeria, West Africa, Central Africa and the host Yoruba community of the old city of Lagos. Beyond serving as a liaison personage, Bambado also made his expansive home available as a resting place and contact point for northerner traders on business visits to Lagos as a well as an abode for people from the north until they were able to get their footing in the new environment.
"From that little beginning, a solid foundation for an enduring relationship was laid. With a symbiotic communal bond the Fulani community has been able to find a home in Lagos where they are recognized as veritable stakeholders and partners in the progress of Lagos. The baton of leadership Sir Muhammadu Bambado I handed over to his son, Nasidi Abubakar Bambado, who took over the rein of leadership when his father died in 1969 came with charge to build on the existing peaceful and cordial relationship.
"It is interesting to note that Sarki Nasidi continued in the tradition that gave due respect to the established cultural norms inherent in the host Community, Lagos, in the cherished steps of his late father and predecessor, Sarki Muhammadu Bambado I. The new Sarki earned his place in history not only as a distinguished leader but also an acknowledged advocate of peace. His coronation was attended by the then Head of State, General Yakubu Gowon along with senior military officers serving in his cabinet. Yoruba Chiefs and other tribes domiciled within and outside Lagos paid homage to the new Sarkin Fulani as a sign of respect and recognition of the selfless service rendered to the society by his late father.
"The interaction between the Fulani community and the host community was taken a notch higher by Sarki Nasidi Bambado, who became a member of many Yoruba Clubs in Lagos which further deepened fittingly the existing.
"The third in line of Sarkin Fulani of Lagos and Chairman, Association of Fulani Chiefs of South West Nigeria, His Highness Alhaji Muhammed A. Bambado II was turbaned in 1994. Like his father, he was also born in Lagos. He has continued in the footsteps of his forebears ensuring peaceful co-existence between the Fulani and the host communities. The Bambado's journey through time and space is an integration process that has deepened over the years the ties of friendship, business network and cultural renaissance.
"A quarter of a century has rolled by since the enthronement of His Highness Alhaji Muhammed A. Bambado II, whom history would record as the third Sarkin Fulani of Lagos.  It is evidently clear that since his enthronement in 1994, quite some volume of water had lowered under the bridge of time in a Row that has brought to the fore some verifiable tangibles – an enduring communal spirit and deepened cultural relationship amongst component communities in Lagos and the South West.
"Without doubt, conscious efforts have been made within this period in building on the foundation of friendship, trade and cultural renaissance already laid by the forebears of the incumbent Sarki. Finding a "home" away from home is not only a strong rallying point but also a mix that accentuates the strength and resolve of the Fulanis to live together in peace and harmony among other component Nigerian tribes.
"The personage of His Highness Sarki Muhammed Abubakar Bambado II aggregates the fine points of purposeful leadership style, peaceful co-existence agenda that has been tirelessly championed over the years by the two Sarkin Fulani before him.  This has largely helped in strengthening success communal bond between the Fulani and the host community, The cordial relationship has also helped in opening new frontiers of friendship; networking across tribal lines within and beyond the Sarkin immediate environment. Thank you for your attention," Sarki Bambado II concluded his address.