*Makes case for release of 54 soldiers
*Says prison decongestion will create space for incoming corrupt politicians
*How FG plans prison decongestion – Danbazzau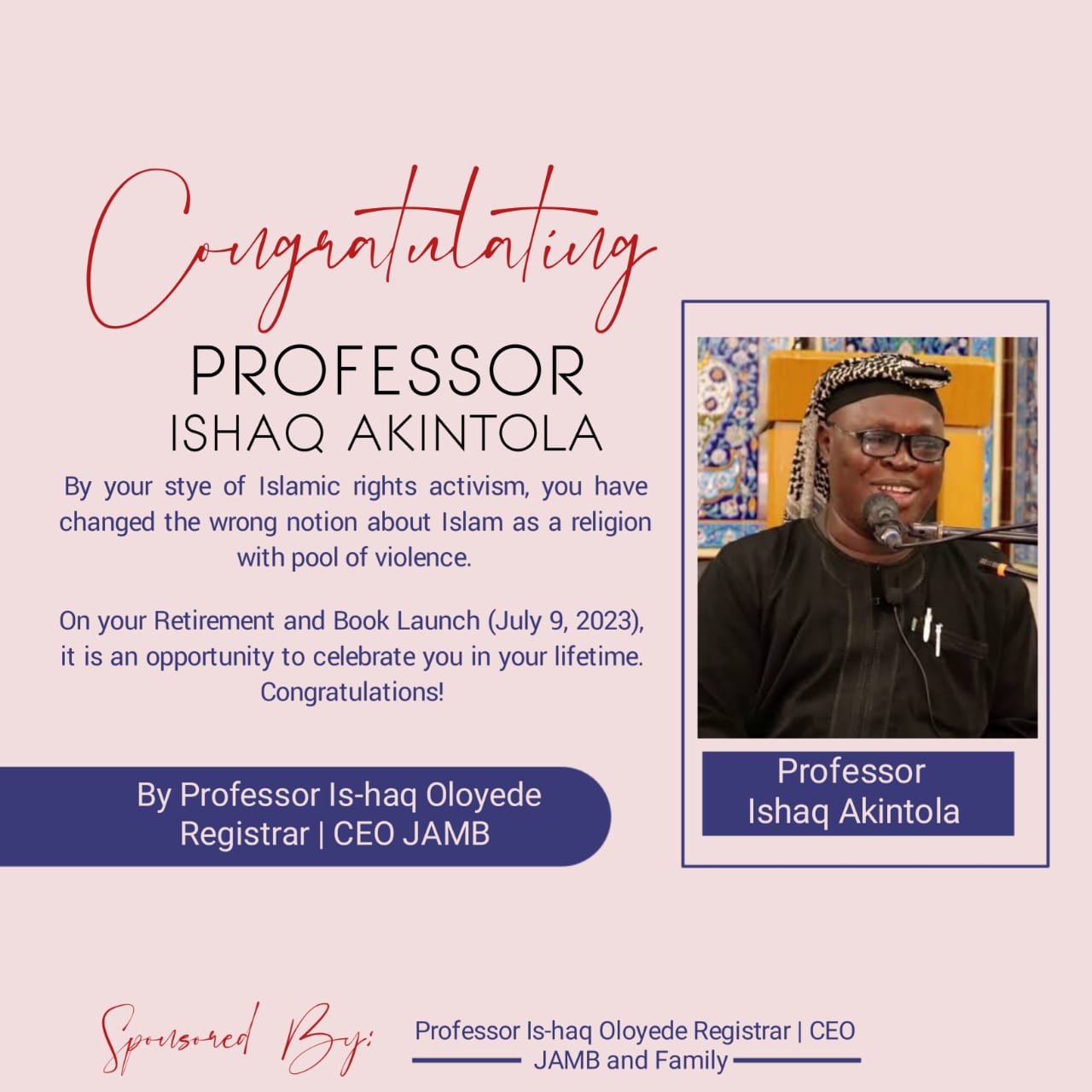 By Our Reporter
The Federal Government of Nigeria has been called upon to learn from the example of Kenya in decongesting the congested prisons across the country.
Making this call in a statement this Friday was Muslim Rights Concern (MURIC).
The statement signed by MURIC's Director, Professor Ishaq Akintola, referred to Kenyan President Uhuru Kenyatta's release, Thursday, of 7,000 prisoners to decongest his country's prisons "and also to make room for incoming corruption offenders."
The statement said Muslim Rights Concern (MURIC) applauded President Kenyatta's visionary and humanitarian gesture and called on President Muhammadu Buhari to emulate the Kenyan leader by taking radical steps to decongest Nigeria's overcrowded prisons.
"It is on record that most prisons in Nigeria contain double their capacities.  Exempli gratia, Kaduna Central Prison which was built in 1915 with a capacity for 547 inmates now has 954 prisoners.  Bauchi prison which was built in 1920 for 500 prisoners only now has 1,041. Nsukka prison which has the capacity for 180 inmates now houses 500 prisoners.
"This choking prison environment is mainly responsible for recent jailbreaks in various prisons within the country.  At best, it has turned Nigerian prisons into recruitment sergeants for armed robbers.  It is not only unhealthy and inhuman but also falls short of international best practices," it that statement said.
MURIC therefore called on President Buhari to commence the decongestion of Nigerian prisons with immediate effect but did not make such call without a suggestion.
According to statement, MURIC said, "We suggest that priority should be given to the 54 soldiers who are currently languishing in jail for refusing to fight Boko Haram insurgents without being adequately armed. It was their refusal that attracted public outcry and exposed the $2.1 billion arms scandal. We believe that these 54 soldiers have suffered enough. Next to the 54 soldiers should come awaiting trial inmates whose offences are trivial and those who have spent one third of their prison terms.
"As a parting shot, the Federal Government should not delay this general decongestion as it will create enough space for incoming corrupt politicians, greedy ex-army chiefs and black sheep among the judges."
How FG plans prison decongestion
In the meantime, The DEFENDER's investigation has revealed that the Federal recently approved N3.5 billion for 320 operational vehicles, as part of its efforts to decongest the Nigerian Prisons.
It would be recalled the Federal Executive Council (FEC) on Wednesday October 5 approved the sum of N3.5 billion for the procurement of 320 operational vehicles to convey prison inmates to courts.
This, our investigations found out, was targeted at reducing the population of prisoners which currently stands at 65,000 with 70 percent of them awaiting trial largely due to lack of vehicles to convey them to court.
Briefing journalists after the Federal Executive Council meeting chaired by President Muhammadu Buhari, at the time, the Minister of Interior, Abdulrahman Danbazzau said the vehicles will be sourced from local manufacturers, assemblers and vendors within Nigeria, in line with government policy to promote made in Nigeria goods and create
employment opportunities for the youths.
Danbazzau said: "We are trying to see how we can reduce the number of inmates awaiting trial. But the criminal justice Act of 2015 has also  made provision for alternative sentencing, otherwise known as non-custodian sentencing. The courts can now use that to rather than sending the individual to prison, depending on the crime committed, apply other
means of dealing with his case.
"There is also an inter-ministerial committee looking at that issue of decongestion".
With the call by Muslim Rights Concerns (MURIC), it is hoped that the Federal Government would fast track the process and ensure that the needful is done without delay, The DEFENDER reports.