*Condemns glorification of corrupt people on trials
*Says Nigeria's 2016 with Buhari was full of new achievements
*President's doggedness yielding positive results – Rights Group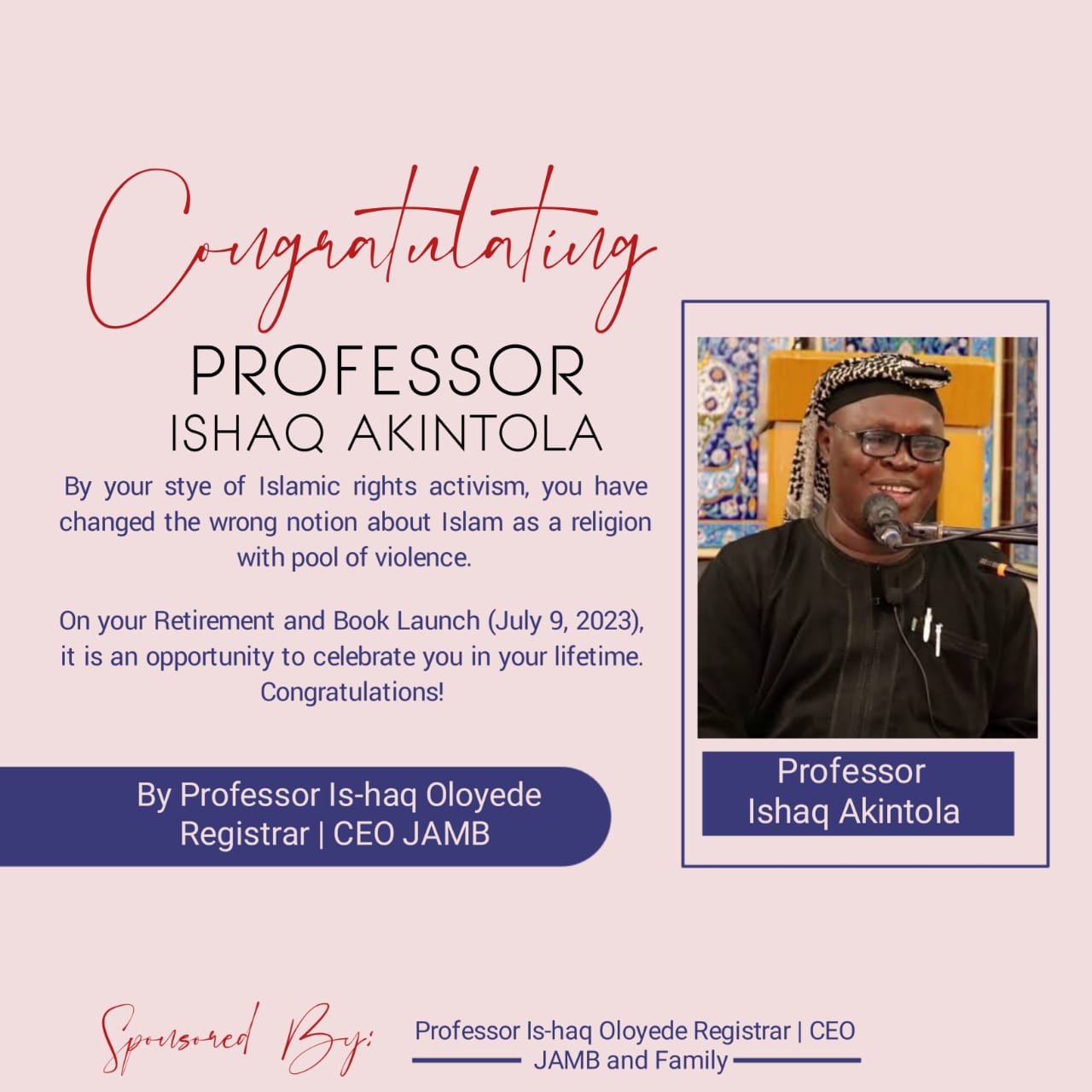 By Kemi Kasumu
As Nigerians in all strata of endeavour look forward to ushering in a new year, 2017, on Sunday, notable Muslim rights organisation has called on them come together in the new year and kill corruption that is obviously endemic in the country.
Muslim Right Concern (MURIC), which made this call, in a statement signed by its Director, Professor Ishaq Akintola, copy of which was emailed to The DEFENDER on Friday, was bold saying, as a people, Nigerians must prioritise the war against corruption in the coming year if they really wanted to get out of sufferings.
Describing MURIC as a non-prophesying but advocate of non-violence, transparency, accountability and good governance, Professor Akintola said his organization wanted Nigerians to kill corruption in 2017.
The statement read: "MURIC wants Nigerians to kill corruption in 2017. We must intensify and prioritise the war against corruption if we as a people really want to take our destiny in our own hands. It is the only way to stop the sufferings of Nigerians. Secondly, Nigerians must come together and speak with one voice regardless of their political, religious or ethnic backgrounds.
"This country has been robbed silly.  Diezani Alison Madueke vanished with $20 billion.  Patrick Akpolobemi helped himself to $12 billion from NIMASA coffers. Sambo Dasuki messed up with $2.1 billion arms fund.  N40 billion developed wings and flew into thin air under former customs boss Abdullahi Dikko.  The list is endless.
"Instead of condemning these thieves, some Nigerians started accusing President Muhammadu Buhari of being motivated by vendetta. Some claimed he was only targeting opposition members. Strangely enough, they still remained recalcitrant even after members of the ruling party including a personal friend of the president and a chieftain of the ruling party were arrested for corruption and dealt with.
"We can imagine what the huge amounts stolen by these shameless kleptomaniacs could have done for the nation. How much do we really need to equip our health facilities with the most sophisticated machines in order to stop unnecessary medical trips abroad? How much do we need to turn the dilapidated death traps which we call roads to macadam standard? Why can't a Nigerian university be one of the best 10 in the world? Why couldn't we beat Ghana to celebrate 10 years of uninterrupted power supply?
"But we are on the right plane with Buhari as our pilot. His doggedness is yielding positive results. Change is already surfacing. Nobody ever asked those thieves any question before Buhari came on board.  But now some of them are in jail. Corrupt judges are not being spared. Some of them have started vomiting what they swallowed.
"Jafaru Isa who was accused of stealing N170 million returned N70m just one week ago. He had earlier returned N100 million before he was released from custody. That means he has returned the whole loot. Abdullahi Dikko paid back N1 billion before bail was allowed. Only those who are blinded by partisanship or ethnic jingoism will refuse to accept this as the real change.
"No Nigerian government had ever achieved this feat in the past. The Federal Government (FG) also reported the recovery of huge amounts of cash: N78,325,354,631.82, $185,119,584.61, £3,508,355.46 and €11, 250 between May 29, 2015 and May 25, 2016.  Also released were recoveries under interim forfeiture, which were a combination of cash and assets, during the same period: N126,563,481,095.43, $9,090,243,920.15, £2,484,447.55 and €303,399.17.
"Anticipated repatriation from foreign countries totaled: $321,316,726.1, £6,900,000 and €11,826.11. The non-cash recoveries are – farmlands, plots of land, uncompleted buildings, completed buildings, vehicles and maritime vessels.  This feat is what Nigerians should be celebrating instead of holding parties in a state capital to celebrate the release of a thief from a London prison. Corruption has indeed robbed some Nigerians of their norms and values.
"We must stop sending divisive signals. Muslims are among these shameless thieves.  Christians are among them. We have Northerners there just as there are Southerners.  So why are we deceiving ourselves?  A thief is a thief whether he is a Muslim or a Christian.  A thief is a thief whether he is a Yorubaman or Kanuri.  Corruption is faith-blind.  Poverty knows no tribe.  We are all victims of the thieves' greed and avarice.  So why should we allow them to use religion or tribe to blindfold us?
"MURIC looks towards a 2017 in which Nigerians appreciate honesty and integrity. We must place accountability above licentiousness in the coming year.  Muslims and Christians must pull down the barrier of hatred.  They must appreciate one another.
"For instance, some Muslims condemn fellow Muslims who wish Christians Merry Christmas. That is one of the signs of extremism. Muslims should ignore such people among them. We should boldly and sincerely wish Christians Merry Christmas. MURIC has been doing this since its establishment in 1994 and we will continue to do so. We will not allow any distraction in our intellectual jihad.  It is the path of love, the path of peace. We must not listen to extremist Muslims among us who feed fat on spreading hatred. Christians must also wish Muslims Barka de Sallah as usual.
"Those who discourage such goodwill messages are hallucinating agents of Shaytan. They are not ready to face reality. Christmas and Sallah will always come whether anybody likes it or not. Why don't they reject the holidays that are declared for such festivals if indeed they are serious? Why don't they go to work on that day if anyone will open the office doors for them? Or why don't they go to the school on such holidays if teachers will come to teach them? Those festivals are realities which can only be ignored by dreamers and the fact that holidays have been officially declared for them proves that they are real and an integral part of us as a people.
"Finally, MURIC urges Nigerians to kill corruption. We urge Nigerians to come together. Let us fling open all doors to welcome fellow citizens of other faiths. Open all the windows to allow in free air from all faiths and ethnicities. Nigerians must join hands to claim their rightful destiny. We must defeat the political and ethnic shenanigans with their divide et impera gimmicks," the group bold stated in the release signed by its director, Professor Ishaq Akintola.