*Directs members in Niger State on candidates to vote
*Says on Feb 25 candidates, parties did their own but March 18 "our turn to do our own"
*"We will not be tricked to restore Islamophobia in Lagos by our votes," Sanwo-Olu rejected as CAN Agenda-complied Candidate
By KEMI KASUMU
"The Candidates and Parties have done their own. It is now our turn to do our own. By now, we should all know the difference between day and night. Christians can not be relegated," CAN said in Niger Chapter's statement.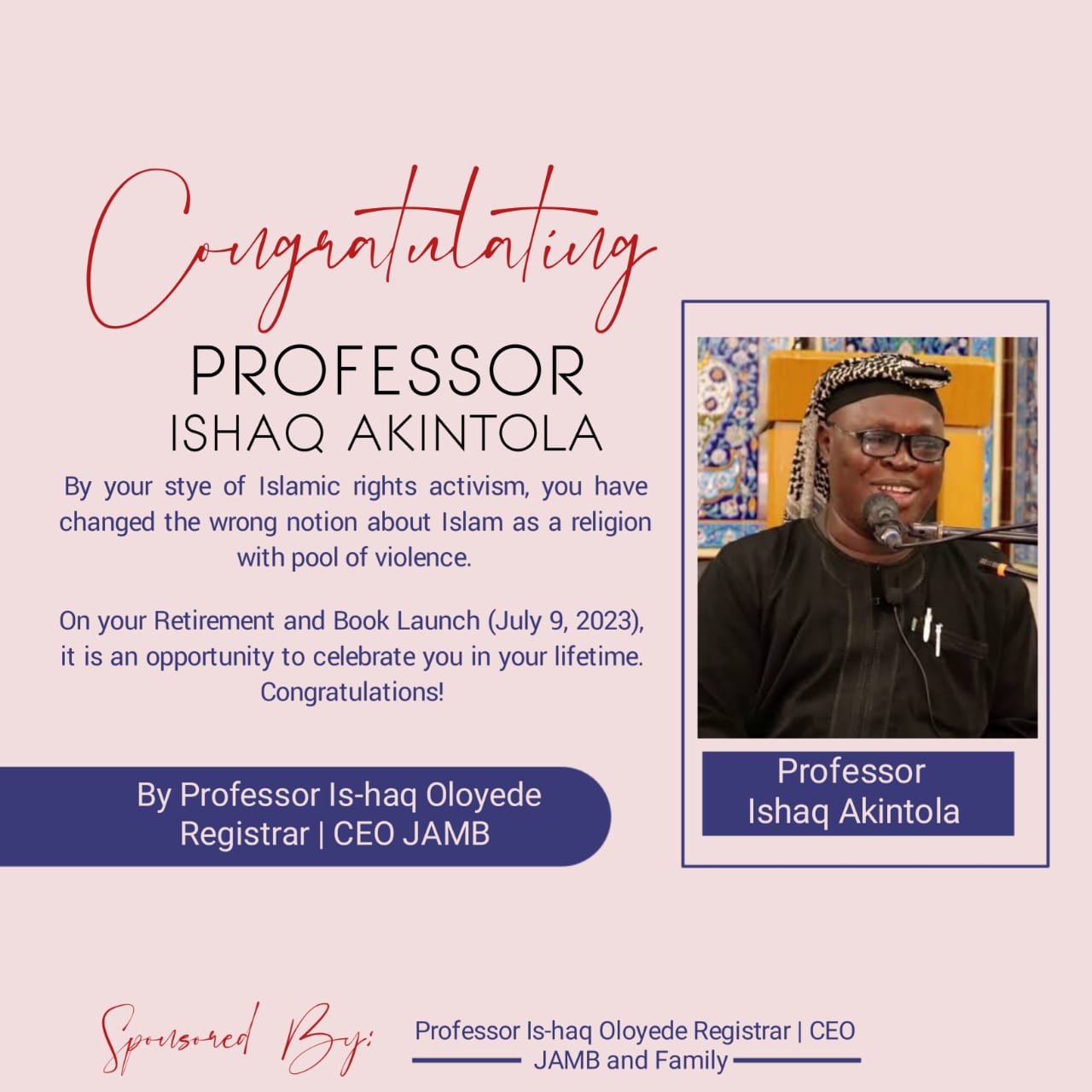 Sixteen days after the last presidential and national assembly elections in the country, the Christian Association of Nigeria (CAN) is yet to congratulate declared winner of February 25, 2023 electoral process, wherein its candidate-of-interest it openly and massively mobilised the Church across the nation to vote failed to emerge.
The CAN has been under fire of words even from some Christians over his now clear role of dividing Nigeria's electoral process along religion line as it was at certain times advised to register political party so as to achieve its vision and mission of a Christian President for Nigeria under a democracy.
Our investigations revealed that the country's apex Christian body, despite being a signatory to unity forum that Nigerian government has invested heavily in for the purpose of inter-religious mutual understanding, love and peaceful co-existence between its own faith folks and the Muslim Ummah, has been revealed from recent records to be focused on a Christian Agenda.
To the body, the only way to achieve such Christian Agenda is through installation of a Christian President, which failed with the emergence of Alhaji Bola Ahmed Tinubu, a religiously neutral presidential candidate of the All Progressives Congress (APC) the CAN accused of contesting on Muslim-Muslim ticket and which it confidently boasted would lose.
Since the emergence of Tinubu in the election, the Christian Association of Nigeria, in its spirit, is yet to reconcile with the fact that APC, despite its Muslim-Muslim ticket, won while its preferred Church-anointed candidate, despite the seeming large congregations of the Church, failed, and so has continued to withhold its congratulatory pen from saluting Bola Tinubu over the victory.
However, the CAN, now devolved into the state level politics, has started a fresh move of re-mobilisation to ensure that more Christian governors, precisely CAN Agenda-complied, emerge across Nigeria in the upcoming governorship election of Saturday March 18, 2023.
One of the efforts has been pointed out in statements issued by Kaduna and Niger state chapters with Lagos State chapter of the nation's apex Christian body openly picking Mr. Babajide Olusola Sanwo-Olu, candidate of the same APC, whose presidential candidate declared president-elect, it has failed to congratulate 16 days after, as its anointed governorship candidate to vote in the Saturday election.
Our recent report, headlined "MARCH 11: Controversy as APC's Sanwo-Olu becomes 'Christian candidate' in Lagos", showed that the sudden discovery of Christian Agenda Sanwo-Olu is now being projected by the controversial religious  group to achieve, has caused a split in the ranks of Lagos APC supporters and other residents who are either especially Muslims or youths committed what they described as 'O To Ge' in the state's 24 years of Fourth Republic politics.
Before the latest development, some Islamic clerics in Lagos State, had publicly even in circulated videos, adopted Sanwo-Olu but some Muslim followers, who spoke to us, said it is not possible for Muslims in Lagos State to return to the Islamophobia of the past, "not even on cosmetic promises of a governor like Sanwo-Olu now being promoted by the same anti-Islamic agents CAN represents," one of them specifically said.
Issues beyond endorsement
The DEFENDER, in that publication, had reported that the extent to which Christian Association of Nigeria had gone in using influence on government in South West Nigeria was why 12-year-old Muslim schoolgirl in Hijab was personally flogged and disgraced on assembly ground by a 'religious fanatic in position of principal' in a Lagos school and nothing happened, media accounts have shown.
In the report, it was also gathered that, but the 2023 politics that came around the corner, due to influence of CAN, Governor Sanwo-Olu refused to issue circular to Lagos State schools' principals and other educational authorities in the nation's most complex state for the implementation of Supreme Court judgement approving the use of Hijab by Muslim female students in the state's schools.
It was said on good accounts that it took the Muslim Rights Concerns (MURIC) to issue several press statements urging Sanwo-Olu to obey the Supreme Court by implementing its judgement on the use Hijab, but to no avail.
Governor Sanwo-Olu failed to allow the rights of Hijab, despite all appeals to him, until it was time for election campaign and for him to get a second term, we learnt, he then hurriedly issued the circular directing relevant authorities in the education sector to implement what ordinarily needed no court order before a government that is for all gives such approval.
It can also be recalled that under Sanwo-Olu's watch, Christian doctrine and subjects were used and included in the examination processes for common entrance sat for many Muslim students and civil servants promotions examination also involving Muslim civil servants in Lagos State all of which, despite cries by Muslim bodies, nothing happened.
A respondent, who reacted to the Christian Association of Nigeria's endorsement of the incumbent Lagos State Governor on Monday, said:
"All those anti-Islamic tendencies and anti-Muslim moves were hurled on the ground of Lagos State because of the influence of CAN, who is now supporting Sanwo-Olu because he is a Christian. So that what will happen thereafter? So that they will now use the fact of their endorsement to return to persecution of Muslims again," the respondent, who simply identified himself as 'servant of Allah', said.
Another respondent, who also did not want his name in print, said, "Sadly, this Christian Association of Nigeria has successfully weaponised religion in the Nigeria's politics but, sadly again, they are the same people who come out pretending that we Muslims are the problem.
"CAN at any level always seeks political power, not to achieve anything but, to reign persecutions on Muslims. That is the purpose of CAN, that is why you see religious crisis in Nigeria and that is why they will stop at nothing in causing provocations so that Muslims will fight and then, they will turn around, to accuse them of intolerance.
"We thank Allah that Northerners are part of the Nigerian entity, only Allah knows what the Christian Church, if handed political power, would have subjected Nigerian Muslims to.
"The hijacking of Amotekun recruitment process into the church, requiring attestation letter from only church priest and readiness of CAN to support idol worshippers in issues against Muslims are, in all honesty, a good example of why allowing them get political power in Lagos or anywhere in the country is dangerous not only for the Muslims but also the entire country because, it will be a pathway to chaos," he said.
Latest in Lagos State
The DEFENDER reports CAN as particularly focusing on Lagos, a state of the federation not only upon which economy other Nigerian states' economies depend but, more deeply, a state said to be most "problematic" in Muslim rights denial, due to what has been gathered to be "deliberately unChrist-like western funded" activities of Christian body that is now viewed more as pressure group than being the religious overseer of the Lord's Vineyard.
In Lagos, on Saturday February 18, 2023 in the build up to the presidential and national elections, CAN in its allegedly western-like character of long-term evangelising planning, did a two-edged sword electoral outing with standing order to let Peter Obi win in the nation's most important economic nerve centre of Lagos but work against his party in Governorship and State House of Assembly Elections.
Reason, for the governorship election, it is now shifting attention to Babajide Sanwo-Olu to enable him have a second term because Sanwo-Olu had been useful in the perpetration of their anti-Hijab struggle, until it became impossible for the Ijebu Mushin, Ogun State-born Lagos State governor to continue to disobey the Supreme Court judgement approving the Hijab for female Muslim students in schools across the state.
That was when he approved the use of Hijab for political reason to gain votes from Muslims in the state.
It is on record that Sanwo-Olu, because of the strong influence and lobby that CAN wields on the administration of Lagos, continued to disobey the Supreme Court judgement, despite much pressures mounted on him by Muslim Rights Concerns (MURIC) and Muslim Students' Society of Nigeria (MSSN) among others. Around July 2022, the MSSN had to at a time issue a 30-day ultimate for him to implement the court judgement but that ultimatum was snubbed by the governor.
It took another press statement by MURIC, calling on Bola Ahmed Tinubu who was then presidential candidate of the APC to prevail on Governor Babajide Sanwo-Olu early in December, 2022 before the governor shifted ground and on the 6th of December, he announced a yet-to-be concluded Hijab rights implementation process for the female Muslim students as the Hijab Use Guidelines he promised through the circulate issued to education policy executors in the state was yet to be made available as at the time of filing this report on Monday 13th March, 2023 thus leaving female students in Lagos to themselves without a guide.
In endorsing Sanwo-Olu as candidate for the CAN Agenda in Lagos State, the Christian Association of Nigeria (CAN) through its state Chairman Stephen Adegbite, on the occasion of 2022 CAN inter-denominational prayer service held at the Apostolic Church of God headquarters, Lagos, had said: "We thank God we have a child of God as our governor," it said.
Speaking further, the CAN state leader said: "His pedigree as a Christian brought-up has continually shown in his devotion to service to mankind in different strata of the society even in difficult times. For us to thank him for his good work in this first tenure is to rally around him and re-elect him for a second tenure in order for him to complete many of his people-oriented projects in varying stages of completion.
"As the voice of the Christian fold in the state CAN cannot associate itself with that which cannot be of benefit to the common good. CAN, therefore, has resolved to embark on voter registration and sensitisation drive across the state to bring the project Sanwo-Olu 2023 to fruition."
To ensure that the Christian Agenda works out for Governor Sanwo-Olu, CAN in the state recently held a conference in the state for all its members. Our CAN source said for each person that attended using his own car, he got N10,000 each for coming while those who had no cars or decided not to go in their private cars had buses arranged for them and which conveyed them to the conference venue around in Ojo Local Government Area of the state.
Aside that conference, the Christian body has continued to intensify effort at its lower levels in embarking on rigorous campaign to make Christians in Lagos State vote for Sanwo-Olu for second term, an effort that we also learned has been free. One of the smaller branches, the source said, got N250,000 which he said could have been more for others.
In Niger State
In a statement signed by David Atori, Media Aide to the Chairman, CAN Niger State Chapter, titled: "2023 GOVERNORSHIP ELECTIONS NIGER STATE: AN URGENT MESSAGE BY THE CHRISTIAN ASSOCIATION OF NIGERIA (CAN), NIGER STATE CHAPTER" from its address: New Prison Junction, David Mark Road, P.O. Box 2989, Minna, Niger State, Nigeria, the Christian Association of Nigeria – as part of its devolution and delegation of electoral monitoring duty for the actualisation of its Agenda to the state and grassroots levels – said things that interpretatively revealed why it has refused to congratulate Bola Ahmed Tinubu as president-elect from the February 25 election but still went ahead to tell its members its preferred candidates to be voted.
It said, "Calvary greetings to you all in the name of our Lord Jesus Christ.
"The leadership of CAN in the State sincerely commends everyone for coming out en mass to exercise their franchise during the Presidential and National Assembly elections.  We did our best as electorates but we still have a hurdle to jump over.
"The Governorship and State House of Assembly elections will take place this weekend and I want to enjoin everyone not to be discouraged by the outcome of the February 25th polls but to come out this week to vote in the Candidates who have respect for the Body of Christ.
"The Candidates and Parties have done their own. It is now our turn to do our own. By now, we should all know the difference between day and night. Christians can not be relegated, we are as important as everyone and our votes must count," it said.
"Let me quickly remind the entire Christendom in the State that, the Christian Association of Nigeria (CAN), Niger State Chapter after due consultation and collaboration with the National body have agreed that in the 2023 gubernatorial elections, electorates must consider the following:", and it said among other things, "Compassion and discipline, clean and credible lifestyle, non-membership of cult, no involvement in drugs and witchcraft, non-fanaticism, no relationship to Bandits, Thugs and other violence religious groups.
"Candidate who identified with the Christendom and has shown a sense of belonging to all faith in the State. This is the time to look out for candidates who have respect for the body of Christ as a show of equity fairness, partnership and peaceful coexistence in the State."