By Kemi Kasumu
All roads led to Republic of Benin on Saturday, October 15 where the Esep-le Berger University, honour Major Hamzat Al-Mustapha, former Chief Security Officer (CSO) to former Head of State, the late General Sani Abacha along with a few other notable Nigerians. Al-Mustapha was honoured by the school authorities with the prestigious award of Doctor of Science (Honorary Causa) in Humanities.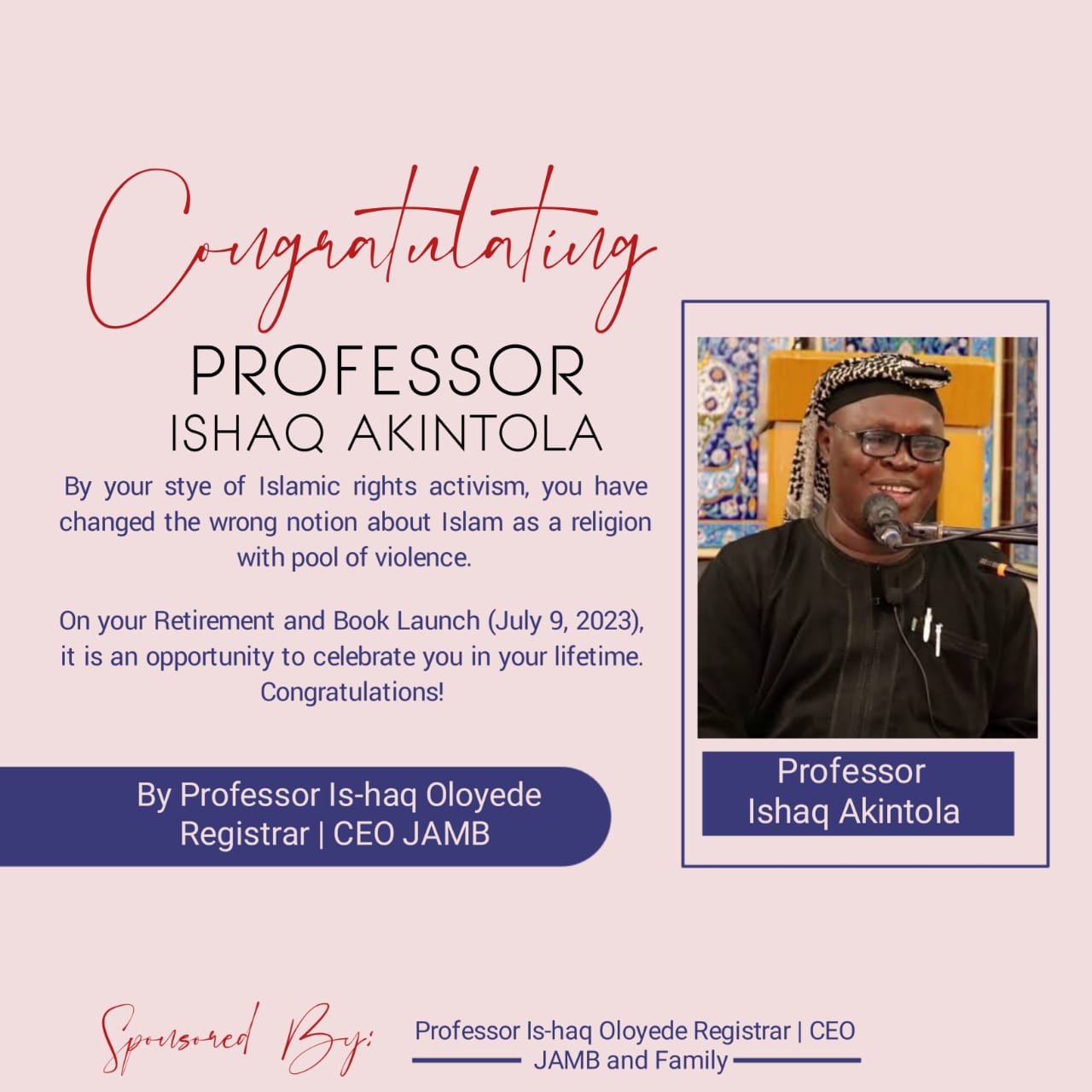 It was the annual convocation ceremony and conferment of honours to about 700 graduating students of the university. No fewer than 2000 guests, including parents, guardians and top business owners across Africa attended the colourful event. Many of the graduating students were from West African countries. Besides Al-Mustapha, five other prominent Nigerians were also honoured with various categories of awards at the event held at the expansive auditorium of Palais De Congress, Cotonou, Republic of Benin. Other recipients included the immediate past governor of Kaduna state Alhaji Dr. Mukhtar Ramalan Yero, prominent politician and former governor of old Kaduna state, Alhaji Balarabe Musa, Nigeria born musician, Segun Akinlolu, popularly called Beautiful Nubia, Alhaji Jubril Muhammed and chairman Bauchi State Chapter of the Nigerian Labour Congress (NLC), Comrade Muhammed Gital.
For Al-Mustapha, memories of the colourful event will continue to linger on in his mind because it was an honour that came away from home.
President and founder of the university, Prof Germain Ganlonon, who decorated Al-Mustapha said all his activities towards the emancipation of the down trodden were monitored before the university chose him for the unique hononour.
According to him, the honour is a clarion call to duty asserting that, it is a challenge to him to continue to do more for humanity, assuring him that, "whatever anybody does, people are watching and they will reward individuals according to their service to humanity."
Vice chancellor of the university, Prof. Edouard Aho explained the criteria for selecting the six distinguished Nigerians for the honours.
He noted that those nominated for the honours had a history of commitment and service to humanity, an ideal, he said was the bedrock of the institution.
His words: "Our awardees are people of note, and they have excellent record of achievements in their various disciplines.  The school authorities have found them worthy of these honours and we are glad to see them grace the occasion."  He added also that the university had created the enabling environment for the students.
The guest lecturer, Comrade Shola Akinbinu, explained the reason for the dwindling standard of education in African society. He stressed that good educational standard should be improved upon in order to overcome the challenges posed by the introduction of new technology in   the world. Akinbinu, a journalist and public affairs analyst, noted also that there is urgent need to redesign the method of learning, such method, he said,  should be tailored towards counseling, coaching and mentoring the university students. He noted also that the emerging trend in the world is a knowledge-economy whereby people succeed mainly by developing their natural skills and innate talents.
Speaking shortly after he was decorated, the former CSO said he was humbled by the unique honour bestowed on him by the university.  He explained also that the honour had only proved that there were still a lot more to be done by him, which he said were mainly to serve humanity and the world at large.
He also assured the leadership of the university of his commitment to do justice to the award by ensuring a lasting working relationship between the school and the Nigerian Institute of Peace and Social Rehabilitation founded by him.
He spoke further on trust, advising the school authorities to make trust the bedrock of all their activities. '' I'll summarise my speech in one word, and that's on trust, particularly, between the school authorities, its community and Nigeria."
He said further that: "The rail of life is called trust. It's what will take you to your destiny.  In the absence of trust, nothing will work. No institution can stand. No leader can work successfully. Trust is actually the link in every affairs of human in life. It brought about unity and it is superior to money, however, it provides opportunities for mankind to transact business both locally and internationally.  Trust brought about strong leadership, as well as forum for learning."
Explaining why he decided to hinge his speech on trust, he said, "I urged the university authorities to dwell more on researches centred on trust and how it can be used as a tool to enhance bilateral trade and peaceful relationship between Republic of Benin and Nigeria."
Al-Mustapha, whose foundation has, since 1997, been giving scholarship to indigent students and sponsoring many developmental projects in the North-East said, aside from the past histories, both Anglophone and Francophone countries in Africa are the same, adding that the differences in languages and past histories are the imaginary demarcations and forces that have been slowing African nations down and retarding development in Africa.
"I believe we can build trust when we are united in our dreams. Trust, with all its advantages, will do away with all the physical barriers that retard international relationship, growth and development between Benin Republic and Nigeria.
Al-Mustapha told a story of how he was incarcerated for fifteen years, saying the lessons he learnt while in detention was thought-provoking. He also advised the graduating students thus:   "As you join the rest of the world, pursuing your respective careers, if you are afraid to fall, you cannot rise and make any meaningful progress in life''.
"In individual destiny lies a collective destiny, therefore, wherever you find yourself in life, know certainly, that there are trials in life, but in facing the trials, I urge you to be a man, trust God, and believe in yourself. Be assured that Africa will prosper and compete with the rest of the world in the nearest future.
"Pay all your attention to the development of your careers, the business environment in today's life is not for the lazy people.  Therefore, as a student, you should adjust and be on your feet, so that you can grab the opportunities that are abound in today's world,' he affirmed.
Other dignitaries that accompanied Al-Mustapha to the Republic of Benin included, the National President, Arewa Youth consultative forum, Alhaji Yerima Shettima, Senior Special Assistance to Al-Mustapha, Zakari Hussain, Chief Oloba Gbenga, Prince Adedoyin Sijuade, Alhaji Idris Galadima, Alhaji Abubakar Jibia, Kolawole Agboola, and Kyari Gadzanga.
Shettima expressed confidence in the awardees, adding that they are all worthy of those honours. He said he acknowledged the efforts of the leadership of the university, especially, the awards given to Major Hamza Al-Mustapha and five other Nigerians.
He said, "To be honoured in a foreign university was a testimony of an exemplary life. For Al-Mustapha, the award was timely and rewarding  because the former CSO has through his foundation, been contributing to the development of North Eastern states in Nigeria, particularly, in Yobe, since 1997, even before the insurgency that had ravaged the area.
"Therefore there is no other times other than now to reward the patriotism and commitment Major Al-Mustapha had exhibited over the years. The honour is unique because it came from a neighbouring country and it shows quite well, that the university authorities has been monitoring and observing him for a very long time. So it is noteworthy," Shettima explained.