By Prince Bashir Adefaka
The release recently of 21 female students of Federal Government College, Chibok, Borno State, brings to mind the need to reflect on attitude of Nigerians as an integral part of the society.  President Muhammadu Buhari's recently launched 'Change Begins With Me' as case study.  It is worse when the attitude, which most times, comes negative, and disappointedly too, from high places.
Wife of the former President, Dame Patience Jonathan, had trivialised the plight of the girls and, by extension, their parents by claiming it was nonexistent.  She had said that it was the figment of the opposition All Progressive Congress (APC).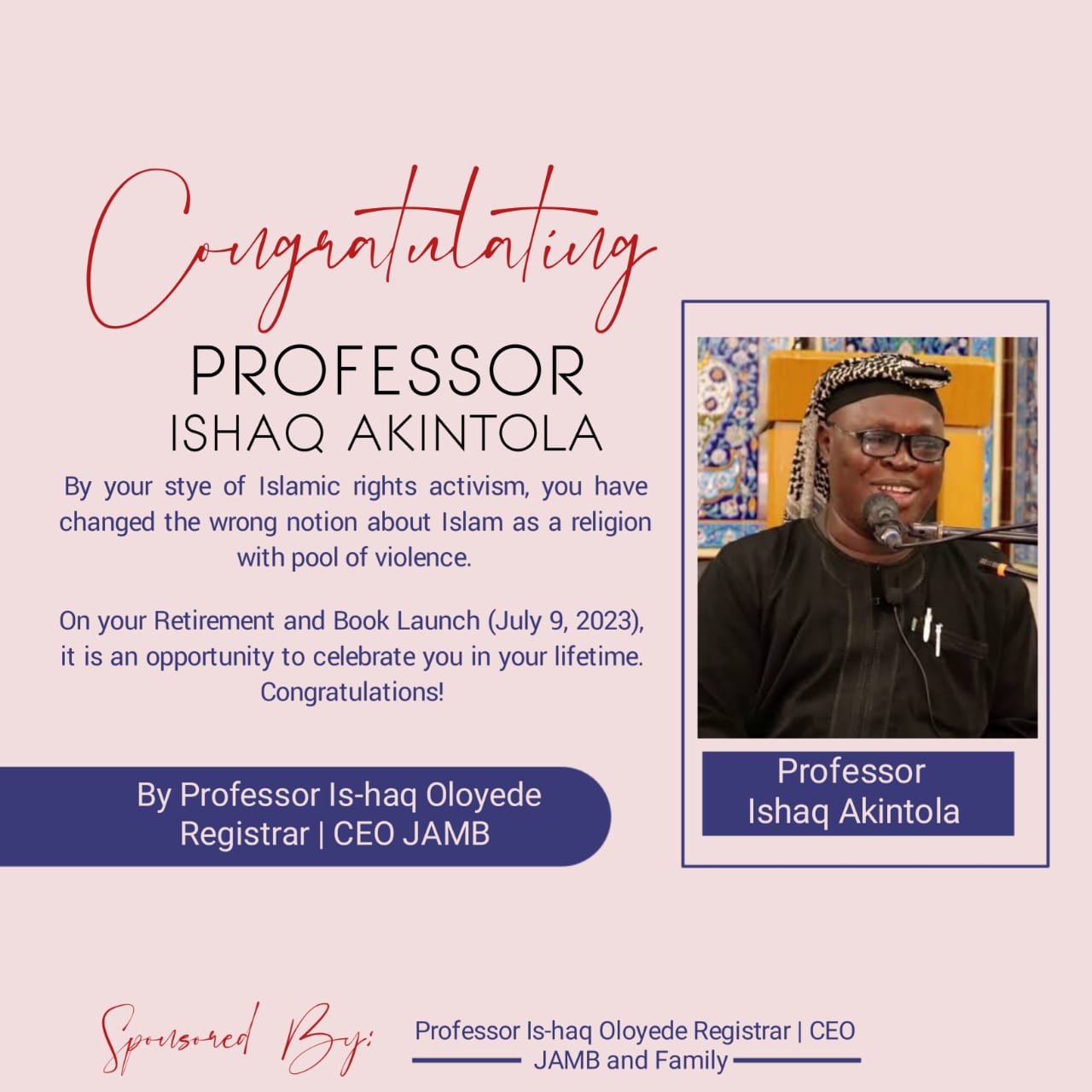 APC at that time was the new merger arrangement into which the trio of Congress for Progressive Change (CPC) headed by Prince Tony Momoh, Action Congress of Nigeria (ACN) headed by Chief Bisi Akande and All Nigeria's People's Party (ANPP) headed by Dr. Ogbonayya Onu had collapsed.  Recall a section of APGA (Governor Rochas Okorocha) joined at the same time while the New-PDP joined later.
Patience Jonathan went eye-covered probably due to the maximum powers of presidency that resided right in the palm of her husband generally believed to be profoundly influenced by her.  She called bluff of it all and said there was nothing like Chibok girls abduction.  That was going on even as she in her capacity as wife of the president constituted a "probe panel" and deployed serving ministers of the Federal Republic to serve on same during which she acquired her popular nick name "Na only you waka come?"
Recall that her husband earlier had lingered over the choice of what to do when for 18 days after abduction of the girls he refused to heed the call and appeal of Governor Kashim Shettima of Borno State to deploy troops to help rescue the girls who were said to have just been lured into waiting buses of the abductors (Boko Haram insurgents) who after leaving set the school buildings ablaze.
Not so long the People's Democratic Party (PDP) as a family bought the Patience Jonathan theory of APC figment of abducted Chibok Girls and started playing their politics to the best of their ability.  They did it so much that it became part of the reason the South East and South South parts of Nigeria developed sentiment in favour of Jonathan government against the North and APC saying the Chibok Girls thing was a design of the opposition to disturb Jonathan government.  It was so terribly done that even members of the press were divided on this ground as a section of them believed there were some people in Borno and in the North as a whole who fabricated the story and were sponsoring the #BringBackOurGirls group to render Jonathan government useless and unpopular for the APC to take over power.
While all those politickings were going on, President Muhammadu Buhari, who had contested the presidency of the country for three times and resolved not to contest again, had fallen for pressures by opposition parties' leaders namely ACN Leader Asiwaju Bola Ahmed Tinubu (ACN), Mallam Ahmed el-Rufai (CPC), Chief Bisi Akande (ACN) and few others to jettison his resolution of not contesting and reconsider picking interest in a merger that, according to them, would produce him as presidential candidate.  Those responsible for the merger arrangement of that time would continue to have former President Olusegun Obasanjo to thank.  Obasanjo, a former Head of State at a time Muhammadu Buhari was Federal Commissioner for Petroleum, and two-time President of the Federal Republic of Nigeria, remained about the only elder statesman in Nigeria that could make Buhari change his rigid position on anything.
That was attested to, personally, by Obasanjo when he said, "We knew that only Buhari could face the Nigeria's worsening situation of corruption, insecurity and impunity.  That was why we agreed on his presidency." I haven't quoted him precisely.
Although APC leaders too could have injured themselves politically as they tinkered with the Buhari choice at some points when it was rumoured that certain leader had taken N5 billion from former Vice President Abubakar Atiku to be traded the presidential ticket of the APC.  The PDP government of Goodluck Jonathan too, on the other hand, was seriously sweating profusely, much bothered about who would become the presidential candidate of the APC.  The ruling party had deployed Transitional Ambassadors of Nigeria (TAN) as foot soldiers to go to town ensuring that image of General Muhammadu Buhari was battered beyond pardon so that by the time the APC would be ready to pick its candidate, there would be nothing left in the Daura, Katsina State-born former Nigerian Military Head of State to be considered for the top job of an elected President.
It was as a result of those damaging efforts of the PDP, Jonathan government and TAN that constitutional lawyer and former Oyo State Commissioner for Information and Orientation, Otunba Bosun Oladele, granted an interview in Vanguard saying, "The APC has only sneezed the PDP is catching cold.  What will then become their condition when the APC now coughs for real?" I have not quoted him precisely.  Bosun Oladele is today Honourable Member of the House of Representatives representing Irepo/Orelope/Olorunsogo Federal Constituency Oyo State at the National Assembly, Abuja.
It was about the same time that Buhari's convoy was attacked by purportedly Boko Haram bombers at Kawo in the Kaduna metropolis.  Tens of lives were lost including some security aids of the General but he, aided by a bullet proof SUV he rode in, escaped unhurt.  All those efforts at that time were calculated by political analysts to be to stop Buhari from emerging as APC candidate, a claim the Jonathan government and PDP swiftly countered.  But after Buhari emerged as President, the reminiscence of the bombing in Kaduna was to come alive as PDP, now as a party in opposition, claimed that Buhari took part of the popular Dasuki money.  PDP's spokesman, who was very vocal at that time, Olisa Metuh, was consistent in stating how Buhari took two SUVs and $300,000 presented to him as a result of the bombing he suffered (which destroyed his cars and killed many other people) from the arms money Col. Sambo Dasuki was being "punished" for.
It took the resilience of knowledge capacity and trusted ability of the President's image makers, Femi Adesina and Garba Shehu to dismiss all the claims into the trash bin as plot by some sinking elements to find colleagues to drown with.  Adesina particularly said yes, Buhari got  two SUVs, one of which was in bad state, as a result of the bombing but that it was his constitutional entitlement as former Head of State.  He however threw it back on Metuh and his political family members that Buhari had nothing to do with their concocted mantra of $300,000.  That silenced the wailers for a long time before they devised another means of wailing.
That was how the politicking kept elesticising until the issue of Chibok Girls came alive again.  #BringBackOurGirls resumed their agitations and parents of the abducted girls started raining tantrums on the person of the President, who came to power only after about two years of the girls' abduction.  Many began to judge Buhari's performance by the Chibok girls not being rescued yet, although over 20,000 other girls and children had been rescued by the General Tukur Yusuf Buratai-led Army.  It was so much an unbecoming attitude on the part of Nigerians that even when one Chibok girl was rescued, there was no appreciation.  It was rather a continued banter thrown at the person of the President.
Parents of the girls, backed by the Oby Ezekwesili-led #BBOG group, were even reported to have called on President Muhammadu Buhari to resign "for failing to rescue their children."  It was that bad.
Now, with 21 of the girls released to the President by the Boko Haram leaders through a meticulous negotiation details of which cannot be made public for security reason, many have told Dame Patience Jonathan to her face how she goofed selling to the world at the time her husband (I mean to say she) was in power that there was no Chibok girl abducted anywhere.
Even at that time, one of the parents of the girls religionised the abduction as he said he would rather want his daughter to die there than to embrace Islam.
This was the extent to which attitude of Nigerians had aided the prolonged stay of the innocent girls in the den of the lions called the Boko Haram insurgents.  It is then hoped that, as a people, Nigerians would learn a lesson of how to be patient and perseverant in adversity and not complicate their own problems at a time solution should be the focus of all.  This is key at this time and forever if Nigeria must be better for all.
*Prince Bashir Adefaka, published this on his Facebook handle, shortly after returning from the hospital.  This has been taken after securing his permission.