By KEMI KASUMU
"In a free and fair election, once majority speak, minority must accept the result in good faith, if we really love our nation," Waheed Seriki said.
President of Ontario, Canada-based civil society group, the Crusade Against Corruption Initiative in Nigeria (CACINI), Mr. Waheed Seriki, has described the request for release of Chicago State University records of President Bola Ahmed Tinubu as sign of greediness and desperation.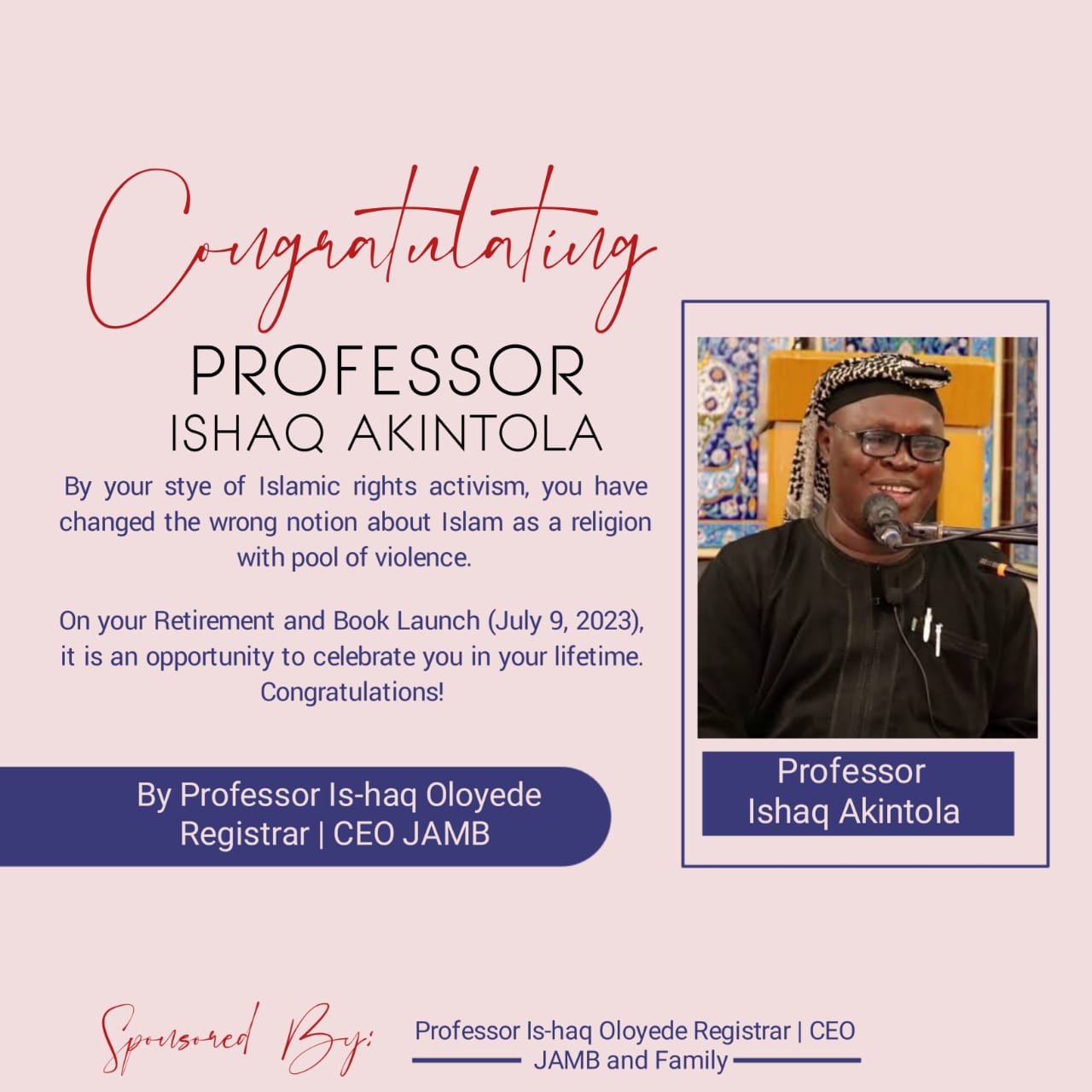 According to him, in a free and fair election, once the have spoken it is a must for the minority to accept the result in a situation where people love their country.
In a statement titled, "Abubakar Atiku greediness for power is graduating to dangerous level", and copy of which he emailed to The DEFENDER from Canada, Seriki said the saga indicates there is nothing Atiku cannot do to become President of Nigeria.
"The request for President Bola Ahmed Tinubu, Chicago State University Degree by Alhaji Abubakar Atiku is a strong indication that there is nothing Alhaji Atiku cannot do to become President of Nigeria
"The former Vice President went to court in USA in a desperate attempt to become the President without regards and respects to Asiwaju Bola Tinubu rights to personal property and confidentiality.
"The Former Nigeria Vice President is determined to intrude and violate the right to privacy and confidentiality of Chicago State University and most especially the fundamental right of Asiwaju Ahmed Bola Tinubu to prove its case in court.
"While I will agree to Nigeria Former President, have the rights to seek from the University of Chicago, the confirmation of President Tinubu as an ex-student of the school, his capacity cannot go beyond that.
"Atiku has no right under the law to request for Tinubu's transcript and degree certificate as if he was the one that sponsored him to school.
"Even under the Law in USA, when someone is 16 years old, the parents have to seek for the person's consent before he can request for his/her information from school.
"The Chicago University only have the capacity and authority to write a letter of confirmation that Alhaji Tinubu, was once a student or not a student of the school, but not to release Bola Ahmed certificate to Atiku Abubakar life to prove his case in court.
"It is senseless for the school to collect student information without the students consent to the collection of their personal information talk less of asking for someone information or certificate with the person permission.
"Abubakar Atiku failed to realize that confidentiality is a legal obligation not to disclose information of another person without the person's consent.
"Demanding for an adult or other person certificate without the person consent is like intruding in the personal life and complete breach of fundamental right to confidentiality and privacy of the person under the law.
"Alhaji Atiku Abubakar is portraying himself as a greedy and selfish power hunger, who is determine and desperate to destroy the country to achieve his power ambition.
"President Ahmed Tinubu must fight Atiku's demand for his university transcript and certificate, even if the case will have to reach supreme court.
"Asiwaju must not allow anyone to violate his fundamental right in the name of challenging his victory during the last presidential election in Nigeria, because allowing Atiku to do so, is like setting an antecedent for illegal and senseless violation of other people rights, not only in Nigeria but all over the world.
"President Asiwaju must use the opportunity to protect the confidentiality and personal right of everyone all over the world by challenging in the court of law, the Atiku's unreasonable demand of his certificate to prove its case.
"The confirmation letter from the Chicago State University, that President Bola Ahmed Tinubu is or not an alumina of the school is more than enough for Nigeria former Vice President to prove his case beyond reasonable doubt.
"The demand by Abubakar Atiku for a copy of Asiwaju's school transcript and degree certificate is beyond his right and it is a total violation of President Tinubu confidentiality oath pledge to him by Chicago State university when he was a student.
"Alhaji Abubakar Atiku should use another means of proving its case if not satisfy with the letter of recommendation issued by Chicago State University, rather than trying to violate the right of the current president to prove its case in court.
"The former Nigeria Vice President is trying to use short cut to become the president of Nigeria after losing the popular majority vote. This is an act of corruption that will not be accepted in a government of the people, by the people and for the people.
"In a free and fair election, once majority speak, minority must accept the result in good faith, if we really love our nation," Waheed Seriki said.