By KEMI KASUMU
The Ogun State Chapter of Muslim Rights Concern (MURIC) has advised those that threaten it overall Executive Director, Professor Ishaq Akintola, to "be prudent in all their faceless threats."
It expressed worries that the threats were particularly coming from Yoruba Land.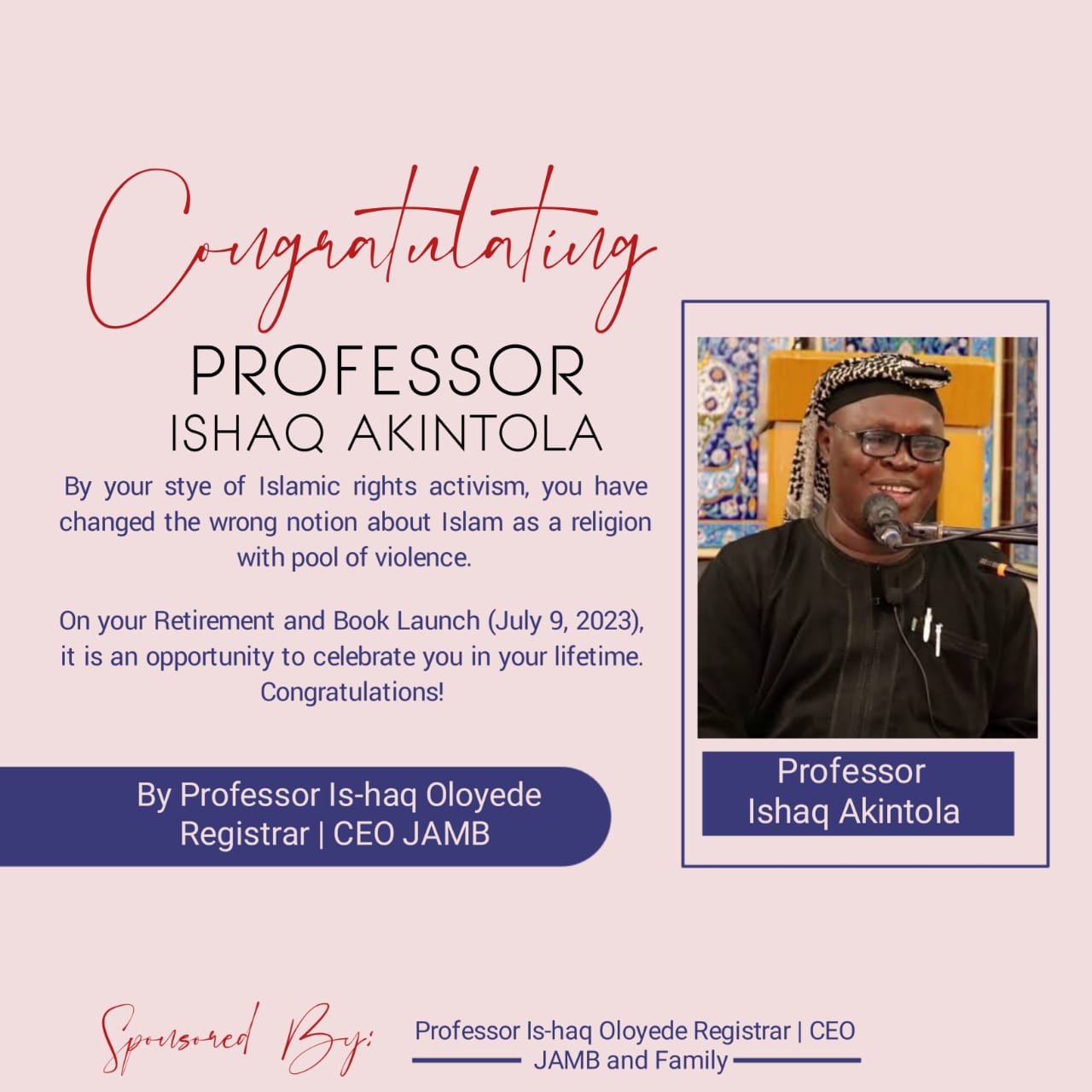 These were contained in a statement jointly signed by Ogun MURIC's Chairman, Alhaji Jimoh Tajudeen Alao, and secretary, Mr. Olaleye AbdulRasheed Damilare, dated Saturday 2nd September, 2023 and Copt of which was sent to The DEFENDER.
"It is now necessary to talk because ignorance multiplies when intellectuals keep silent.
"The deliberate attempt to ridicule, publish lies and threaten to assassinate the Executive Director of MURIC is like drumming religious war in Nigeria, most importantly the south west state of the country.
"Professor Ishaq Lakin Akintola has been a lover of social justice and a promoter of Yoruba cultural heritage in the society, especially,in the south west state of Nigeria.
"He has served as chairman in many Yoruba cultural groups,his leadership articulations are topnotch.
"This was contained in a statement issued by the State Chairman of *MURIC* in Ogun State and his Secretary Olaleye Rasheed Damilare on Saturday, 2nd of September ,2023.
"The message reads" We use this medium to caution those who have been threatening Professor Ishaq Akintola, particularly in Yorubaland, to desist from attacking his personality, his family and members of the Muslim Rights Concern (MURIC).
"It is pertinent to know that a threat to take Akintola's life is a threat to Nigeria's peace and unity," it said.
Noting, however, that it is Allah alone who gives and takes life, the chapter said it wrote to address the recent concerns and threats that had surfaced against Professor Ishaq Lakin Akintola, his family and members of the Muslim Rights Concern (MURIC) in Nigeria.
It stated that, "It has come to our attention that there have been publications containing false information, ridicule, and even open threats to assassinate our director. We implore those behind such threats to reconsider such actions, as they pose a threat to the unity of Nigeria as a whole.
"Nigeria as a diverse nation thrives on the principles of mutual respect, understanding, and coexistence among its various religious and cultural groups. It is our collective responsibility to protect and promote these values, ensuring that every citizen can exercise their religious beliefs freely and without fear of persecution or harm.
"We urge you to engage in constructive dialogue rather than resorting to misinformation and threats of violence. Let us foster an environment where individuals from all faiths can coexist peacefully, learn from one another, and contribute positively to the progress and development of our beloved nation.
"Remember that a threat to Professor Ishaq Lakin Akintola is a threat not only to Yoruba Muslims but to all Nigerian Muslims as a whole.
"Together, we can build a society that embraces diversity, respects the rights of all individuals, and upholds the principles of peace and harmony.
"We call on all security agencies in Nigeria to be proactive on matters like this which can cause religious war in Nigeria.
"The government of Nigeria shouldn't joke with human lives since this is their major priority to safeguard the entity called Nigeria, no development will take place in a state of war.
"It is noteworthy that MURIC's logo still remains dialogue not violence. Why then are they running after Akintola particularly when this man has never attacked anybody physically? The answer is very simple. They want to get rid of him because he is always defending the rights of Muslims. Is it also proper to label somebody a terrorist because he is defending Muslims?
"Those threatening Akintola are doing so because he stands between them and the Muslims whom they want to persecute. He does not allow them to oppress Muslims. That's why they want to get rid of him. But do you think the Muslims will just be watching you? What do you even think will happen if you touch a single hair on Akintola's head?
"Well, we are waiting for you to try it and we hope the security agents too are watching this ugly drama. How can some criminally minded people be threatening an innocent man?
"We advise you to stop the threats in your own interest. We will not issue threats against you. But we expect you to know that it will be you and all Nigerian Muslims if you touch Professor Ishaq Akintola. You will be making the mistake of your life if you think Akintola is alone.
"Drop the threat. Forget the violence. Be good Nigerians. Let us work hand in hand to create a Nigeria that we can all be proud of," it said.