By Bashir Adefaka
"The problem Tinubu has in APC is that, he does not seem to realise that he is now in the deepest heart of national politics not Lagos or South West and it is a serious case of conscious or unconscious oblivion for a very highly influential politician of his clout."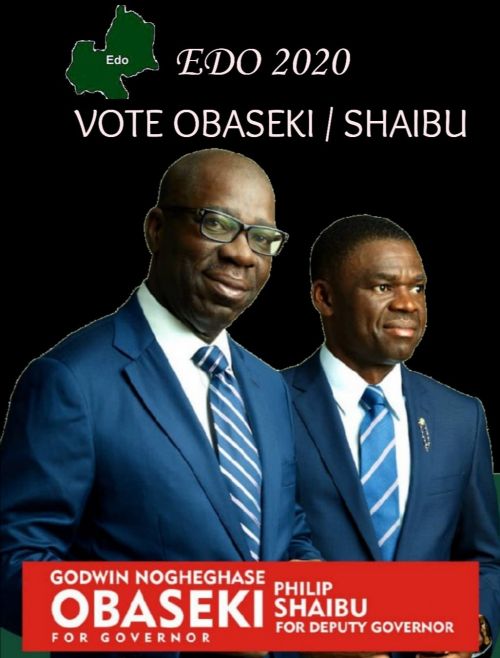 Again, the second touching and most challenging solo election process conducted by All Progressives Congress (APC) will be Ondo State, coming after Edo.
These two states have few things in common. They are immediate neighbours boundaring each other Southward of the country. They have the same year of contest 2016 being the first and the two governors who were first timers in that year are now seeking re-election 2020.
More conspicuously in the two is that, the pattern of the process has not changed except that, APC chieftain Bola Ahmed Tinubu's opposition to candidacy of Godwin Obaseki in 2016, which escalated to eve of the election, did not spare Oshiomhole with then National Chairman of the party, Chief John Odigie-Oyegun.  It should bother saner minds why Tinubu always needed to be the deciders of party national chairman and other executive members and one of them, Oyegun ended up working against him. This is 2020 and Oyegun's successor and former Tinubu's foe, Oshiomhole, was also his preferred candidate for the job but he shot himself in the foot because, he played the "servant that didn't act with wisdom".  Whereas Oshiomhole is now the hatchet man for Tinubu, Oyegun's commitment remains intact with Obaseki just as Prince Tony Momoh still waxes stronger as influence behind the second term seeking governor (APC or not) and his Tiger-like Deputy Governor, Phillip Shuaibu.
Above all, the two states have political, language and traditional institutionalism in common and are already in the game at this time as it was in the beginning.
The problem Tinubu has in APC is that, he does not seem to realise that he is now in the deepest heart of national politics not Lagos or South West and it is a serious case of conscious or unconscious oblivion for a very highly influential politician of his clout. Another problem of the Garrison Commander of Lagos Politics that is headquartered in Bourdillon is the blindness with which his followers – thinner compared to the nonpretending followership that is glued to President Muhammadu Buhari – are carrying and pushing his weight is misinforming. That was why they could claim he singlehandedly installed Buhari in 2015 and would always give him credit for many political achievements of the President, including the respite given to Oshiomhole by governors who wanted him removed since after the March 16 court suspension. Those governors only stepped aside because of last minute Buhari's intervension. His followers said he was saved by Tinubu "who called Buhari and threatened to pull out of APC if Oshiomhole is removed".
Another area Tinubu has problem in his national politicking is his "failure" (is it to say?) to recognise when President Buhari has interest in a particular matter and then respect the President by allowing him his space. Asiwaju played the politics of "It must be me alone that own all the decision making in the party" and Oshiomhole was much available to drive that on his behalf. Hence the likes of Dr. Aminu Waziri Tambuwal, Governor of Sokoto State, left the APC and his reconciliation committee did not even bother to mind the governor or call him for once for talk. Just like Oshiomhole bragged early Tuesday not to see whether Obaseki's contemplation to quit the party mattered to him before the Appeal Court did him the final axing. It is sad!
That was why he could not discover when the President indicated interest in Rotimi Akeredolu in 2016 and Asiwaju went all out to work against the interest of the President. It was not as if the Senior Advocate of Nigeria (SAN), Akeredolu, was one of the Abuja Boys ab initio like Babatunde Raji Fashola (SAN), Muiz Banire (SAN) among others. No. He and those ones were Tinubu Boys marked for demotion and redundancy and they only became Abuja Boys because they ran to Buhari for rescue, intervention and he not only rescued them by appealing to Tinubu on their behalf but when Tinubu, like Oshiomhole has done, insisted no way for them any more, God-fearing, pure-heart apolitical Buhari accepted them into his fold. This was where and how it started.
Tinubu still went ahead to tactically back Alliance for Democracy (AD) candidate against the APC candidate, allegedly though, knowing full well that the APC candidate in Ondo 2016 was one in which the President had interest. He played it open when he ensured South West governors clearly or unclearly loyal to him did not honour the President's request for them to join him at the Akure mega rally held at the Democracy Park behind the Akure Central Mosque Oja Oba. Only Ogun State governor Ibikunle Amosun honoured him and then Dr. Kayode Fayemi, that time Minister of Solid Minerals, Governor of Plateau State Sir Simon Lalong and others from outside South West were also on ground, not only at the mega rally but also at the election situation room of the APC monitoring to ensure nothing tampered with legitimate votes of their candidate, hence the emergence of Akeredolu.
It was so bad that, allegedly sponsored by Tinubu, one particular openly anti-government print newspaper on Lagos-Ibadan Expressway misled the public saying the AD candidate, Olusola Oke, had defeated APC's Akeredolu by 100,000 votes placing Peoples Democratic Part's Eyitayo Jegede in third position. It did more harms. In truth, Akeredolu actually defeated others by over 100,000 with Jegede second and Tinubu's sponsored candidate coming third. If that was not anti-party offence against APC by a man who prides himself as Leader of the the same APC, many Nigerians are still waiting to be told what other name it is called. But the politician and his followers have been fighting performing Amosun, Rochas Okorocha and others for same offence and these accusers don't repent. Yet they could blame Akeredolu for not acknowledging Tinubu in his inauguration speech. This is reason the sense of judgement by followers of the Third Republic senator is subject to questioning and no satisfactory answer has been provided, as much as I know.
As the second stage of the Edo/Ondo election process kick-starts, the body language of Mr. President should have been enough for this big time Lagos politician to know that those two states remain RESERVED seats. Alas! The fight has been messy, yet the President utters not a word. Who then is better? The man who relies on God, his experience as an aged man and retired General as well as commits unwaveringly to deepening democracy through the rule of law or the one who relies solely on his ability to sit in his political Garrison Command and wants to force everybody including the President into accepting "consensus" candidacy by his own definition without recourse to the rule of law or feelings of others?
Oshiomhole should have known that Nigerian democratic politics is different from labour unionism, he should have set for himself time of restraint. He rammed and plunged into the lagoon of the game without bothering about its depth. It could have been better for him if he had not been the type that tests the depth of such big water with his two legs. APC governors still begged you over Obaseki but you took the firmament of the Nigeria's politics to be under the control of you and you alone believing you could let it loose on any uncooperative member at any time.  So it was no wonder you refused to listen to the Voice of Reason, may Allah bless and repose the soul of Alhaji Kola Animasaun – late author of "Voice of Reason" – in Al-Jannah Firdaus, and then you continued to ignore all entreaties.
His Excellency, Comrade Adams Oshiomhole should have been wise enough to see the hand writing in the wall to discover fast that tomorrow today will be yesterday. Now, the persecuted Obaseki of yesterday may be one of those who will decide today, whether or not there should be need to temper justice with mercy over him in the future. The Appeal Court was deep in its Tuesday June 16, 2020 ruling.
That all Oshiomhole's actions between March 16 when he was suspended and yesterday are null and void also mean he would return every money he got, by cash or transfer, to the coffers of the APC. Recall the ruling also said he ceased to enjoy the benefits and privileges of the office of national chairman including his security details. Finally, knowing what the FCT High Court judgement, upheld by Court of Appeal, says about who should take over from Oshiomhole, that the "NWC" as claimed by the party's national publicity secretary Lanre Issa-Onilu still went ahead to issue press statement naming Abiola Ajimobi as Acting National Chairman is another area that, except there is tempering of justice with mercy, the entire NWC members that were involved in that decision making risk jail for contempt of court.
*WAKE UP is personal opinion column of Lagos-based media practitioner and Akure, Ondo State prince. Reach him via 08163323906 or email: omope72@gmail.com