By BASHIR ADEFAKA
"I will say Nigeria should return to fuel subsidy payment and remove it only when the nation has restored its productivity (local refineries) to installed capacity to be able to compete with other currencies. No economy where refined petroleum product is sourced by import can survive at N1,000 to $1 forex."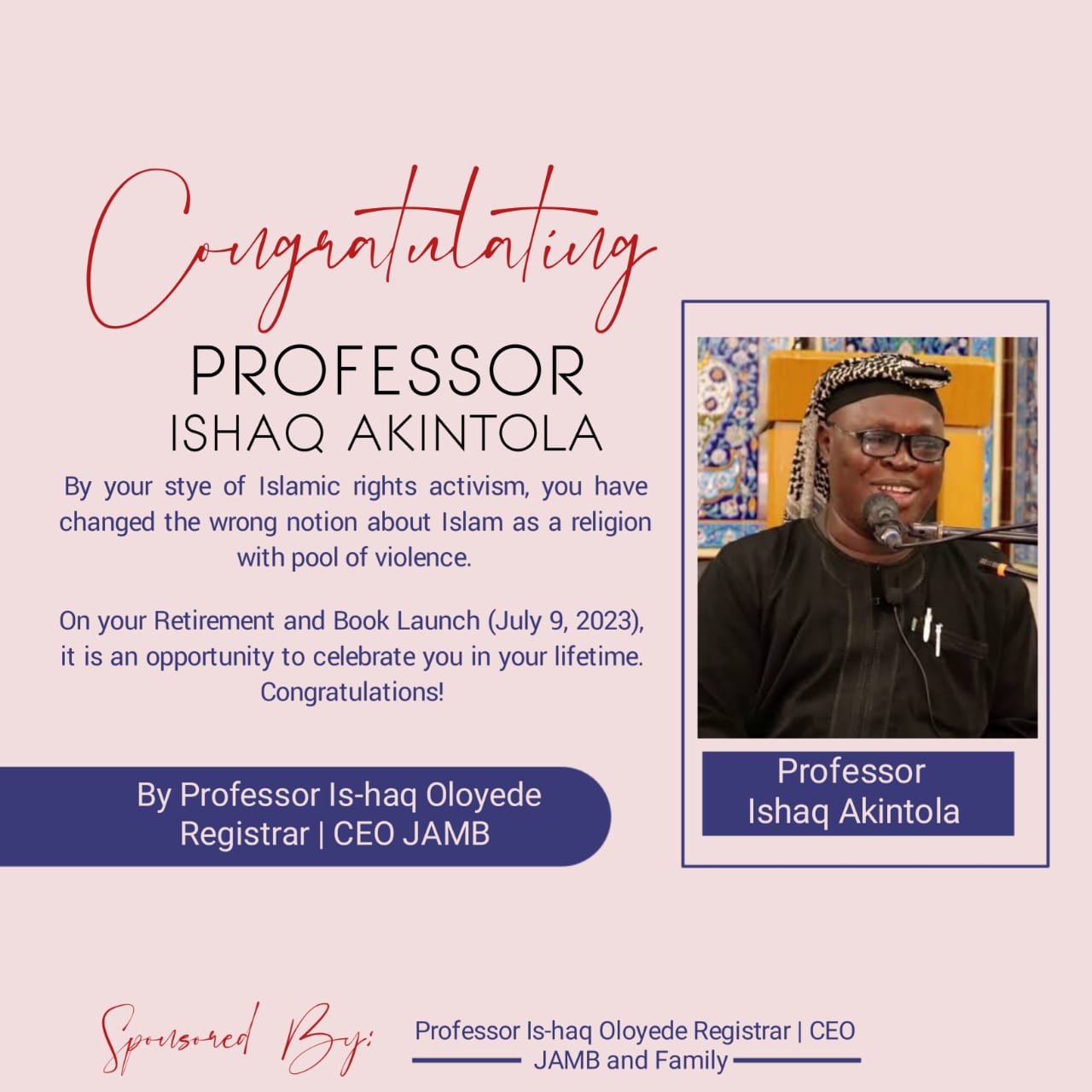 Nigeria, as an heterogeneous society, has found it difficult to run smoothly without challenges mainly ethnic, religious and gender as a result of injustice.
People have their right to security of life, food security; they have their right to religious practice and their ethnic nationality as well as cultural identity.
For any administration to attain peaceful tenure in such society, the man at the helm of affairs must have the will to do justice to all, irrespective of his political, religious, ethnic leaning. This is the way to attract the loyalty of every citizen to him, because without having loyalty of people he governs, peace is not assured. It is not possible.
But where the bottomline of the leader is to get to power and nothing else, not only him will have problem but also, the people will not say good things about him and the will and patriotism to make them bless their country, will be betrayed.
Since it is natural, the law of Karma, that the country you curse will not turn around to bless you, everything begins and continues to erupt in turmoil and the centre will no longer hold for anyone.
That brings us to the issue of fuel subsidy removal. President Muhammadu Buhari, GCFR, had rejected advice by the International Monetary Fund (IMF) to implement fuel subsidy removal. He had his reason – not until the things to mitigate the adverse effects of subsidy removal are put in place.
The former President had programmed to revive the local refineries, which have remained moribund across successive administrations. He practicalised his preparation for subsidy removal by assisting private and state-owned institutions in building modular refineries. We saw examples in Imo State and we saw the one being built in Edo State by Governor Godwin Obaseki.
We saw the level of readiness Kaduna Refinery, Warri Refinery and Port Harcourt Refinery had reached under President Buhari at the time. We also saw the speed at which the Daura, Katsina State-born former General Officer Commanding (GOC), Third Mechanised Division of the Nigerian Army turned three-time Head of State of the Federal Republic of Nigeria pushed the Dangote Refinery and Petrochemical Company to take off in Lagos as an enviable private intervention in investment.
Still, all those efforts did not show because elements, who feed fat on fuel subsidy meant for the good of the masses of the people, would not allow those beautiful achievements of government to be positively impactful.
A yet to be ascertained claim has it that some of these elements have refineries abroad, whose market destination of choice and whose customer is one and only Nigeria. Resuscitation off refineries in Nigeria would mean death for their business hence the issues. What a country people!
The problem is multifaceted. The Western nations too are complicit; they are part of the problem. Except what is available about the role they play in these complications that Nigeria suffers from, there abound video proofs of the West's plan to put African nations particularly Nigeria in permanent penury – economic and industrial disability for them to continue to remain in power. Would France's nuclear power survive without the uranium of the Republic of Niger?
We have heard and read about their roles in the Boko Haram and general insecurity challenges in the North East of Nigeria. As stated above, we have heard about how France cannot live without uranium of the Republic of Niger. We even heard that the West discovered and had exploited Nigerian oil for 25 years before they let the blessed country know about their God-given natural resources.
We saw how they forcefully removed Oba Obvorawen Nogbaisi of Benin Kingdom of old to have access to the resources of rubber plantation accruing to Nigeria through his domain.
But, let the question be asked, is fuel subsidy removal the way out of the economic quagmire in which we have found ourselves? President Bola Ahmed Tinubu, on his day one in office, said 'yes'. His position is easily understandable. No nation should close its eyes to economic and financial criminality that sees few number of the population fill only their pockets with all the gains and benefits meant to go into the welfare of vast majority of over 200 million others.
However, I have slept over the policy and have been able to see it the other way round. Since subsidy is meant to make essential needs of people available to them at no exorbitant rate, instead for the government to stop the fuel subsidy because of the offence of mal-administration committed by people upon whom fall the duty to dispense to the reach of targeted beneficiaries, it is the enforcement of law on the part of the government that should be activated.
You cannot make 200 million people suffer abject poverty because of the crimes of a few proportion of the population, which you have constitutional power to deal with. If Nigeria continues to pay subsidy, who should do it if not the nation? Especially when fuel subsidy is the only largesse of state that Nigerian masses can confirm to ever see and which they are not even allowed the settled mind to enjoy.
Other nations pay monthly stipends into accounts of their respective levels of citizenship; that does not happened in Nigeria. In the Republic of Benin, government officials go from house to house to update their records of residents and then come shortly after to distribute mosquito nets to them, every living being, in the house. In that country, people comply with laws of the state because people in control of power that rule them think about them and their welfares.
I will say Nigeria should return to fuel subsidy payment and remove it only when the nation has restored its productivity (local refineries) to installed capacity to be able to compete with other currencies. No economy where refined petroleum product is sourced by import can survive at N1,000 to $1 forex.
Having said this, it will be of no use to give suggestion regarding how best to distribute the N5 billion food items the Federal Government has just approved for citizens of each of 36 federating units of the country and the Federal Capital Territory Abuja.
However, the best approach should have been for the Federal Government to spend N2 billion of each N5 billion to buy bags of rice, bags of semo, beans, vegetable oil, palm oil and put in designated warehouses across 774 Local Government Areas in the country and make Nigerians buy at one bag and keg per one person at very reduced cost.
It will not be too much for Nigerian government purchase those food items and make them available at N15,000 per bag of rice and N2,000 per bag of semovita or semolina. To further sustain that, the Federal Government can then open up all land borders for free flow of rice and other food items into Nigeria. It is not sensible to shut your borders against food importation when your people are suffering internally. That would be the best way to go, subsidy removal or no subsidy removal.
But for a quick check to the hardship that is written in the face of every Nigerian now, the Federal Government must do a rethink about fuel subsidy removal and bring it back. If Nigerians do not enjoy petrol supply at price expected by returned fuel subsidy that the government will do, all security agencies and Ministries, Departments and Agencies (MDAs) responsible for enforcement against defaulters must be held responsible. My take.