By BASHIR ADEFAKA
The Sarki Musulumi of Nigeria and Sultan of Sokoto, Alhaji Muhammad Sa'ad Abubakar, rounded off its five days official visit to Lagos on Wednesday.
The Sultan, who jetted into the state on Saturday 24 September, 2022, received some important personalities in audience on same day of arrival at his lodge in Victoria Island while, the following day of Sunday 25 September, kicking off its main assignments with the N10 billion Endowment Fund Launch of the Muslim Ummah of South West Nigeria (MUSWEN), where he played the role of a Chief Host "as a Lagosian" honourarily confirmed by particularly Governor of Lagos State, Mr. Babajide Olusola Sanwo-Olu, who was represented at the event by his Deputy Governor, Dr. Babafemi Hamzat.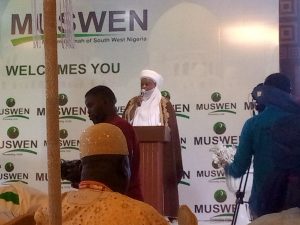 The DEFENDER reports that the the Sultan had seized the opportunity of the Endowment Fund Launch, held at the prestigious Oriental Hotels, Victoria Island, to call on Nigerians not to allow anybody come inbetween them especially as election campaigns were to start. He asked them to unite against all evils and damn the plotters of nation's collapse by joining hands together in love and peace to move their country, Nigeria forward.
Eminent Muslim elite including the 100-year-old Sheikh Hafis Abou, the Baba Adinni of Lagos thronged the event to be counted as part of the anticipated success of the resolve give the Muslims of South West facelift with the N10 billion endownment to move them out of poverty by the year 2030. Precisely of note among the elites include lawyer and business giant, Wale Babalakin (SAN), erudite industrialist, Alhaji Sulaiman Adebola Adegunwa, banking giant, Alhaji Tajudeen Fola Adeola, legal icon, Alhaji Yusuf Ali (SAN), global banking expert Alhaji Bade Adeshina, and very many more made the journey of 1,000 years success start by taking one step at the event, held towards establishing a MUSWEN Centre that will empower Muslims through the nitty-gritty of development and launch them into prosperity by 2030.
NIREC meeting
On Monday 26 September, the Sultan made it to another assignment that was also part of the reason he was in the state of aquatic splendour as it was called by apparently elated Governor Sanwo-Olu and that was the Third Quarter Meeting of the Nigerian Inter-Religion Council (NIREC), held at different venue, Continent Hotels but within the same neighbourhood of the Atlantic Ocean on Victoria Island.
The NIREC meeting was an all-day assignment that took him from 10am through 10.48pm on that fateful Monday as it was a multi-session event that required the inter-faith community do a general session called the opening, the NIREC Youth Wing which had been campaigned to have a conference expected to profess solution to some social vices among Nigerian youths. The opening session, however, was a general forum declared by open by Governor Babajide Sanwo-Olu, who was physically and personally present, during which he repeated what his deputy, Hamzat, said at the Oriental Hotels the day before by declaring the Sultan Sa'ad Abubakar as "a Lagosian".
The NIREC meeting on Monday was one that can easily pass for the long awaited panacea to the division that has pervaded the faith communities in Nigeria, especially threat that it poses to the cord that should bind Muslims and Christians together as people from the same divine source and parental background but which failed to materialise due selfish interest of some religious leaders, who allowed themselves as tools in the hands of some unpatriotic politicians.
That Monday cannot be wished away in a hurry as it denotes a new beginning in the quest for peace, unity and security in Nigeria because it was a day that Muslims and Christians, both as leaders and paper presenters, came out to tell themselves the truth about the factors responsible for disharmony between and among them and then they resolved to unite against it.
The NIREC quarterly meeting, themed, "Working Together for Peace…..", was well attended to warrant appreciation by immediate past President of Christian Association of Nigeria (CAN), Rev Samson Olasupo Ayokunle, who applauded participants for ensuring a good turnout this time against the Second Quarter meeting help in Osun with low turnout.
The Sultan of Sokoto and co-Chairman of the NIREC, Alhaji Muhammad Sa'ad Abubakar, was the first to speak after secretariat statement presentation by the Executive Secretary, Pastor Cornelius Omonokhua. In the opening of his speech, Sultan Abubakar, in his pragmatic manner at public speaking, explained that he stood up to be the first to speak because the CAN President, Archbishop Daniel Okoh, is a brand new man that has gotten no experience at such level. The whole of the hall went up in laughter and the Retired Army General-turned monarch began his speech.
According to the Sultan, "NIREC is the most important tool to discuss and resolve religious issues in Nigeria. All Nigerians either Muslims or Christians. It is so much that even the few ones, who are neither Muslims nor Christians still claim to belong to the either of the two faiths."
Speaking further at the meeting themed, 'Working Together for Justice and Peace', the Sultan, jovially said he was cutting his speech short to make it long, noted that, "Perception of injustice is one of the factors that triggers crisis" and urged the system to work together with religious leaderships in the country to ensure that no member of any of the faith group feels the existence of this at any point in time for living together in peace to be possible.
He did not stop without touching on how a leader, who does not do justice to the people he leads will be denied the favour of Allah here in the world and in the hereafter.
Quoting from Sheikh Usman Dan Fodio, he said "Goodness is the spirit of justice. Absence of it", he said, "brings crisis".
Responsibility for peace and unity is Nigeria currently is more urgent than the urgency that is attached to the 2023 elections. NIREC, he said, is the best platform for the fulfillment of this much needed national assignment.
Giving example of relevance of NIREC to national good, Sultan Sa'ad Abubakar mentioned the role played on the issue of strike embarked upon by the Academic Staff Union of Universities (ASUU) and asserted that ASUU should obey the court order asking it to call off its strike and resume work, while asking the Federal Government to show magnanimity by paying lecturers the salaries they were unable to earn due to their staying out of work for seven months.
"We believe ASUU should be law abiding, call off its strike, go back to work and let students resume class," he said, adding, however, by urging government "to tilt a little to the right and a little to the left in the matter by paying the striking lecturers their salaries as they are already hit by salary stoppage."
The Sultan rounded up his speech by inviting the man he described as brand new President of Christian Association of Nigeria (CAN), Archbishop Daniel Okoh, formally presented him to NIREC members as the new co-chairman of the council and then asked him to speak.
In his speech, Archbiship Okoh noted that the holding of the Third Quarter meeting in Lagos as a zonal venue was unique in that Lagos itself is an epitome of peaceful co-existence, where Muslims and Christians live together without religious issues or rancour of any sort.
The DEFENDER reports that Okoh served NIREC for 15 years and, only recently, came to become the co-chairman of the inter-faith council, a remarkable life experience that attracted applause from the audience that was made up of NIREC leaders and youths among several other participants at the event.
On justice, he said the Bible teaches justice by asking adherents to "do unto others what you want them to do unto you."
This Nigeria's only multilingual newspaper recalls Odia Ofeimun, former President, Association of Nigerian Authors (ANA), when he said, "It is not only that you do unto others what you want them to do unto you but also, you even the evil you can do to yourself, don't do it unto others".
Continuing in his address, Archbishop Okoh, "We as religious leaders will be generally, in strong terms, against hate speech" and that they would encourage their respective members to respect religious values of others so for the idea of working together for justice and peace to be a reality in the country.
Quoting Cardinal John Onaiyekan in a paper he presented in the past titled, 'Let God be God' and where he says people who believe there are more gods and kill for those gods, the CAN President "there are no plural gods because God is one God" and that people should allow peace to reign in the society.
Expressing dismay, he said it had now become a norm to see people from religious prism first before relating with them as humans.  "What we say in private conversations matters as what we say in the public. We must not be seen as members who fan embers of hate," CAN President Daniel Okoh said.
In his speech, CAN Chairman, Lagos State Chapter, Bishop Stephen Adegbite, thanked Governor Babajide Sanwo-Olu for doing well in making it physically to the programme as he promised he would. Also, he resoundingly commended the Sultan of Sokoto, Alhaji Muhammad Sa'ad Abubakar, for showing leadership by rarely easily adjusting to make the NIREC meeting happen, despite last meeting change of date by organisers at the prompting of the governor.
Lateef Adegbite Memorial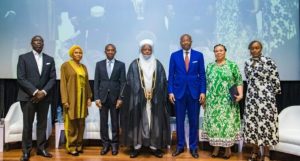 As he rounded off his five-day official visit to Lagos on Wednesday September 28, the Sultan of Sokoto and President-General of the Nigeria Supreme Council for Islamic Affairs (NSCIA), Alhaji Muhammad Sa'ad Abubakar, admonished Nigerian electorate on responsibility of choosing a good leader while also making love for neighbours their watchword.
He said this while playing the role of Chairman of occasion at the maiden edition of Dr. Lateef Adegbite Memorial Series on Leadership and public presentation of a book: 'Leadership Issues in Africa: Essays in honour of Dr Lateef Adegbite CON', held at the Mike Adenuga Centre in Ikoyi, Lagos on Wednesday September 28, 2022.
The Sultan, who arrived Lagos on Saturday September 24, had participated at the N10 billion Endowment Fund Launch of the Muslim Ummah of South West Nigeria (MUSWEN) Sunday, Third Quarter Meeting of the Nigerian Inter-Religious Council (NIREC) Monday and other activities on Tuesday before also attending the Adegbite memorial from where he departed via Murtala Airport Ikeja to Abuja by mid-day.