*Points to note about Salisu Buhari's emergence
*24 years after
*Needless debate of decided Deposition
*The Keyamo's confidence
*Reminiscence of an acclaimed fiat – echo from the past
*Deposition beyond public opinions
*Supreme Court ruling on certificate forgery by Retired Justice Bage
By KEMI KASUMU
"This Tinubu's case, talking first about Bayo Ononuga, is not different from what he helped expose of Rt. Hon. Salisu Buhari in 1999 except that it is even worse because it did not take more than days for Salisu Buhari to come to term with reality of his crime and so did not wait either for a court order or impeachment by colleagues before he resigned and apologized to the nation."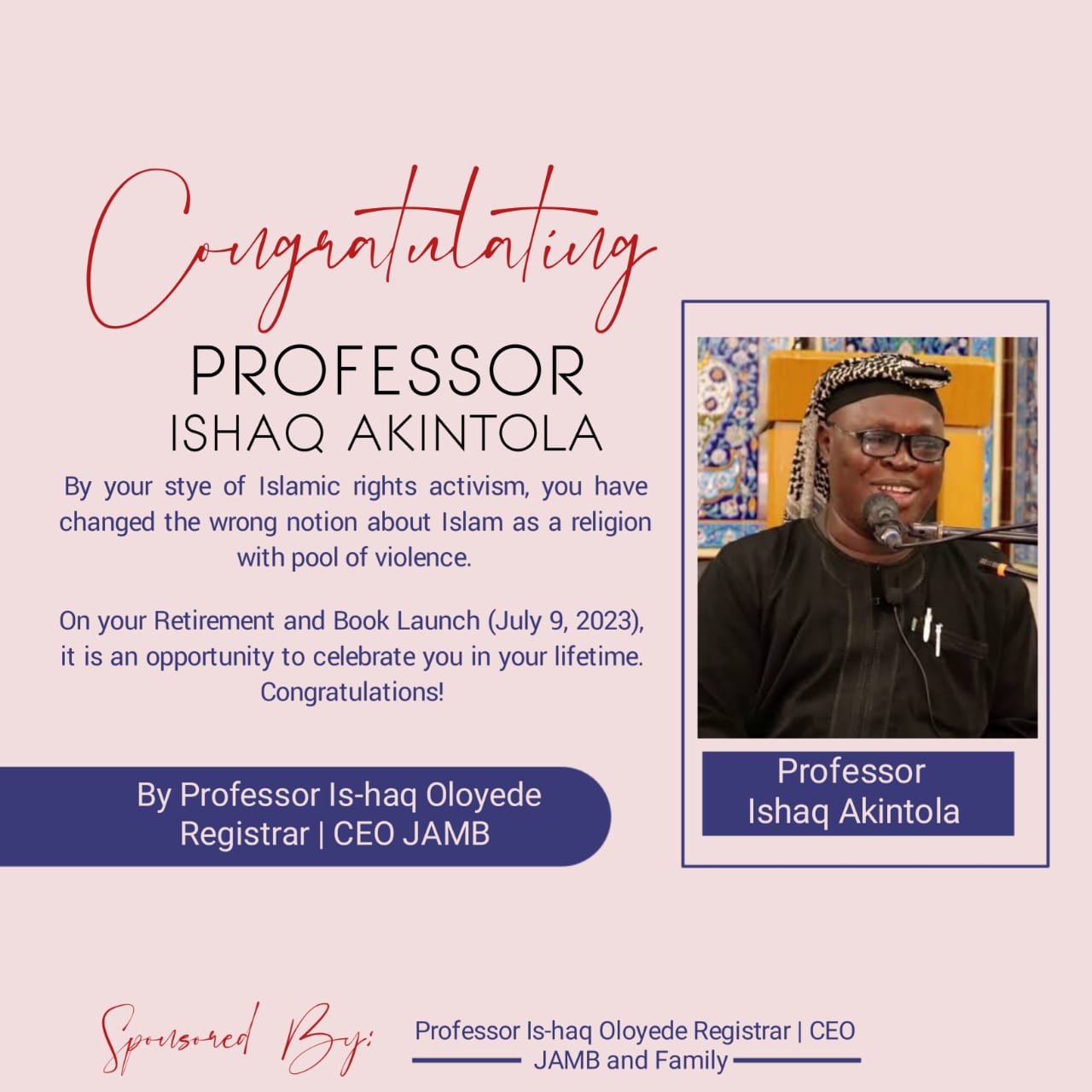 Unfortunately, an already closed chapter of Rt. Hon. Salisu Ibrahim Buhari's past is being re-opened because of the conspicuous roles vital figures in the President Bola Ahmed Tinubu's administration and team have now decided to play in the conversation of denials of the Chicago State University's 32-page documents released to former Vice President Atiku Abubakar on the order of United States Court of the Western Illinois, coming from the camp of the president.
Mr. Bayo Ononuga, the immediate past Director General of the News Agency of Nigeria (NAN), was and still is the Managing Director/Editor-in-Chief of TheNEWS and TEMPO Magazines and PM News. He championed and led the investigative journalism by example by which TheNEWS Magazine exposed and reported the forged WAEC certificate of Nigerian Fourth Republic's first Speaker of the House of Representatives, Alhaji Salisu Buhari, from Kano, North West Nigeria, in 1999.
Recall the front page headline of that magazine at the time, "THE FACE OF A LIAR: HOUSE SPEAKER BUHARI DECEIVES HIS NATION: FG BEGINS PROBE".
Not only that it was one of the virtues that made Nigerians hold TheNEWS, of which he is major owner, in high esteem but  also, Ononuga was also a very close ally of Governor of Lagos State at the time, Asiwaju Bola Ahmed Tinubu.  All accolades flew in the direction of Bayo Ononuga at the time for carrying journalism to that high esteem of helping Nigerians hold their leaders accountable and another thing that worked for that report that characteristic of Hausa-Fulani people of Northern Nigeria, none of them would want to be identified or associated with such national shame and so nobody put a fight either as lawyer, journalist or civil society activist. They believed that if anyone deemed it fit to put the nation to shame, let him carry his cross and that was the background that Salisu came from and which informed his quick discovery of the shame and he personally resigned.
Apart of Ononuga being ally of Governor Tinubu at the time, Mr. Dele Alake also was as his Commissioner for Information and Strategy at the time. Meaning that, like it was seen in the work they all did together in the buildup to the 2023 general elections, Ononuga, Alake and Tinubu are allies of many years and President Tinubu himself alluded to this in his tribute to Dele Alake at 67, recently.
It will also be recalled that while Ononuga was going with Salisu Buhari, Chief Gani Fawehinmi and some of his legal allies including Mr. Festus Keyamo, now a Senior Advocate of Nigeria (SAN), also had an axe to ground with Governor Bola Ahmed Tinubu over his then claim of being a graduate of University of Chicago. Note that in the United States of America, as gathered, there is the University of Chicago and there is the Chicago State University.
Chief Gani Fewehinmi, who had been denied the honour of being decorated Senior Advocate of Nigeria (SAN) for a long time for being about the only lawyer standing to powers that be in the land in matter of need for transparent and accountable leadership, went on with his case of certificate forgery against the Lagos State governor in Lagos court to the point of his SUV being attacked.  Gani's life was only saved by mother luck as many had thought he was killed in that attack that saw the windscreen of his high car entirely smashed at the time. And Festus Keyamo, pointed out recently in a press statement of Atiku Abubakar's senior special assistant on public communication, Phrank Shaibu, had sued the Lagos State House of Assembly at the time for clearing Tinubu of the certificate forgery allegation against him. It was later the name of Chicago State University began to surface.
Pertinent to raise here that Chief Gani Fawehinmi, who however came to the conscience of President Muhammadu Buhari during his first tenure precisely on June 12, 2018 considering his many pursuits of justice and truths in his legal and human rights activism past, was finally recognised posthumously with national honour of Grand Commander of the Order of the Niger (GCON) along the posthumous honour done to Alhaji MKO Abiola as winner of June 12, 1993 presidential election, as Grand Commander of the Federal Republic (GCFR) with the institutionalized June 12 date as Democracy to immortalize the late MKO WITH, for him, Gani Fawehinmi and others, remarkable apology on behalf of the Federal Government of Nigeria.
In his speech at the national honour event on June 12, 2018, President Muhammadu Buhari, GCFR, had apologised to the Abiola family and others who lost their loved ones to the June 12 struggle. He said, "On behalf of the Federal Government, I tender the nation's apology to the family of late MKO Abiola, who got the highest vote [in the election], and to those that lost their loved ones in the course of the June 12 struggle."
Points to note about Salisu Buhari's emergence
Ibrahim Salisu Buhari was born in January 1970 in Kano State to Salisu Buhari Daura, a Kano-based First Republic politician and businessman. It meant that the young lad would have long resolved the issue of youth participation and occupation of high political offices in Nigeria since that 1999 period, having ascended the number four office of the Speaker of the House of Representatives at the age of 29.
And the background of his wealth was unambiguous.  His father's business dealt in computers and he made an appreciable fortune at a very young age.
Ibrahim Salisu Buhari was Nigeria's first House of Representatives speaker after the country was ushered into a new democratic rule of Fourth Republic on May 29, 1999. He is also the sixth person to occupy the office in the history of the country.
Meanwhile, Sir Frederic Metcalfe of Great Britain was the first Speaker of the House of Representatives of Nigeria after its inauguration on 12 January 1955 by John Macpherson. He was replaced by the first indigenous speaker, Jaja Wachuku, in 1959.
Salisu's tenure was immaturely truncated as the young and vibrant speaker was drowned in a pool of irredeemable controversies. All thanks to Mr. Bayo Ononuga, Editor-in-Chief of TheNEWS Magazine.
At 29, Salisu pulled off one of the greatest certificate-related political frauds in Nigeria as at that time in 1999 leading to his personal resignation without waiting for court order exactly on his 49th day in office as Speaker of the House of Representatives.
It is of important note that no Hausa-Fulani man either as lawyer, journalist or civil society activist supported and twisted any law to perpetrate Salisu Buhari in office as number four citizen of Nigeria. Characteristically, by way of emphasis, people from that Northern region of Nigeria, no matter engrossed they were in politics, would not like to be associated with fraud whatever name it was and is still called.
That made it easy for Buhari to come to his senses earlier and he simply walked to his greatest seat in the green chamber, brought out his speech papers, addressed the nation deeply shrouded with sober and with many either on the floor or on the television set at home dripping tears from the fact that he realised that to err is human and he quickly admitted his crime, apologized sincerely asking Nigerians to forgive him and then he walked away into private life doing business since then. He is today a greater man. That was exactly how Salisu Buhari ended his carrier as the shortest tenure Speaker of the nation's House of Representatives of any history of Nigeria.
The charismatic Salisu came to the limelight when he won the election to represent Nassarawa Local Government, Kano State at the National Assembly under the umbrella of the Peoples Democratic Party (PDP) in 1999.
The PDP at that time had zoned the speakership to the North West, a region where Salisu hailed from. This factor gave him a top edge in to contest, and he won with the majority of the votes of the PDP-dominated house. His emergence was supposed to be a fresh breath of hope for the youth of the country until the unimaginable WAEC certificate forgery was exposed by Bayo Ononuga's TheNEWS Magazine.
24 years after
However, 24 years after the same front page headline of TheNEWS, "THE FACE OF A LIAR: HOUSE SPEAKER BUHARI DECEIVES HIS NATION: FG BEGINS PROBE", Mr. Bayo Ononuga is now under fire for being at the front role of bandwagon, not only having fought tooth and nail for the enthronement of  Asiwaju Bola Ahmed Tinubu, his ally of many years, as President and Commander-in-Chief of the Armed Forces of the Federal Republic of Nigeria, despite the huge issues of pre-and-during exercise violence and malpractices that were widely reported to have characterised the election from which he emerged but also, he along with Festus Keyamo (SAN) has been heard aloud defending the man that Lasisi Olagunju – in his Monday October 9 Tribune column titled "The certificate elephant in Abuja" – had used parable to describe saying, "The king is naked. If you are truly his friend, tell him."
Many have expressed their worries as to what has changed that journalism and legal icons – celebrated as epitomes of unblemished professionalism, integrity and unalloyed loyalty to the nation as well as patriotism 24 years – have suddenly backslidden and are now seen to have dropped from their high rank as advocates of transparent and accountable leadership to the base as, from public perspective of them, they are now seen as protectors of the same anti-values that they once prominently fought against.
This Tinubu's case, talking first about Bayo Ononuga, is not different from what he helped expose of Rt. Hon. Salisu Buhari in 1999 except that it is even worse because it did not take more than days for Salisu Buhari to come to term with reality of his crime and so did not wait either for a court order or impeachment by colleagues before he resigned and apologized to the nation.
As for Keyamo, if his suit against Lagos State House of Assembly for clearing Tinubu, as the nation was reminded days back by Phrank Shaibu, was not known to many, what cannot be denied or argued is his membership of the Chief Gani Fawehinmi-led train of activists that fought the same Tinubu over what he claimed to be a University of Chicago certificate Gani alleged was forged. And for those who are governed by whatever side of sentimentalism either political affiliation, religion or ethnicity, questions are now being asked "what has happened to their moral consciousness?"
This is the question that many including Mr. Dele Farotimi, for whose comments among others National Broadcasting Commission (NBC) slammed the Arise Television final warning, have continued to ask.  The NBC final warning has thus created impression that the Tinubu administration is opposed to being held accountable and that it is prepared to use all the paraphernalia of state to silence anybody and the gag the media that dare to comment on the allegation against him as Chicago State University certificate forger.
Needless debate of decided Deposition
It should be clearly stated that problem of President Bola Ahmed Tinubu could further be complicated by all these attempts to use the apparatus of government to hoodwink members of the Nigerian public into believing that his 32-page academic documents that Chicago State University handed over to former Vice President Atiku Abubakar are fake.
From the standpoint of conclusion of Deposition at the Unites States District Court of Justice Nancy Maldonado on that date of Tuesday October 3, the case of forgery was established against President Tinubu, whether anyone in Nigeria agrees with that or not. So, it is no longer an allegation and Atiku bringing the CSU documents to Nigeria is not to just start initiating a case to determine whether Tinubu forged or not. That has already been decided in the United States of America because it was under the law of that country the president stood to do all that he did and reason it was where Atiku went to get the transcripts.
The only function of the documents here in Nigeria's Supreme Court is to back up his appeal by Atiku, who was presidential candidate of Peoples Democratic Party (PDP) in the February 25 election, claiming that Tinubu ab initio was not qualified to contest for office of the President of Nigeria for reason of of certificate forgery but which was struck out at the Presidential Election Petitions Tribunal (PEPT) in Abuja.
But it will further create image problem for Nigeria should those public officers involving themselves in the arguments give the international community the impression that the country's system hostile to judicial justice. Another reason they should be careful is the area that is being said about the short time spent by American courts of judges without wigs, no garb, simple as they appeared and they were to resolve a case from the originating court to the appeal court, which would have taken Nigerian courts up to five years amidst avoidable adjournments to resolve, and they did they wrote their respective judgments short, precise and clearly stated without any kind of legal terminology. They wrote their judgments in ways that are easily grasped by layman.
That area should matter to those who are trying to twist content of the 32-page Tinubu's CSU documents that Atiku possesses beyond the boundaries of the Deposition on oath and from which his appeal now before the highest court in Nigeria has been filed. And those Nigerians of note should, rather than labouring hard with their capacity as state officers or legal icon to interpret and reinterpret an already decided matter, should submit their egos to the law of the land and help President Bola Ahmed Tinubu by not compounding his problem with their unsolicited media trial of a decided CSU documents matter.
Supreme Court
What is on ground is that what Tinubu has been proved to have done in the United States where he claimed graduated from has been resolved and the result is known by the CSU Deposition and the Supreme Court of Nigeria has an antecedent to that here in Nigeria.  The Retired Justice Sidi Dauda Bage of the Supreme Court said in the case of forgery in the case of SALEH v. ABAH & ORS (2017) LPELR-41914(SC):
"This Court must take the lead, in righting the wrongs in our society, if and when the opportunity presents itself as in this appeal. Allowing criminality and certificate forgery to continue to percolate into the streams, waters and oceans of our national polity would only mean our waters are and will remain dangerously contaminated. The purification efforts must start now, and be sustained as we seek, as a nation, to now 'change' from our old culture of reckless impunity. The Nigerian Constitution is supreme. It desires that no one who had ever presented forged certificate to INEC should contest election into Nigeria's National Assembly. This is clear and sacrosanct. More compelling as a judicial determination had been taken by no less a technical panel sitting in, at least, a panel of three judges as Election Tribunal with constitutional mandate to determine such issues as they relate to elections and its outcomes, including eligibility. This has also been affirmed by the trial Court in this appeal. On these issues, our duty is to apply the Constitution and the law in its start, original form undiluted by 'colourated' interpretations."  (Pp 26 – 31 Paras E – B)
These attempts have also included all the executive propaganda as it is now clear from what the Minister of Aviation Festus Keyamo (SAN), Minister of Foreign Affairs Yusuf Tuggar, presidential aides like Babatunde Ogala and Temitope Ajayi are doing, trying to do what Atiku claimed as intention of the Tinubu administration to twist the facts that he has and which are now laid before the highest court in the country, the Supreme Court of Nigeria (SCN), and confuse the minds of the public about those facts.
One thing must be pointed out first before proceeding to conclusion of this special report, the fact that the Justice Nancy Maldonado's United States District Court of the Western Illinois was not known to Nigeria's former Vice President Atiku Abubakar until Nigeria's President Bola Ahmed Tinubu dragged Atiku there in his effort to block the Wednesday September 20, 2023 judgment of the Judge Jeffrey Gilbert's US magistrate court that ordered the Chicago State University (CSU) to release within two days the academic records that Atiku requested to have for court proceeding purposes in Nigeria and also ordered the university to appoint administrators who would come before it for Deposition under oath of those documents he was asked to hand over to him.
Tinubu, who was at the time attending the 78 Session of the United Nations General Assembly (UNGA78) in New York, had on Friday September 22 approached the district court with an 'emergency appeal', as the CSU was at the top of its preparation to hand over the academic records, seeking a stay of action with a request that the court delay hearing of his appeal case till Monday September 25. Although not official confirmed but is generally believed that the Nigerian president was hoping to meet with the President of the United States of America Joe Biden within the period between that Friday September 22 and Monday September 25 but failed.
On the adjournment date of Monday September, Tinubu's lawyers had gone to the appeal court with a prayer that any release of his academic records with Chicago State University would cause him "severe and irreparable harms" thus urging the court to dismiss the order of the lower court of Jeffrey Gilber.  But on the following day, Tuesday September 26, Atiku's lawyers were also in the appeal court to file their response to the Tinubu's prayers of day before describing the president's prayer on the ground of going to be caused "severe and irreparable harms" as baseless. They therefore prayed the appeal court to dismiss it and order the university to go ahead and hand over the academic records of the Nigeria's president whose supporters have severally called the 'last man standing'. The court then adjourned for ruling.
Four days after on Saturday September 30, having looked meticulously into the magistrate court's judgment, the Tinubu's appeal, his prayer on the ground that mere release of his academic records would cause him "severe and irreparable harms" and then the response of Atiku, the United States district court's Justice Maldonado ruled by upholding the Judge Jeffrey Gilbert-led court's earlier judgment and then gave a full force order to the Chicago State University to release the information that Atiku requested for within two days and that the university, whose registrar Carl Westberg's sworn affidavit had been earlier seen flying around with claims that "all errors in the records are human errors and that the university takes responsible for them", should also come before her court to do Deposition under oath to give legal backing to authentication of the documents handed over to Atiku.
It was, however, baffling to many as media trial of the whole situation began with supporters and aides of President Tinubu premising their arguments on statement by Carl Westberg sworn affidavit that was never accommodated in the Deposition in the court and which had been circulated long before the Tuesday October 3 date picked by court for the legal exercise.
It was even held at certain quarters that the both judges of magistrate and district courts specifically made sure that their respective judgments included the order for Deposition of the academic records to be handed to Atiku because of information of corruption that have been flying around about the Chicago State University and that, to be convinced beyond reasonable doubt, the only way to go was for the university to appoint its administrators to come before the court, where they will do Deposition under oath in the presence of lawyers of both parties and then the product of that oral Deposition become legal under the law.
The Keyamo's confidence
It is therefore confusing, many have said, that Festus Keyamo, a Senior Advocate of Nigeria (SAN), allegedly tries hard to trivialize even the Deposition done before the US court when he said to Atiku, while reacting to his insistence of forgery allegations against the President, and he, Keyamo, who is the Minister of Aviation and Aerospace Development under the Bola Tinubu administration, said the Supreme Court will find President Tinubu not guilty of certificate forgery, adding that until the vendor who issued a replacement certificate to President Tinubu denies the document, there is no case against him.
Keyamo stated this in a long tweet posted on X handle on Sunday addressing the controversies over the CSU records, insisting that "you cannot allege or prove forgery except the purported maker of the document denies its authenticity."
He wrote, "When some comments or perception of otherwise plain and simple issues are so moronic, mischievous or downright odious, they really do not deserve a response because you'd be dignifying idiocy. But let me drop this here for posterity:
"I have been a defence and prosecution lawyer at the highest level in criminal trials for more than 30 years. You cannot allege or prove forgery except the purported maker of the document denied its authenticity or there is uncontradicted evidence of a forensic report that categorically says the document was deliberately altered or concocted by the person who uttered (in a legal sense) or issued it."
Reminiscence of an acclaimed fiat – echo from the past
From some of the ongoing discussions of the CSU controversies, it was gathered that Keyamo, who claims to have served as defence and prosecution lawyer for 30 years, was responsible – by his claim of federal fiat – for how Asiwaju Bola Ahmed Tinubu-controlled Lagos State administration of Babatunde Raji Fashola jailed Chief Bode George under Lagos State law and by Lagos State court over a matter of Nigerian Port Authority (NPA), a federal agency, that neither concerned Tinubu not connected to the state government in anyway and which was meant to be handled under federal law and by federal court.
The Tinubu's political vendetta past against political opponents featured in the current conversation because of surprising disposition of Mr. Bayo Onanuga and Mr. Festus Keyamo to advocates of towards transparent, accountable leadership and good governance, currently, a terrain they featured prominent well in the distant past. Like Ononuga's past about good work he did exposing the certificate forgery of Salisu Buhari with his TheNEWS Magazine, Keyamo's claim of fiat in the criticised Nuhu Ribadu-led EFCC's prosecution of Chief Bode George in a court believed would help Tinubu achieve his political goal of jailing his number one political enemy in Lagos State was also not left out.
Abiodun Obateru in his article titled, "Oddities in Bode George's trial", published under the Law and Human Rights page of VANGUARD Newspaper on August 6, 2010, was said to have explained the Keyamo's angle better in a way that meant a response to his claim of being a defence and prosecution lawyer for 30 years.  Making this reference, his critics said that time was when debate on zoning and rotation of public offices raged in the political arena and the fate of then former Peoples Democratic Party (PDP)'s Deputy National Chairman, Chief Bola George, who was jailed alongside five other former members of the NPA Board of Directors, which he once led, continued to general controversy over the manner in which he and others were prosecuted and convicted by a Lagos High Court.
Obateru wroted: "Many people had expressed the opinion that Chief George, who was convicted for alleged contract splitting and disobedience to a Federal Government circular on expenditure approval limit, may have been a victim of political intrigues and conspiracy in high quarters as the alleged offences did not constitute economic crimes but administrative misdemeanors. Recent facts emerging from the Federal Court of Appeal, Lagos, where Chief George is challenging the verdict of the Lagos High Court presided over by Justice Joseph Olubunmi Oyewole, tend to lend credence to this view.
"It was revealed at the Court of Appeal that the Federal Attorney-General and Minister of Justice did not grant the Economic and Financial Crimes Commission, EFCC, the necessary fiat to prosecute him at the Lagos High Court as required by law under section 174 of the constitution of the Federal Republic of Nigeria. Usually the Federal Government issues a fiat when it becomes necessary for it to prosecute a case involving it in a state high court under laws made by that state rather than federal laws.
"The fiat is a delegated authority empowering the state to prosecute on behalf of the Federal Government. This revelation has given rise to the question as to who took the decision to prosecute him at the Lagos High Court and why the case was rushed to the said state high court without perfecting the necessary due processes which included the issuance and attachment of the fiat to the charges.
"Against a background of widespread insinuations that Chief George was deliberately taken to the Lagos State High Court under the jurisdiction of his avowed political enemies to ensure that he was jailed, the issue of fiat became a contentious matter at the Court of Appeal as both his counsel and counsel for the EFCC sought leave of the court to produce additional evidence in support of their respective positions on his appeal before the court.
"Curiously, while admitting that it did not obtain the fiat required by law from the Federal Attorney-General, the EFCC, through its counsel, Mr. Festus Keyamo submitted that it rather obtained a fiat issued by the Lagos State Attorney-General to the Federal Government to prosecute Chief George and co in the State High Court under the state's laws.
"Inspite of the absurdity of this approach, the EFCC counsel still sought leave of the court, in his application, to tender the said fiat issued by the Lagos State Government to the Federal Government as additional evidence in support of its opposition to the appeal filed by Chief George. However, in its ruling on 25th June, 2010, the Court of Appeal dismissed the EFCC's application as lacking in merit.
"The Court ruled that the attempt by the commission's counsel to tender the fiat at that stage was an abuse of court process because whatever fiat the EFCC obtained should have been attached to the charges at the commencement of the trial at the lower court as required by law.  Moreover, the Appeal court noted, with dismay, that Mr. Keyamo's argument that the EFCC obtained a fiat from the Lagos State government rather than the usual practice of Federal government granting the State the fiat to prosecute on its behalf was an attempt to mislead the court," Abiodun Obateru wrote in the law page of Vanguard on August 6, 2010. Details of Obateru's account via link: https://www.vanguardngr.com/2010/08/oddities-in-bode-george%E2%80%99s-trial/
Deposition beyond public opinions
Why the truth of the 32-page documents with Atiku and which he has since filed before the Supreme Court of Nigeria is said to have been confirmed by the oral Deposition taken by the US district court and which has been written and certification copy of which can be made use of in any court of law anywhere in the world, former Vice President Atiku Abubakar appears to have come to terms with the fact that there will be no need to argue with agents of propaganda working for President Tinubu in effort to confuse the the truth with falsehood. This is because he has the truth although Keyamo thus went further to say he cannot succeed in the Supreme Court with the truth that is with him.
On Sunday, Alhaji Atiku Abubakar accused President Tinubu of twisting the deposition made by CSU saying Tinubu is doing so with intention to twist the facts of the matter, "which deliberately aims to confuse the mind of the public concerning the matter."
In a statement released by his media aide, Paul Ibe, the candidate of the Peoples Democratic Party (PDP) in the 2023 presidential election, said "some media aides to the president have come out openly to 'push back on the narrative', while some media houses, especially one, have persistently slanted their story to justify a corrupted interpretation of the facts in the deposition.
"Sadly, however, the truth of the matter remains that President Tinubu falsified a document he submitted to the Independent National Electoral Commission (INEC) and swore an affidavit under oath to back up his forgery.
"On page 26 of the deposition, which is publicly available, Registrar of CSU, Caleb Westberg, under oath, was asked a simple question that "CSU has determined that it does not have a true and correct copy of the diploma issued to Bola Tinubu in 1979, to which the Registrar responded, "that's correct."
"Also, on page 27, a similar question was put to Westberg: 'So, CSU, after going through every diploma, was unable to find an authentic copy of any diploma that CSU issued to Tinubu in 1979. Is that correct?' The CSU Registrar, in his response, said: 'We did not find any diploma issued by CSU in 1979 to Mr. Tinubu.'
And coming straight to the specific issue of whether CSU is aware of, or in possession of the diploma that Tinubu submitted to INEC, to which Westberg simply said, "Correct, we are not aware of it."
According to the former vice president, "anyone who has taken time to do a thorough reading of the deposition will come to the unambiguous conclusion that the footprints of Tinubu's odyssey as far as the CSU documents are concerned is filled with profound forgeries and abuse of administrative due process.
"Tinubu's supporters and spin doctors will want to force the narrative of, at least, 'Tinubu graduated from the CSU down our throat,' even when the narrative has no foothold in logic.
"The question remains: How does a candidate graduate from a university that you were never qualified for? According to information in the open, President Tinubu applied to CSU with a pre-qualifying 1970 certificate from Government College Lagos, whereas the school did not come into existence until 1974. Maybe this should make Tinubu the first man ever to have an anticipatory certification from the school four clear years before the founding of the school.
"Another mystery is that in addition to the non-existing Government College Lagos certificate, Tinubu presented a certificate from another school in the United States that belongs to a female candidate and a Cambridge HSC of 1970, the same year he purportedly graduated from a secondary school in Nigeria.
"Lastly, while supporters of the President are quick to reference his transcript from CSU as evidence of his studentship, we are alarmed how his NYSC certificate bears Bola Adekunle Tinubu, even when the CSU said under oath that the middle name of 'A' was never interpreted in any document in his file.
"Every Nigerian who has undergone the NYSC programme understands that the names on the NYSC are never a creation of the candidate, but the official name that the student was officially known as, from their tertiary institution. Tinubu was allegedly never known as Adekunle at CSU. Thus, the only way to understand how Adekunle was smuggled on his NYSC discharge certificate can only be explained as a forgery.
"It is even more shameful that just when this whole scandal continues to unfold, media handlers of President Tinubu have, from nowhere, smuggled a middle name of Adekunle into his Wikipedia account. The word Adekunle in Yoruba is a house filled with royalty. But in this instance, we daresay it is a house filled with forgeries. It is, therefore, becoming very obvious that there is no end point to how President Tinubu and his spin doctors will continue to use one forgery to cover the other," Atiku submitted.