By BASHIR ADEFAKA
The Sultan of Sokoto, Alhaji Muhammad Sa'ad Abubakar, paid a visit to sick Village Head of Rijiyar Kade, in the Kware District Area of Sokoto, Alhaji Ardo, on Thursday.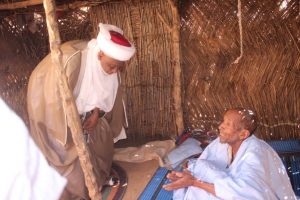 The village head, an aged man, has been sick for some times thus necessitating the Sultan's surprise visit that lifted the elder as he apparently felt so highly rate to be so visited by the Sultan, who is also the President General of the Nigerian Supreme Council for Islamic Affairs (NSCIA).
The Sariki Musulumi of Nigeria, lowered himself before the village head who was sitting on a mat when he entered into into his chamber, prayed for the Almighty Allah to grant him quick recovery.
Appreciating the gesture borne by humility and human feeling of the Nigeria's number one monarch, the Rijiyar Kade village leader thanked the Sultan for the unexpected visit and prayed for Allah's continued support for him.
The visit took place after the commissioning ceremony of a mosque built in the village by Qatar Charity and leading of Zuhr prayer performed by the Sultan.