*Says, Behaviour of youths in support of Patience makes Nigeria's future leaders' place blink
*Ex-First Lady not above the law, EFCC zonal head tells protesters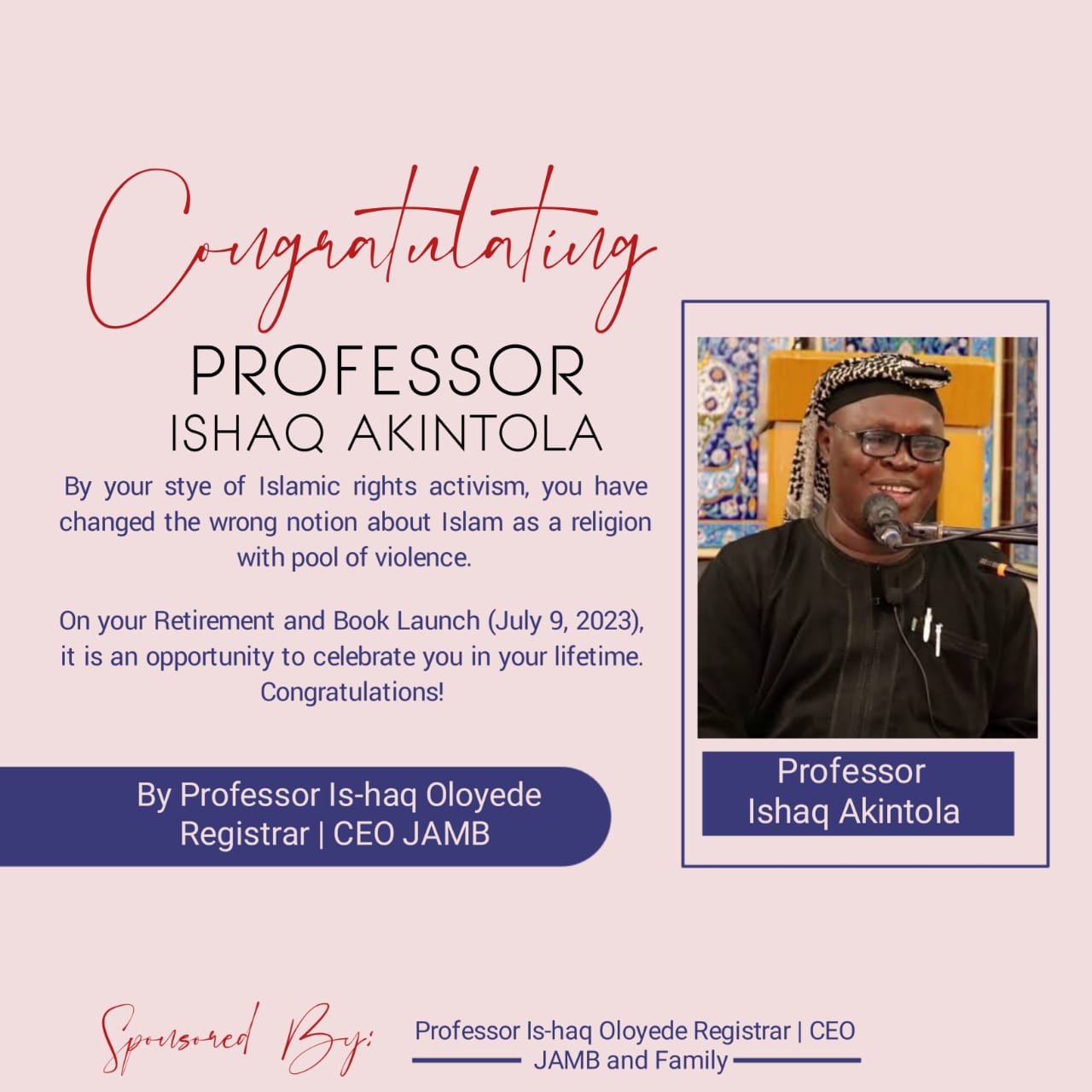 The Muslim Right Concerned (MURIC) has described as unfortunate, yesterday protest staged by hundreds of youths in support of Mrs Patience Jonathan, wife of immediate former President Goodluck Ebele Jonathan. It Muslim rights group said it was a rented crowd.
MURIC spoke just as Head of the South South Zonal Office of the Economic and Finance Crime Commission (EFCC), Ishaq Salihu, reacted by telling the group of protesters under the aegis of "Coalition of Civil Rights Organisations, Concerned Youths and the Ijaw Nation Worldwide," who thronged the Port Harcourt zonal office of the Commission that, the EFCC was a law abiding agency which discharges it duties without fear or favour.
In a press release, at weekend, signed the Professor Ishaq Akintola, Director of Muslim Rights Concerned (MURIC), the organization expressed disappointment that some youths could stand up to be counted in support of any person accused of looting the treasury without first asking questions.
It said, "It is preposterous that some youths could stand up to stage protests in support of anyone accused of looting the treasury without critically assessing the facts of the case at a time when shocking revelations prove that looters pushed Nigeria's economy into stormy waters. This ugly incident dents the image of Nigerian youths and casts a thick shadow of doubt on the moral fiber of Nigeria's future leaders."
Mrs. Jonathan recently had her bank account frozen for laundering huge sums of money. In particular, the sums of $26 million and $15 million were reportedly deposited in bank accounts which were allegedly opened by the former First Lady using the names of her domestic staffers.
But the youths, the Akintola-led MURIC was described as worrisome, just stood carrying placards without different inscriptions including that EFCC should "Leave Mrs Patience Jonathan Alone" describing her case with the anti-corruption agency as victimization.
In strong term, the release stated that, "The Muslim Rights Concern (MURIC) strongly denounces the Port Harcourt protest. It is diversionary, unethical and unpatriotic. Those who organised it can better be described as opportunists, political prostitutes and myopic elements. The protest is heavily tainted with ethnic jingoism.
"It is instructive that the Civil Liberties Organisation (CLO) has disowned the group as impersonators. This strengthens our suspicion that a rented crowd staged the protest. It is further proof that corruption is fighting back and dirty too," MURIC said.
The protesters carrying placards with various inscriptions, such as "Patience is Innocent", "How Many First Ladies have Been Tried in Nigeria," "Mrs Patience Jonathan Deserves Respect, Stop Embarrassing Her," "EFCC Stop Victimizing Niger Delta People," "EFCC How many corrupt Nigerians have been prosecuted and jailed," and so on were led by Sukubo Sara-Igbe Sukubo, a self acclaimed ambassador.
Sukubo said they were in the Commission to express their unhappiness and submit their letter of protest over what he called ill-treatment of the former first Lady. "We, as coalition of Niger Delta Civil Rights Organisatioin, Concerned youths and Ijaw Nation World Wide, hereby, demand that the EFCC should stay off Mrs Patience Goodluck Jonathan, as there is no established legal or political precedent for what EFCC is currently doing to Mrs Patience Jonathan."
Mrs. Jonathan recently instituted an action against the EFCC claiming that the money placed on "Post-No-Debit category" in the accounts of four companies currently being prosecuted on money laundering charge by the Commission, belong to her.
Nobody is above the law – EFCC tells pro-Patience Jonathan protesters
But the anti-graft agency South South zonal head, Salihu, told the protesters in Port Harcourt that as a creation of law, EFCC was out to discharge its responsibilities within the ambits of the law.
Salihu said: "EFCC is a law abiding organisation which discharges its duties not minding whose ox is gored. We do not shy away from our responsibilities. Where there is a case, we pursue it to logical conclusion, if there is no case, there is none, we move to other things. The motto of the Commission is "Nobody is Above the Law'," he said, commending the protesters for the peaceful manner they conducted themselves and assured them that their letter will get to the appropriate authorities.