By KEMI KASUMU
Just as the security and intelligence agencies in Nigeria are working round the clock to end a major problem believed to be making of religious, ethnic and political motivations, a former Minister of Aviation and opposition Peoples Democratic Party (PDP) chieftain in the country, Mr. Femi Fani-Kayode, has just been exposed attempting to cause another crisis with what has now been found out to be fake news via his social media handle.
Fani-Kayode is not alone at the calculated attempt as two others in opposition to the Muhammadu Buhari administration, Deji Adeyanju and John Ezeakolam, also made their own contributions to spreading the same unverified video Information posted on their respective Twitter handles, according to Muslim News report.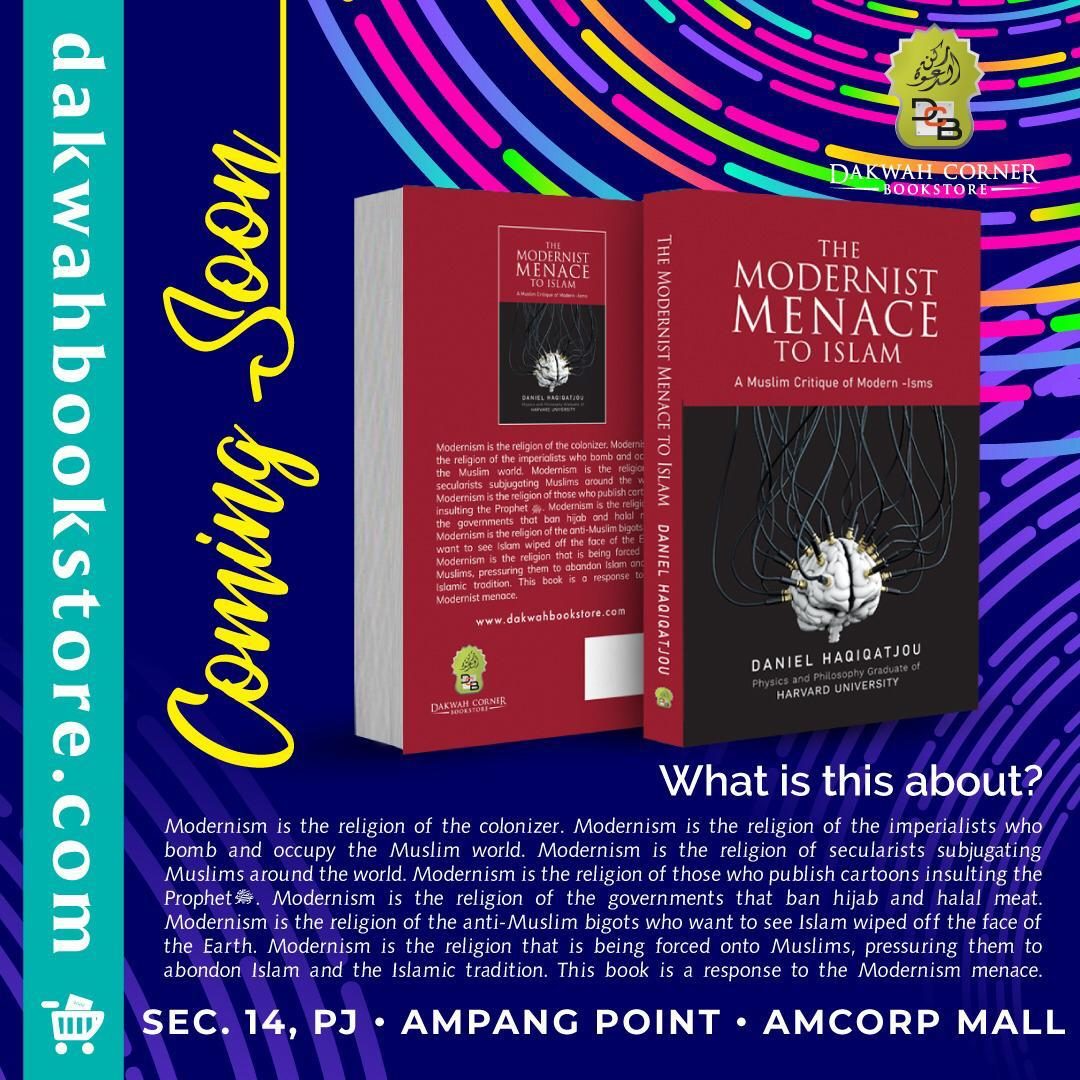 The three controversial social media influencers, Femi Fani Kayode, Deji Adeyanju and John Ezeakolam, were busted for spreading the fake news, with the bogus claim that the terrorist group, Boko Haram had forcefully converted residents of Niger State to Islam.
Muslim News said the three social media influencers posted the unverified 1 minute, 3 seconds video on their various verified twitter handles on Sunday, barely a day before the world was preparing to mark the 2021 #WorldPressFreedomDay, with different captions.
Caption 1: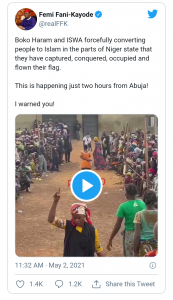 Femi Fani-Kayode reporterly shared the fake news with his 970,000 followers on Twitter and wrote: "Boko Haram and ISWAP forcefully converting people to Islam in the parts of Niger state that they have captured, conquered, occupied and flown their flag… this is happening just two hours from Abuja! I warned you!
Caption 2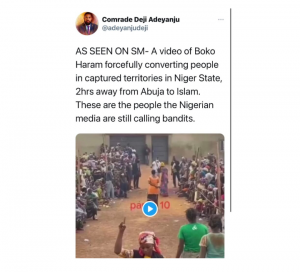 Also, Deji Adeyanju uploaded the video with his 122,000 followers with the caption, "As seen on SM – A video of Boko Haram forcefully converting people in captured territories in Niger State, 2 hours away from Abuja, to Islam. These are the people the Nigerian media are still calling bandits.
Caption 3
A pro-secessionist critic of President Buhari's administration, John Ezeakolam, with 11,500 followers published the video, and accompanied it with the caption:
"Hello there as you prepare once again to go sing-song and praises for daddy general overseer, spare a moment for fellow Christians in Niger State Nigeria and their plight. Having taken part of the state, Boko Haram has commenced the forceful conversion of people to Islam most in tears(sic)…"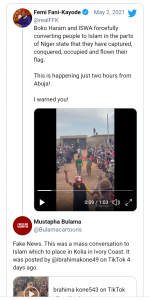 The DEFENDER reports that the manner by which the three fellows spread the fake news that made #EndSARS protests go monstrous has been replicated with the new one also coming by same partakers and doing it at the same time and for the same purpose.
This current one by Femi Fani-Kayode and co has however got Muslims and other fellow Nigerians talking as they agree on the demand for government and security agencies to put heads together and arrest them without delay, if truly they have resolved to tackle the insecurity in the country, a source said.
The Truth
According to Muslim News, both Adeyanju and Ezeakolam have deleted the video having been exposed by the Governor of Niger State, Alhaji Abubakar Bello, with incontrovertible evidence showing that the video didn't emanate from Nigeria.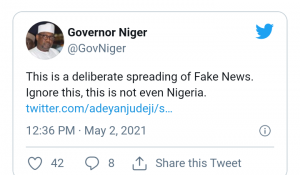 Fani Kayode, however in his usual style, had not deleted the video from his Twitter handle @realFFK as at the time of the report was filed by 6: 49pm on Monday May 3, 2021.
Governor Bello, however, disproved the claim, saying the viral video, showing many residents especially women who gathered in what appeared to be a remote location, is not from Nigeria.
Findings also revealed that the video emanated from Kolia, in Ivory Coast.
Contrary to speculations and lies from those who shared the fake news, available evidence showed that it wasn't a forceful conversion, rather, mass acceptance to Islam by members of the said community.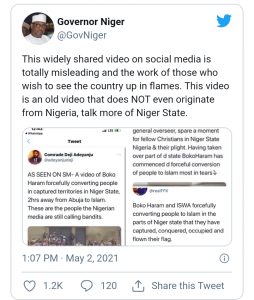 The Governor said: "This widely shared video on social media is totally misleading and the work of those who wish to see the country up in flames. This video is an old video that does NOT even originate from Nigeria, talk more of Niger State.
"As citizens, we should rather use our vantage position to complement the peace efforts of the government than spread fake news, cause disunity, raise unnecessary alarm capable of causing disaffection among the peace-loving people of Niger State and Nigeria at large."
The viral video surfaced days after Boko Haram insurgents reportedly hoisted their flag in a community in Niger state after sacking residents.
Position of Islam
Even if the story were to be true, forceful conversion is antithetical to the pristine message of Islam, as established in the Qur'an and Hadith, Muslim News revealed by its findings.
When Allah (SWT) commissioned Prophet Muhammad (peace be upon him) as the Seal of all Prophets and Messengers, he preached Islam to the people based on what was revealed to him by his Lord.
The Noble Qur'an was his guide and according to Surah Al-Baqarah (2:256), Allah says:
"Let there be no compulsion in religion. Truth stands out clear from error".
This verse stipulates that non-Muslims should be allowed to practice their faith in accordance with the injunctions of their religion. The Prophet (peace be upon him) never forced anyone to embrace Islam, not even during several battles waged by the unbelievers against the Muslims, who persecuted him and his followers for affirming their belief in the oneness of Allah.