By BASHIR ADEFAKA
"His passion for social justice has led him to write extensively on International Human Rights Law, showing a marked bias for Development Law as it relates to the Right of indigenous people, on self determination and socio-economic inclusion."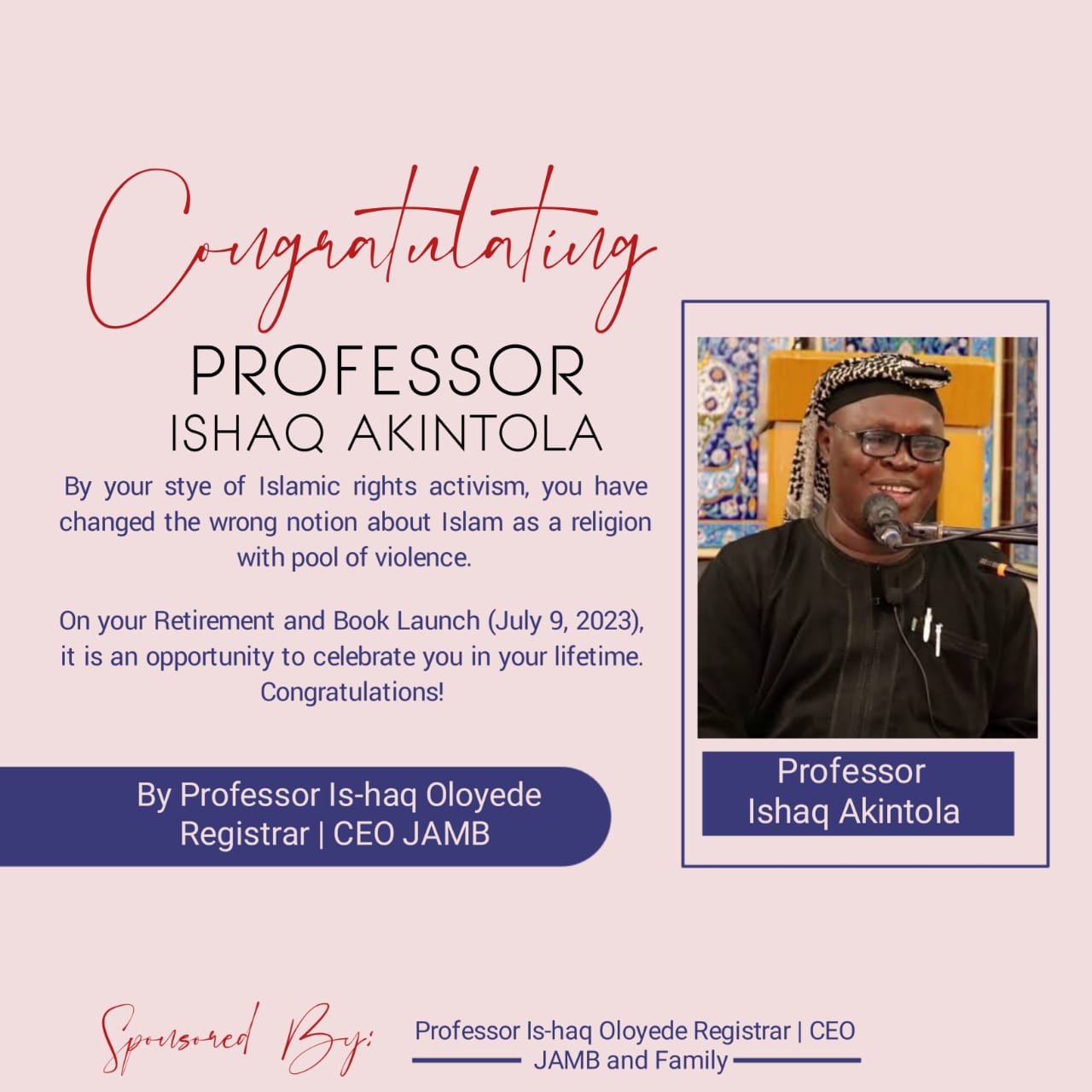 I was on the television set of Televista watching THE HEIR and the action guy in that Indian film is Raggaf Singania! It was exact time that I stumbled over a Facebook post posted by no more or less than the baobab tree of knowledge, professor of law, a lawyer and don of Ahmadu Bello University, Zaria, Kaduna State Nigeria.
With his portrait photograph standing elegantly like a humble emperor in the villa, he simply wrote on Saturday October 14 saying, "60 years on mother earth. I remain committed to the worship and adulation of Allah for his endless grace."
That was by him and, like the day I met him on Facebook when I saw that his posts were showing that I had met a like mind, he is the man that has become my loved one. I love his way and I joke not about this. I added him as my friend and it took him no up to 60 seconds before he accepted the friendship. Meaning that the repository of knowledge is easily accessible.
Still want to know his name? It is important especially in the era that we are, when name, family value and qualification we claim matter for the proof of our personal and national integrity.
His name is Y-U-S-U-F D-A-N-K-O-F-A!
Professor Yusuf Dankofa hails from Kano, Nigeria's second economic nerve centre and biggest Nigeria's centre of commerce located in North West of the 63-year-old country.
A man that speaks his straight-yet-sincerely good mind without minding whose ox is gored – when it comes to standing for what is right and rising above sentiment and emotion of whatever coloration – is a character that matches the Adefakas of Isolo, an autonomous township community in Akure South Local Government Area of Ondo State, South West Nigeria. On September 22, 2019 he had said in an interview published in PUNCH talking Nigerian politicians as merchants using politics for development of themselves as against developing their people and nation as done in other better climes.
"Politics is one huge industry in Nigeria and the political establishment as political merchants have entrenched themselves as great beneficiaries. In other climes, politics is seen and used as a vehicle of development but in Nigeria, it is seen as a platform to acquire wealth and power for enjoyment and allocation of favour to cronies and well-wishers. The leadership class depends on the national treasury to drive their lifestyles and are therefore dependent on the public purse. They use it to educate their children abroad, to marry foreign wives or to maintain a harem of foreign girlfriends. They use the proceeds from our income to buy houses in exotic capitals of the world and some of them within four years as governors expend as much as $10m to charter aircraft for the domestic junket," Professor Yusuf Dankofa holds this views of Nigerian politicians and that thinking is where we meet except that he is in possession of more intellectual property than I.
Being Muslims, the two of us is another great thing, but in my town of which I am of a royalty, Muslims and Christians do not pretend like pretenders that do not want to talk about religion claiming "it causes division".  Lies! We proclaim our religions and proud of it but we have and know how.
We talk about religion in our town for religion's reality as a tool of positiveness in diversity. We believe that recognizing our religious differences is, instead of being a tool for division, more importantly a means of knowledge acquisition for peace, unity and development.
When, as a Muslim I know things that hurt my fellow Christian and I am sincere and realistic enough to respect his values by not pushing on him things that hurt his faith and beliefs, how would he or her hate me? In the same vein, if as a Christian my fellow Christian know things that hurt me and sincerely and realistically enough to respect my values by not pushing on me things that hurt my faith and beliefs, how would I hate him or her? But people who throw realities away by, despite being acclaimed religionists, living the lives of atheists and freethinkers are the ones that cause division along religion or ethnic line in our nation.
All thanks to my father, Alhaji Kasumu Yesufu Adefaka, all thanks to my eldest brother and Olori Ebi of the Adefakas, Mr. Babatunde Adefaka, and all thanks to my King, His Royal Highness Oba Edward Kolawole Adejoyegbe Adewole, Osalade II, the Osolo of Isolo Kingdom. My thanks then extent to the twin township community in which I have been adopted a son but not a prince (I am only a prince of Isolo) and that is Isinkan and the King of the Kingdom, Oba (Barrister) Oluwagbemiga Olafin-Adimula, the Iralepo of Isinkan Kingdom, Akure South Local Government Area of Ondo State. The same thanks goes to my mother's side, the Falade Family and family of my great maternal grandfather, the Pa Fayeye Ogunmolaro a.k.a. Alagba of Iju, Akure North, Ondo State.
This is what I gain from celebrating my new elderly friend, Professor as he clocks 60 today. I celebrate because he has a name that he cherishes so much and name is Y-U-S-U-F D-A-N-K-O-F-A and because I too cherish my name and the name of my father, I owe the home and town where I come from the equal celebration for giving me a good name and for encouraging me all the times to guard jealously against blemish in the name, no matter the condition.
As Ibadan man
Again, Professor Yusuf Dankofa hails from Kano State though he was born in Ibadan in 1963. He had his primary education at Omolewa Nursery and Primary School, Oritamefa, Ibadan and proceeded to Ahmadiyya Grammar School now Anwar-Islam Grammar School at Eleyele, Ibadan, both in Oyo State. He thereafter enrolled at the University of Sokoto now Usman Danfodio University where he bagged an LL.B Hons in Law in 1987 and, further moved from there to the Nigerian Law School in Lagos, where he earned his Barrister-at-Law (BL) and was admitted into the Nigerian Bar as Solicitor and Advocate of the Supreme Court of Nigeria in 1988.
Yusuf Dankoka joined the services of the Faculty of Law, Ahmadu Bello University as an Assistant Lecturer in 1989 and became a senior Lecturer in 2010.  But before becoming a senior Lecturer in 2010 he had bagged his LL.M, Degree in 1993 and went on to earn his Ph.D in Law in 2005 from the same Ahmadu Bello University in Zaria and was pronounced full professor eight years ago.
Professor Yusuf Dankofa was the Head of Department of Public Law from 2010 to 2014 and was also the Deputy Dean of Law from 2012 to 2016. He became an Associate Professor of Law in 2013 and a full Professor of Law in 2015.
His passion for social justice has led him to write extensively on International Human Rights Law, showing a marked bias for Development Law as it relates to the Right of indigenous people, on self determination and socio-economic inclusion.
He has written more than 50 articles in peer reviewed journals and has attended and presented papers in more than 50 local and international conferences. He is married with children.
Professor Yusuf Dankofa, I join your wife, children, the entire Dankofa family, the Emirate of Kano and Government of Kano State as well as the entire Ahmadu Bello University community in celebrating you today that is your day.
Wishing you a longer time in goodness and in the worship of Almighty Allah!