By Kemi Kasumu
Head and Spiritual Leader of INRI Evangelical and Spiritual Church, Oke Afa, Isolo, Lagos, Primate Elijah Babatunde Ayodele needs no introduction among members of the Lord's Vineyard who have predicted positively for the love of country.  In his own case he has predicted things which exemplified and stand him out away from what many have described as prophecy of doom.  This time, he said Nigeria would not know peace until they would have prayed hard to remove the curse placed on the country by the unjustified grusome murder of Nigeria's first and only Prime Minister Alhaji Abubakar Tafawa Balewa.
Ayodele would prophesy and would round it up by saying, "I am so much pained when my negative pains come to past due to nonchalance of the people concerned."  He however has tried much as a distinguished man of God should do to go as far as organizing prayers conferences that negative processes might not come to fruition on Nigeria and, by extension, other countries or personalities of the world that he claimed to have been sent to prophesy for.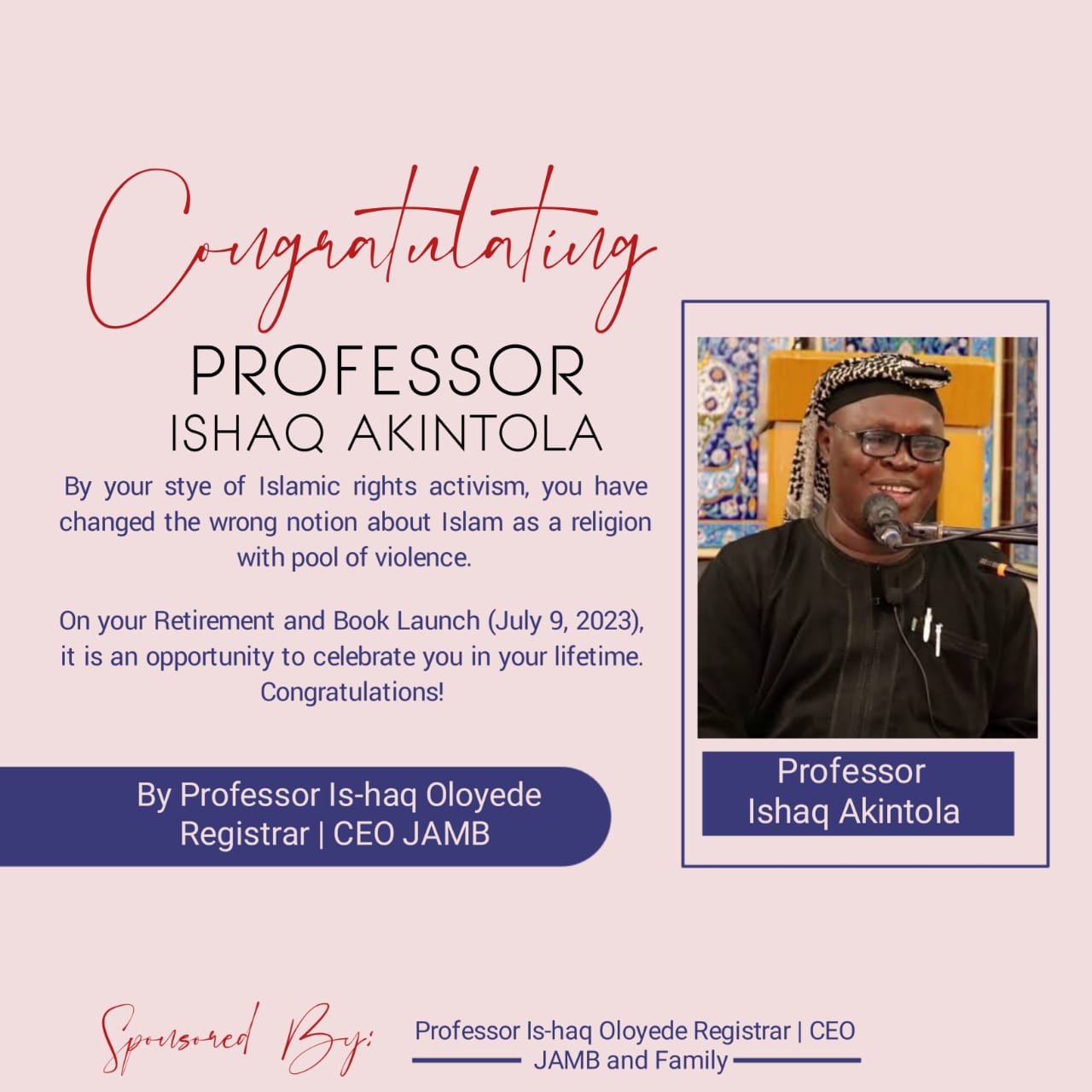 Recall Primate Ayodele, known for distinctively spelling himself out from being a pastor adding that prophets are different from pastor as, according to the Ikere, Ekiti State-born man of God, prophets are the only ones that God truly speaks to and who sees things that pastors don't see, had prophets many things in the past which came to past to the extent that no one has conveniently succeeded to name him as one of either the prophets of doom or prophets of fake prophecies.
Ayodele as far back as 2013 or thereabout, as recorded in one of his annual Warnings to the Nations (WTN) publications published by many print media, had predicted that General Muhammadu Buhari defeat Dr. Goodluck Ebele Jonathan in the 2015 general elections thereby asking Jonathan not to contest as, according to him his contest would spell doom for Nigeria.  That was said by him much earlier than the now sung Father Mbaka in December 2014 said the same prophesy.  That came to past.  Ayodele, an exceptional spiritual leader of pragmatic approaches to solving people's needs, predicted many more that have come to past.
In one of his recent media talks he said God was angry with Nigeria, published in Vanguard and other print media, and warned that prayers should be held for God to help President Muhammadu Buhari steer the ship of the country to safe point.  He however warned President Buhari and Asiwaju Bola Ahmed Tinubu must not fight each other as, according him, such fight by the duo of the ruling All Progressives Congress (APC) would lead to break up of the party in a way that would see some fragment of APC pulling out to join another fragment from People's Democratic Party (PDP) coming together to form a new party.  He warned seriously that Tinubu particularly should not allow it happen even as he said the idea of CPC, Congress for Progressive Change had not died completely as, according him, President Muhammadu Buhari, whom he said would be given tough times to emerge as APC candidate in 2019 by some leading members of the ruling party, would still bring up the CPC as things unfolded.  He said a Northern Agenda would spring up and all that.  All of that has happened.
Recall also that Primate Babatunde Ayodele said that Saraki would have a lot of challenges but warned that APC should not toy with the idea to remove him from office as Senate President as doing so he said would cause a lot of problems for the ruling party and the government.  With the withdrawal of forgery case against Saraki and his deputy, Ike Ekweremadu, it is not clear whether it has any connection with listening to the Warnings to the Nations by Ayodele or not.
On Edo 2016 governorship election, although he warned Adams Oshiomhole to be prayerful so that Godwin Obaseki he was supporting would not give him problems after he would have become governor, but the Primate made it emphatically clear Obaseki would win the Edo election.
He said, "The problem that led to the postponement of election in Edo was not APC game. Edo election would have been inconclusive if INEC had gone ahead without the postponement.  Forget about what people say. Saying APC is the one that are sponsoring people (militants) and this and that is a big lie.  PDP have their own problem on their neck and this PDP must be very careful another party is going to come from PDP and APC and form a very strong opponent and Buhari's 2019 may be through CPC."
Ayodele, Ondo State election had also warned Mimiko that he should not venture to change from Labour Party to PDP as he said it would not work well for him.  So did he warn Governor Willie Obiano of Anambra State against considering decamping from APGA to any other party.  Ayodele stressed that remaining in their respective parties would enable them sustain the love of their people and do a lot of good things for the respective states.  Mimiko went ahead and decamped to PDP and the whole intact house of progress of yesterday became a fuji house of commotion for the man once known to be an Iroko in Ondo State politics.  Today, many have said Mimiko is in dilemma of life after government necessitating – according to investigations – the governor having to now consider decamping from PDP to APC.
How far decamping from PDP to APC will help Mimiko escape what is said to be the consequences of stewardship in office the first Ondo State governor to rule for eight interrupted years is what is not yet clear.  What is likely to happen, according to further probes, is that whichever way Governor Mimiko chooses in the oncoming governorship election in Ondo State, if he does not have to contend with the wrath of the Akure Agenda which he will probably incur by betraying the idea of an Eyitayo Jegede governorship project, it is doubtful if he would not have to be face-to-face with reality of having to scale through with APC now waxing stronger in the state.  Many who had followed Primate Elijah Babatunde Ayodele's prophesies concerning Governor Olusegun Mimiko have now begun to say, "If he had listened to the warnings of God, the resounding support he had enjoyed in bulk from the people of Ondo State would have not split and that would have seen him through comfortably in this election."
That is much Primate Ayodele's prophesies have affected political permutations in the Nigeria.
You said there could be bomb blast in America, and now we have a report with bomb blast in New York, particularly as world leaders are gathering to discuss world peace and the rest of that. Is there any semblance to what you have said to what has happened?
Recently America witnessed yet another bomb blast which had been predicted and recorded in the 2015/2016 edition of his Warnings to the Nations (WTN).  But on that, Ayodele said, "It is like what you said last, what happened was a bomb blast, I did not know the kind of resemblance you want to know but I have been giving credit to God.  And to every government, it is obligatory that it must listen and watch.
"Terrorist is still going to attack America, but what happened is just a sign of terrorism that is going to attach America. And that is why that question must be picked and pushed to America for journalists who are able to meet the President of America.  And that is why Hillary Clinton must be strategised so that she can win, that winning can come to clarity but she should be strategic so that some people will not disorganise her plans. That is that.
"Besides, let's pray against what will cause gunshot that will make people to run up and down in America.
Hillary Clinton's presidency will bring peace to the world
"I will tell you that America will be better under Hillary Clinton and the world leader will agree with Hillary Clinton's presidency of America. She has a symbolic importance that will be beneficial to the whole world, because she will be the first woman to rule America as president of the world's most powerful nation.
"Hillary becoming President of America is not going to be news because it is long predicted, but she will face some challenges to get there and if Donald Trump eventually wins her, it is going to be a problem to the whole world.  So Hillary must be strategised because Trump's emergence is going to be a calamity to the whole world.  Hillary must be strategised in order to succeed at all cost.  She must work on some states in America and then we have to pray for her so that she can complete all her task.
On earthquake in Nigeria, he said, "Yes, we should pray very well because we will still experience another one."
Have we had one?
We had one in Kano, so we must be very prayerful we must not joke with it, because another earthquake may come. I told you the other time that polio have not gone, Ebola has not gone, Lasar fever has not gone, the government should be watchful about these because all of these have not gone.  And I'm telling you Boko Haram is not yet over and the security must not sleep because they are targeting Abuja and some safety places in Abuja, so they must be very prayerful and watchful. Adamawa, Maiduguri, Yobe, Plateau, Benue, these places must be very careful so that they would not be attacked.
What is your view about the Ghana Election?
Yeah, Mahammah must not sleep.  He must still try in order to get it right.  He should work on the economic breakthrough and job opportunities.  Mahammah will make it, so he must work very hard because I do not think it is easy at all, which is very important because Ghana election is a serious election.  He must work very hard in order to maintain it because Ghana really needs that change, he must not sleep at all so he must be strategized.  He must take right steps in order to maintain the seat.
On a final note, Primate Ayodele bemoaned the spate of bloodshed and challenges being posed to efforts of government to make Nigeria better describing it as blood of the unjustly slain Nigeria's first and only Prime Minister Abubakar Tafawa Balewa hunting Nigeria.  He said there was a curse on Nigeria reason it appears that even much as the current government appears to be transparent and sincere people complain.  He said what Nigeria needs now is serious prayers and urged all religious groups in Nigeria to come together and pray in their respective ways for the curse placed on Nigeria by the gruesome murder of the innocent Tafawa Balewa to be removed because, Primate Ayodele said, "Tafawa Balewa cursed Nigeria" for unjustly taking his life for no justifiable reason.