*Saudi King world's no.1, Iranian President no.2, Buhari no.17, Sultan Sa'ad Abubakar no.18
By BASHIR ADEFAKA
The Sultan of Sokoto and Co-President, World's Regions for Peace, His Eminence Alhaji Muhammad Sa'ad Abubakar, CFR, mni, and President Muhammadu Buhari of the Federal Republic of Nigeria have been listed on The Muslim 500 Report among Top 50 World's Most Influential Muslims.
President Buhari and Sultan Abubakar are, respectively, Number 17 and 18 Most Influential Muslims in the World, The DEFENDER can authoritatively report.
The report, published on the website of one of the Muslim most authoritative journals, themuslim500.com, listed the King of the Kingdom of Saudi Arabia and Custodian of the Two Holy Mosques, His Majesty King Salman bin Abdul Aziz Al-Saud, as Number One; Supreme Leader of the Islamic Republic of Iran, His Excellency Grand Ayatollah Hajj Sayyid Ali Khamenei, as Number Two; Emir of Qatar, His Highness Sheikh Tamim bin Hamad Al-Thani, as Number Three and President of Turkiye, His Excellency El-Hajj Recep Tayyip Erdogan, as Number Four Most Influential Muslims in the World.
It also listed His Majesty King Abdullah II Ibn Al-Hussein, King of the Hashemite Kingdom of Jordan and Custodian of the Holy Mosque of Jerusalem, His Excellency Justice Sheikh Muhammad Taqi Usmani, Scholar and Deobandi Leader and His Majesty King Mohammed VI, King of Morocco, as Number Five, Six and Seven respectively.
Read details of Top 50 of 500 World's Most Influential Muslims below: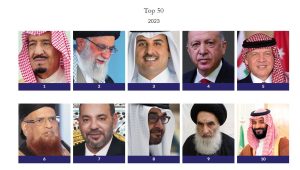 1. HM King Salman bin Abdul Aziz Al-Saud, King of Saudi Arabia and the Custodian of the Two Holy Mosques
2.HE Grand Ayatollah Hajj Sayyid Ali Khamenei, Supreme Leader of the Islamic Republic of Iran
3.HH Emir Sheikh Tamim bin Hamad Al-Thani, Emir of Qatar
4. HE President Recep Tayyip Erdogan, President of Turkiye
5. HM King Abdullah II Ibn Al-Hussein, King of the Hashemite Kingdom of Jordan and Custodian of the Holy Mosque of Jerusalem
6. HE Justice Sheikh Muhammad Taqi Usmani, Scholar and Deobandi Leader
7. HM King Mohammed VI, King of Morocco
8. HH President Sheikh Mohamed bin Zayed Al-Nahyan of the United Arab Emirates (UAE)
9. HE Grand Ayatollah Sayyid Ali Hussein Al-Sistani, Marja of the Hawza, Najaf, Iraq
10. HRH Crown Prince Mohammed bin Salman bin Abdul-Aziz Al-Saud, Crown Prince of Saudi Arabia
11. HE Sheikh Al-Habib Umar bin Hafiz, Scholar and Director of Dar Al Mustafa, Tarim, Yemen
12. Sheikh Salman Al-Ouda, Scholar and Preacher
13. HE President Joko Widodo of Indonesia
14. HE Sheikh Dr Ahmad Muhammad Al-Tayyeb, Grand Sheikh of the Al-Azhar University, Grand Imam of Al-Azhar Mosque
15. Maulana Mahmood Madani, Leader and President of Jamiar Ulema-e-Hin, India
16. HE Sheikh Abdullah bin Bayyah Scholar and President off the Forum for Promoting Peace in Muslim Societies
17. HE President Muhammadu Buhari Nigeria (same position last year)
18. HRE Amirul Mu'mineen Sheikh As-Sultan Muhammadu Sa'adu Abubakar, Sultan of Sokoto (same position last year)
19. Sheikh Yahya Cholil Staquf, Chairman of the Executive Council of Nahdlatul Ulama
20. HE Sheikh Dr Ali Gomaa, Former Grand Mufti of the Arab Republic of Egypt
21. Seyyed Hassan Nasrallah, Secretary-General of Hezbollah
22. Sheikh Habib Ali Zain Al Abideen Al-Jifri, Preacher and Director General of the Tabah
23. Sheikh Hamza Yusuf Hanson, Teacher and Co-Founder of Zaytuna College
24. Sheikh Ahmad Tijani bin Ali Cisse, Leader of the Tijaniyya Sufi Order
25. Sheikha Munira Qubeysi, Leader of the Qubeysi
26. Sheikh Mustafa Hosny, Preacher
27. HE Sheikh Abdul-Aziz ibn Abdullah Aal Al-Sheikh, Grand Mufti of the Kingdom of Saudi Arabia
28. Sheikh Usama Al-Sayyid Al-Azhari, Scholar
29. HH Shah Karim Al-Hussayni, The Aga Khan IV, 49th Imam of Ismaili Muslims
30. Habib Luthfi bin Yahya, Preacher
31. Sheikh Abdul-Malik Al-Houthi, Leader of the Houthi
32. Maulana Tariq Jameel, Scholar and Preacher
33. HE President Halimah Yacob, Singapore
34. Sheikh Muhammad Al-Yaqoubi, Scholar
35. Professor Seyyed Hossein Nasr, Philosopher and University Professor
36. Sheikh Uthman Taha, Calligrapher
37. Sheikh Rached Ghannouchi, Tunisian Politician
38. HE President Samia Suluhu Hassan of Tanzania
39. Mohamed Salah, Footballer
40. HE President Abdel Fattah Saeed Al-Sisi of Eqypt
41. Sheikh Muqtada Sadr, Scholar and Politican
42. Maulana Nazur ur-Rehman, Amir of Tablighi Jamaat, Pakistan
43. Sheikh Moez Masoud, Preacher and Televangelist
44. Dr Timothy Winter (Sheikh Abdal Hakim Murad), Islamic Scholar
45. HE Sheikh Ibrahim Saleh Al-Hussaini, Islamic Scholar
46. Dr Mohamed Bechari, French Activist
47. Dr Amr Khaled, Preacher and Televangelist
48. Dr Aref Ali Nayed, Scholar
49. HE Mullah Haibatullah Akhundzada, Leader of the Taliban
50. Sheikh Muhammad Ilyas Attar Qadri, Founder of Dawat-e-Islami Movement