By ABIRHIRE THOMAS
The Uwheru people in Ughelli North Local Government Area of Delta State, jubilate as their new king, Simpson Obruche, is installed as Odion R'Ode of the Uwheru Kingdom.
The coronation of Odion R'Ode Simpson Obruche began with a number of customary procedures, which culminated in his crowning at the Uhwerevioro Headquarters of the kingdom.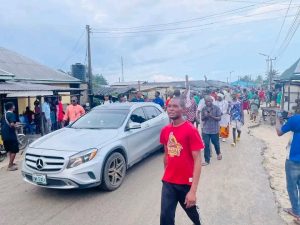 Newly crowned monarch was then brought to the audience as they cheered and danced singing his praises.
Prominent individuals among who are senior title holders, young people, and kids were drawn to the all-important ceremony that, once again, brought joy to the kingdom and its neighbourhood.
Odion R'Ode Simpson Obruche is loved by the people, reason his coronation was graced by all and sundry.
One of the people, who spoke, said that "the people have confidence that Odion R'Ode Simpson Obruche will enhance the quality of life for his subjects because he had already begun this before becoming king."
He said, "they are pleased to rejoice with him and we pray that his excellent connection with us will continue and that God will give him the strength to lead his country properly."