By IBRAHIM KANOMA, Gusau
The Zamfara State Governor, Muhammad Bello Matawalle has expressed gratitude to the Nigerian Armed Forces for showing remarkable commitment, dedication, courage and strength in fighting banditry and other heinous crimes bedeviling the State.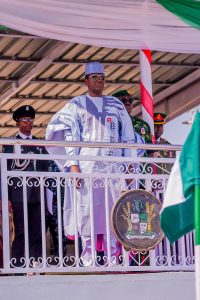 The Governor said this today at the 2023 Armed Forces Remembrance day which held at the state Trade Fair Complex, Bye Pass Road Gusau.
He said no doubt, the army have worked tirelessly to keep our communities safe and to bring relative stability to the state.
He maintained that this year's Armed Forces Remembrance day provides an avenue for individuals, groups and other stakeholders to honour and assist veteran soldiers who are still alive but weak to earn a living, and at the same time use the occasion to further remind us of the need to carefully guard the unity of our Nation which we won at a great cost.
Gov.Matawallen also used the occasion to call on all citizens to abstain from unguarded utterances, divisive actions and comments which could jeopardize the unity and progress of Nigeria as a sovereign entity.
According to the Governor, Zamfara State has been battling with banditry and other related crimes for more than a decade now which have undermined the state economically, most especially in terms of industrial activities, trade and investment, education and agriculture, pointing out that the challenges have also affected social activities and inter-communal relations across the State.
He said, his administration has been making sustained efforts to comprehensively address the lingering challenge, "We have deployed both the kinetic and non-kinetic methods in this crucial battle to secure the state which has led to the return of normalcy in some of the hard-hit areas," the Governor added.
The State Government he said has provided all the logistical support and made adequate arrangements to ensure the welfare of the families of gallant officers who lost their lives during internal security operations and to settle the outstanding medical bills of those who sustained injury.
Governor Matawalle assured that his administration would continue to forge a useful alliance with neighbouring states, security agencies and other relevant stakeholders as part of the strategy of rooting out these miscreants not just from the shores of the state but the entire subregion.
He commended the valuable contributions of the Nigerian Armed Forces and their sister security agencies in the state for their outstanding contributions towards ensuring that working facilities and logistical equipment are put to optimal use and called on all stakeholders to redouble their support to the security agencies, most especially in the area of vital information that will lead to the success of their operations.
The Governor called on security agencies operating in the state to be more proactive and remain professional in the discharge of their constitutional assignment and adhere to and operate within the extant local and international laws.
To the members of the Nigerian legion, the Governor saluted their efforts as "Sauran Mazan Jiya" and enjoined the general public to assist the Nigerian legion with generous donations to complement the roles they played in sustaining peace, harmony and building the nation.This was contain in a press release signed by