*As Aig-Imoukhuede, Awosika, others speak at maiden Lateef Adegbite Memorial Series on Leadership
By BASHIR ADEFAKA
As he rounded off his five-day official visit to Lagos on Wednesday, the Sultan of Sokoto and President-General of the Nigeria Supreme Council for Islamic Affairs (NSCIA), Alhaji Muhammad Sa'ad Abubakar, admonished Nigerian electorate on responsibility of choosing a good leader while also making love for neighbours their watchword.
He said this while playing the role of Chairman of occasion at the maiden edition of Dr. Lateef Adegbite Memorial Series on Leadership and public presentation of a book: 'Leadership Issues in Africa: Essays in honour of Dr Lateef Adegbite CON', held at the Mike Adenuga Centre in Ikoyi, Lagos on Wednesday September 28, 2022.
The Sultan, who arrived Lagos on Saturday September 24, had participated at the N10 billion Endowment Fund Launch of the Muslim Ummah of South West Nigeria (MUSWEN) Sunday, Third Quarter Meeting of the Nigerian Inter-Religious Council (NIREC) Monday and other activities on Tuesday before also attending the Adegbite memorial from where he departed via Murtala Airport Ikeja to Abuja by mid-day.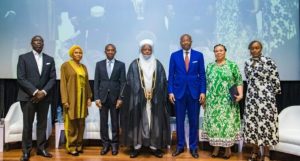 The DEFENDER reports that late Dr. Adegbite, who died in 2012, was Secretary General Nigeria Supreme Council for Islamic Affairs working with successive Sultan of Sokoto from the days of Sultan Ibrahim Dasuki, Sultan Muhammadu Maccido and sitting Sultan Muhammad Sa'ad Abubakar, who retired from the Nigerian Army to mount the throne on November 2, 2006.
The late legal luminary was also former Commissioner for Justice and Attorney-General of the defunct Western Region and pioneer President of the Muslim Students' Society of Nigeria (MSSN).
At the event also attended by Alhaji Tunde Folawiyo, the heir of late Baba Adinni of Nigeria Alhaji AbdulWahab Iyanda Folawiyo, Sultan Sa'ad Abubakar said, as the country rides to the kickstarting the process for choosing their next President, that they need to watch carefully in ensuring that they make a good and right choice for sustainable development of the country.
"As we go into 2023 elections, we must have a leader who, not only is good but also, knows that all Nigerians are his own," he said, adding that the next leader that Nigeria needs is one who has qualities of a good leader being, according to him, that a society will be at a loss if it does not have quality based personality at its leadership cadre.
Reminiscence of what he and Adegbite did together, Sultan Abubakar said, "If Almighty Allah wants to bless the people, he gives them good leaders and Lateef Adegbite is an epitome of a good leader, both in the public and private sector and he was one of the people we could trust."
He said, "As Muslims, we are proud of our religion.  When Allah says 'be good to your neighbours', He doesn't say Muslims, Christians or Jews. He says your neighbours."
Quoting from the words of wisdom by his ancestral father, Sheikh Usman Dan Fodio, which says "Conscience is an open wound, only truth can heal it," the Sultan urged Nigerians to say truth to one another all the times, show love and, not just be tolerant but be understanding towards one another, especially as elections are fast approaching.
This he said as he expressed optimism that, "A peaceful election is expected in the 2023 elections, and this can be achieved through love".
The multifaceted leader was emphatic on how Nigerians can live together united in peace and development when he said, "When people talk about tolerating, I say I don't want you to tolerate me. I want you to understand me. Only then we can be able to leave together."
He reiterated his call to Nigerians on what not to be done at elections. "Elections are coming. Allah knows the leader that is coming. So, let's not kill ourselves but love one another."
Buttressing this, Sultan Sa'ad Abubakar, who is co-President World Religions for Peace, told his audience how in 2007 "we created a platform called "A Common World" with its keyword as "Loving God and others in words and deeds: Implications for Christians and Muslims".
He took listeners to sober when at the last point of explaining this he said, "Everybody agreed that you cannot love without loving your neighbour, fellow human beings."
Other speakers at the event included the Chairman of Access Bank, Mrs Dere Awosika, who the Sultan charged to stand in for him as Chairman of the occasion as he departed to airport enroute Abuja.
In her speech, Awosika said leaders should be willing to endure pain and sacrifice just like Adegbite did.
She commended the Adegbite family for organising the event, as well as those that contributed to publishing the book: 'Leadership Issues in Africa: Essays in honour of Dr Lateef Adegbite CON'.
On her part, Omobola Johnson, senior partner, TLcom Capital LLP, spoke on the importance of technology as an enabler and accelerator of development.
She said as far as Nigeria's socio-economic and political development are concerned, technology is needed across sectors for inclusive development.
In his remarks, Aigboje Aig-Imoukhuede, co-founder and chairman, The Aig-Imoukhuede Foundation, said good governance is a panacea for Nigeria's transformational development.
"Transformational leaders motivate behaviour by changing their followers' attitude and behaviours in contrast to transactional leadership, which is based on transactional gain and reward for effort," he said.
He urged public servants to utilise their skills and follow the example of the late Adegbite.
Tola Adegbite, the daughter of the former attorney-general, said the memorial series was organised to mark the 10th anniversary of his death.
She said the family called together leaders, who exemplified great leadership values they saw in the late Adegbite, to give their advice on how to move the country forward.
She also urged Nigerians to be deliberate about choosing quality leadership in the forthcoming polls as good governance is key.
Other speakers at the event include Asue Ighodalo, founding partner, Banwo & Ighodalo, and chairperson, Nigerian Economic Summit Group (NESG), as well as Oyindamola Adeyemi, executive chairperson, Still Earth Holdings.