By Kemi Kasumu
"An advice to Obaseki at this point is that, he is in charge of Edo State and so he should take control of the situation and heavens will not fall. The September governorship election will be the easiest win for any sitting governor. And he must not fail to contest because Akinwumi Ambode, who refused to go ahead and contest saying he was respecting the party, has now come to know that there is no APC at present but an Oshiomole and the other personal interest he protects."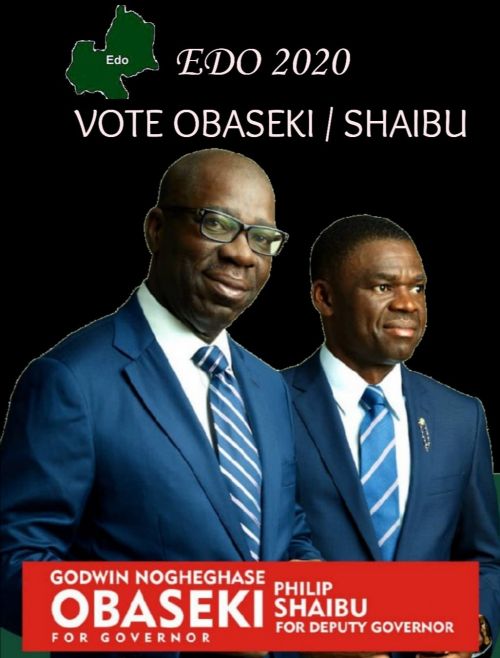 In Yoruba parlance it is said, "When a baby falls, he looks to the front. But if it is an elder that falls, he looks back to why he fell". Meaning is that the wise always looks to the past to properly manage the present to be able to shape a better future for himself. This is missing in the All Progressives Congress (APC), particularly under the current National Working Committee (NWC) of Comrade Adams Oshiomole. It thus makes it the worst in politics I have ever seen in my over 40 years in life.
The consolation here, however, is that, much as APC has reached its peak of existence, and since the buildup to 2019 election it has already begun to drift from its point of diminishing returns, the political ideology that President Muhammadu Buhari has started to engender for the good of Nigerians will not hand Nigeria in 2023 back to where it was before 2015 when the APC used him to sack some politicians and their party from givernment.
Although the very attitude of the APC today is, consciously or unconsciously, to make power slip from the hands of progressives so quickly, it will not happen except the country will never find help again. The best that the APC politicians could have done for themselves was to be on the same page with the President, whose image and integrity (2015) and performance (2019) have continued to sustain their party in the scheme of things. But alas! Only Buhari and some of his team who are not regarded as politicians are busy working to fulfill their election promises. All of these APC leaders are just busy playing politics of three years from now and they are doing it in a way that rubs negatively on the President and his government. It shows, but Buhari, these APC people did not win to serve Nigeria but their personal ambitions.
For quite sometimes now, Nigerians sympathetic with Peoples Democratic Party,(PDP) have said there is no difference between politicians sacked with PDP and those installed with APC except Buhari. This, even the worst enemies of the Daura, Katsina State-born President have never denied. For the Buharists, who are purehearted and do not have their loyalty to Buharism divided, this APC is simply worse, hypocritically too, than the PDP because, its members never wanted to be or act the change that they proclaim. Only the President and its government do. Or how do you explain removing a performing, trusted governor for a fellow you once declared could not be trusted with keys to the treasury of Edo State?
As it was in Zamfara, so it repeated self in Bayelsa and same way it will remain forever with them.
They are today telling Nigerians that they disqualified Governor Godwin Obaseki from their primaries on account that he has fake certificates in order to avoid a repeat of Bayelsa where certificate issues made them lose to PDP. They did not tell what similitude exists between the two.
The deputy governor-elect for whose reason David Lyon was painfully sacked in Bayelsa on the eve of his inauguration was never elected as governor or served any meaningful position in APC era. When this same Oshiomole-led APC people were screening him, they saw the certificate issue but looked the other way because the national chairman had an interest he represented.
Insincere politicians and their shoddy ways. Now they have all allowed the national chairman succeed with his personalisation of the political institution. He has just found out that Obaseki's certificates are fake. How true? They cannot justify.
The same certificates he, Oshiomhole, as governor presented to security organisation and Edo State House of Assembly for screening and got their confirmations of authenticity of the the documents to make him commissioner for eight years. He was also part of the process leading to Obaseki's qualification for party's primaries and subsequent election in 2016.
It is an indictment on Oshiomhole, as an individual, but he went ahead to rub it embarrassingly on the entire APC institution and good conscience members to now tell the country that, those certificates were not authentic now simply because the chairman wants a man he earlier declared as a "thief" emerge as APC candidate, Ize-Iyamu. Edo State people are not fools.
Funniest, Oshiomole's initial blackmailing tool was that Obaseki's first degree certificate from University of Ibadan was fake. Morning of the screening day, University of Ibadan revealed to the country that Obaseki graduated from the nation's premier university. Alas! Instead for Adams Aliyu Oshiomole's men, whom he called the high court and appeal court, to be rightly guided by the UI's confirmation, they turned round to say his HSC, NYSC certificates were defective.
Oh! So you agree that Obaseki has HSC but you had complained that he could not have graduated from UI with three credits and three passes in WAEC. And when you claim HSC and NYSC certificates are defective, in what terms?
A fellow was right, he said: "When a Professor says he has issues with the name written in the Governor's NYSC certificate, what then is the hope of the Nigerian students? You saw Obasek Godwin Nogheghase instead of Obaseki Godwin Nogheghase and you can't differentiate typographical error."
In all of these, heavy troubles loom ahead for the APC as a party and Oshiomole as an individual.
This is the first time one has seen since the beginning of this republic that a party leader would use personal interest to run affairs of a political institution and will force or cajoe the entire process to fall in line including the Independent National Electoral Commission (INEC). Not even under PDP as biggest party in Africa this was done.
An advice to Obaseki at this point is that, he is in charge of Edo State and so he should take control of the situation and heavens will not fall. The September governorship election will be the easiest win for any sitting governor. And he must not fail to contest because Akinwumi Ambode, who refused to go ahead and contest saying he was respecting the party, has now come to know that there is no APC at present but an Oshiomole and the other personal interest he protects.
As for President Buhari, he needs to be told that he must not be involved in this mess by accepting to attend any campaign for anything short of integrity. He should leave the "party" to prosecute the electioneering campaigns of Edo and stay neutral because, these guys are prepared to continue to hide under his name to achieve their personal ambitions they call party interest. They don't love or believe in the President but have no choice because they cannot win any national spread election without his clout. When it is party interest we know. This going in on Edo is not.