*Seeks for media support
*Defender Advisory Board salutes Gusau, Akpor
*New DDI military career
By KEMI KASUMU and BENEDICT OBAYANGBON, Abuja
Brigadier General (Dr.) Tukur Ismail Gusau, the newly appointed Director of Defence Information (DDI), has assumed work at the Defence Headquarters in Abuja, with a pledge to sustain the existing robust relationship between the military and the media.
General Gusau, yet another fine officer of the Nigerian Army, seized the occasion of his inauguration that was witnessed by other senior officers, representative of the governing body of Nigerian Institute of Public Relations (NIPR), on Tuesday January 17, 2023, to charge officers and soldiers of the Armed Forces of Nigeria to be prepared to work harder.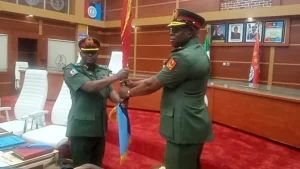 While taking over the flags and instruments of office from the outgoing DDI, Major General Oluwonigho Jimmy Akpor who processed to his new office at the Nigerian Army Headquarters, Gusau noted the place of the media as a key position and the practitioners as key players in any aspect "of our national development. Therefore, I consider you as my key publics in the discharge of my duties."
The new Defence Spokesman said, "As the new acting DDI, the power of media can go a long way in finding solutions to some of the security challenges our gallant troops are curtailing.
"I urge you to provide the enabling environment for the Armed Forces of Nigeria to perform their constitutional roles without distractions.
"As a nation gradually approaching general elections starting from next month, I appeal to you to avoid reports capable of affecting the morale of our gallant troops and credibility of the Armed Forces as we work towards supporting other government agencies to achieve a free and credible election across the country as partners in progress."
The outgoing Spokesman, General Akpor, in his remarks, expressed gratitude to all media partners for their support during his interim service.
Defender Advisory Board salutes Gusau, Akpor
General TI Gusau has been congratulated by AIG Mu'azu Idris Hadeija (Rtd), the President of The DEFENDER Newspaper Advisory Board on behalf of other permanent members of the board, who include Major General Tajudeen Olanrewaju (Rtd), former Minister of Communications, General Officer Commanding (GOC), Third Armoured Division Nigerian Army, Jos, and former Commander Corps of Artillery Nigerian Army; AIG Mohammed Mustapha (Rtd), former AIG in charge of Zone 10 Sokoto; Mallam Yusuf Alli (SAN), Legal Luminary; Mallam Yakubu Ibn Muhammad, immediate past Director General of the Nigerian Television Authority (NTA); Alhaji Ibrahim Abdullahi, Human Resources Expert, and Prince Bashir Adefaka, CEO/Editor-in-Chief.
While also commending the outgoing DDI, Major General Jimmy Akpor, with whom The DEFENDER was establishing relationship at the time he had to move, for him consistency and brilliant performance as spokesman of the topmost military information office, AIG Hadeija wished General Gusau, "a friend of one Nigeria's only multi-lingual newspaper since his days in the ministry of defence, all the best in his new office."
Gusau military career
The new DDI, until his appointment, acted as the Director Protocol Army Headquarters Department of Special Services and Programmes.
Born in the city of Gusau, Zamfara State on January 9, 1969, Brigadier General Tukur Ismaila Gusau, PhD mni, was commissioned into the Nigerian Army after his cadetship training at the National Defence Academy on September 25, 1993 and was posted to the Directorate of Army Public Relations (DAPR).
He bagged a Bachelor of Science degree in Political Science from Usman Dan Fodio University Sokoto and a Master of Science degree in International Relations from Ahmadu Bello University Zaria. He also obtained a Diploma in Public Relations at National Institute for Public Information (NIPI) in Kaduna.
General Gusau attended the University of Leicester, United Kingdom and bagged a Doctorate degree (PhD) in Management.
He attended several military and professional courses commensurate with his rank both at home and abroad. Notably among them are; Young Officer Course (YOC) Infantry, Jaji; Media Operations Course at Koffi Anan International Peacekeeping Training Centre (KAIPTC), Accra, Ghana; Logistics Management Course at the Nigerian Army College of Logistics (NACOL), Lagos; Strategic Communications and Public Relations Course at International School of Communication, London and Harvard Kennedy Strategic Leadership Course in the United States of America, to mention but a few.
General Gusau held several military appointments both at home and abroad. Notably among them are that he was a Lecturer at the Department of Political Science and Defence Studies, Nigerian Defence Academy, Kaduna; Army Public Relations Officer (APRO), 33 Artillery Brigade Bauchi; Army Public Relations Officer, 34 Artillery Brigade Owerri; Military Public Information Officer, United Nations Mission in Liberia; Army Public Relations Officer, Guards Brigade Abuja; Deputy Commandant, Nigerian Army School of Public Relations and Information (NASPRI), Lagos; Deputy Director Army Public Relations (DDAPR) 7 Division Nigerian Army under Operation (OPERATION ZAMAN LAFIYA) and was the Pioneer Media Coordinator, Theatre Command Operation (LAFIYA DOLE) in the North East. Until his recent appointment as the Acting Director Defence Information, he was the Acting Director Protocol Army Headquarters Department of Special Services and Programmes.
He was also the Public Relations and Liaison Officer to the former Honourable Minister of Defence, Brigadier General Mansur Muhammad Dan-Ali (Rtd), during which his service at the Ministry of Defence gave him the rare privilege to the insight and understanding of issues and factors that have shaped Nigeria's Defence policy direction.
General Tukur Ismail Gusau, who was appointed a Research Fellow at the Nigerian Army Resource Centre (NARC), Abuja, had also proceeded to the prestigious National Institute for Policy and Strategic Studies (NIPSS) Kuru, Jos, where he attended Senior Executive Course 43 and was conferred with Member of National Institute, mni.
Apart from other published books and essays by General Gusau, he authored a book titled, "A Collection of Speeches: Mansur Muhammad Dan-Ali as a handy reference document on Defence and strategic studies to enrich knowledge and deepen understanding of Nigeria's national defence policy thrust in the context of global peace."
In the course of his military career, he has the following honours and awards; Force Service Star (FSS), Meritorious Service Star (MSS), Distinguished Service Star (DSS), United Nations (UNMIL) Medal, Nigeria Silver Jubilee Medal, Nigeria Centenary Medal, Operation Zaman Lafiya Medal, Operation Lafiya Dole Medal, River Niger Medal, Fellow Nigerian Army Resource Centre and Member National Institute (mni).