*Femi Fani-Kayode presents him in his struggling days "drinking gari"
*Says "no more ars*s for you to leak here"
By OUR REPORTER
Had Dino Melaye known, he would not have tried to swim in waters he knew not its depth.
This is the simple reaction that is commonly given to the challenges the campaign council spokesman of Peoples Democratic Party (PDP), Senator Dino Melaye, is facing lately particularly since he called out a man known for his sharp sword-speeches, Femi Fani-Kayode.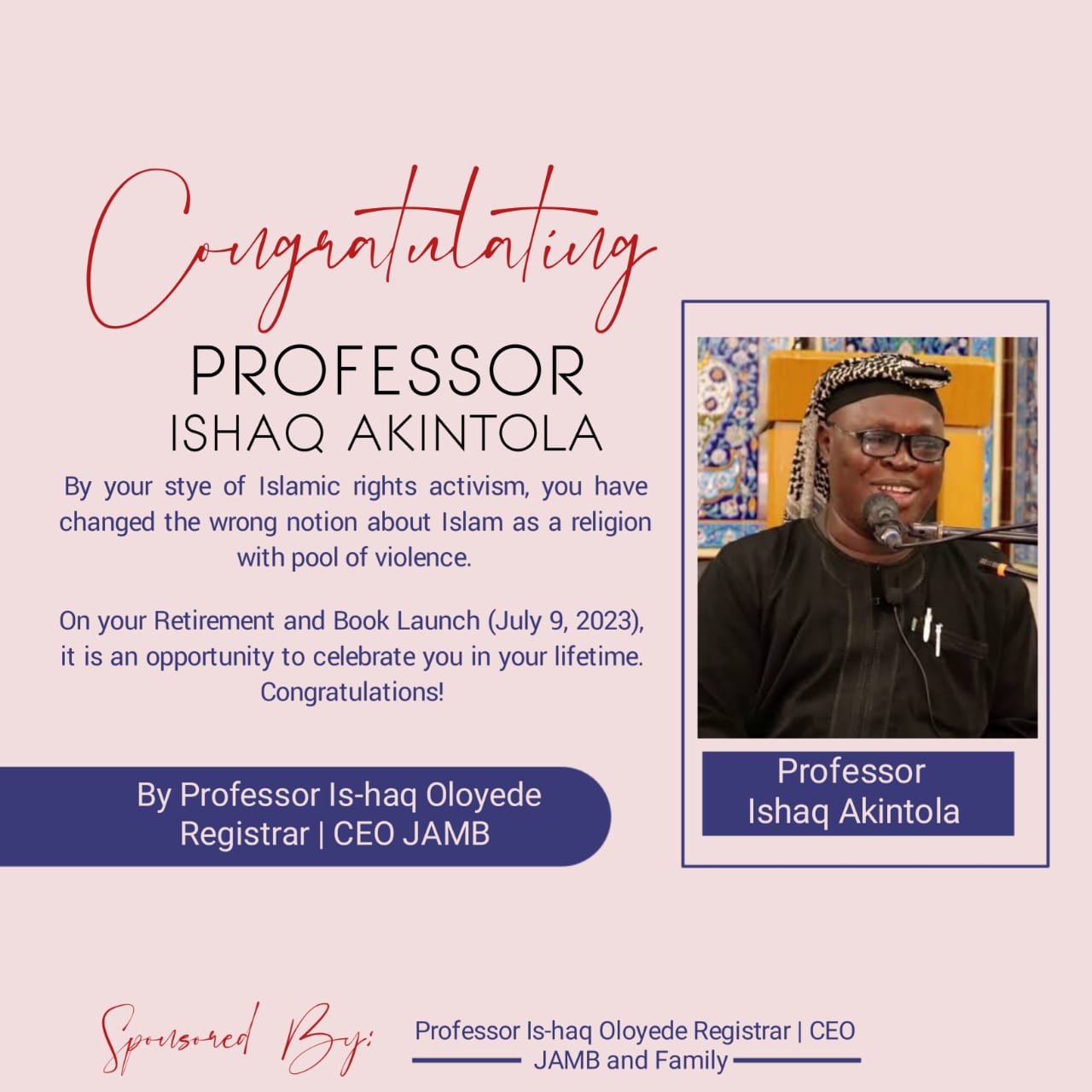 Fani-Kayode, who has shuttled between PDP and All Progressives Congress (APC) since 2015, has found his way back to the ruling party and has been faced with name callings from Melaye, who is now in vantage position to hurl stones from the glass house of the PDP.
Mr. Femi Fani-Kayode, who is a former Minister of Aviation, in a continued social and main stream media altercations, has lately presented a picture of Melaye spelling it out as a his struggling days of drinking gari, interpreted by some watchers of events to mean that the PDP's campaign spokesman would have best been grouped with poverty category without making it to the membership of the House of Representatives and Senatorship of the Senate of the Federal Republic.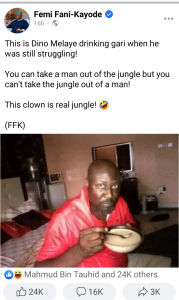 Commenting further, those who commented on the short post said it meant Melaye was in abject poverty until he was able to make money through Reps and Senator, which he was in succession before he lost finally in 2019 after his "unnecessary" fight against the "innocent government of President Muhammadu Buhari and the APC as follower of Bukola Saraki ahead of the last general elections.
Fani-Kayode, posting his comment on the photo, said: "This is Dino Melaye drinking gari when he was still struggling! You can take a man out of the jungle but you can't take the jungle out of a man! This clown is real jungle!  (FFK)", the post said.
Just before this, Fani-Kayode had posted a statement full of name callings in response to the Melaye's verbal abuses earlier.
He said among other name callings, "Gosh I must have really touched a nerve when I raised issues about Dino Melaye's confession of large scale bribery at the PDP Convention and the "election" of Ayu.
"He attempted to respond but only with insults and a long diatribe of wild allegations and subjective invectives. Is that what you call a spokesman for a presidential campaign?
"I don't have time for clowns, filthy peasants and desperate cowards but I couldn't help but notice the anger in his response. He was crying like a baby. And it gave me pleasure.
"I may have been accused of many things but unlike him attempted murder is not one of them. No blood on my hands.
"Apparently it is not only the National Chairman of PDP that is from the gutter.  The spokesman for their PCO (Presidential Campaign Organisation) is too," Fani-Kayode said and still continued to say more.
In what some political supporters would call "bad mouth guy", Fani-Kayode took Dino Melaye more to the cleaners when he said, "What can one say about a man who, when the police chased him with a car, ran into the bush, climbed a tree and hid in it like the little m*nkey that he is.
"What can one say about a man who risked his life and jumped out of a moving police car when he was being taken to his state to answer criminal charges by the police. Such cowardice has never been seen in the annals of our history.
"What can one say about a parasite of a man that licked the arse of Nasir El Rufai for years, then moved to Bukola Saraki's, then moved to Yahaya Bello's, then moved to Nysesom Wike's and then finally moved to Atiku's and licked far more than just ar*e.
"All those gentlemen dumped you after they recognised you for the ill-br*d ignor*mus, sham*less hustl*r, infan*ile prankster, jobless bul*y and desperate cou*t jest*r that you are and be rest assured that after your master Atiku has been roundly defeated at the polls next year and has finished having his fill of you, he will dump you too.
"Then you will have to look for yet another ar*e to lick and it may not be a very clean one.  Yet what can one say about a man that just loves to li*k other men's ars*s?
Truth is there are simply no more clean ars*s left for him to li*k in Nigeria because he has lic*ed them all.
After Atiku dumps him he will have to be satisfied with and manage the dirty ones which is his natural habitat.  I wonder if it is true that he is a certified coprophil*ac who just loves sh*t.
"Again what can one say about a man that keeps cars in his bedroom and sitting room or that fights in the House of Reps until his clothes are torn off, he is stripped naked and thrown out by guards.
"What can one say about a man that hid under his bunk when police laid siege to his house and that stayed there for days until they cut off power and water and he ran out of food?
"What can one say about a man who threatened to beat, rape and impregnate another man's wife on the Senate floor simply because they disagreed politically.
"He forgets that I knew him from his younger days when he claimed to be an activist and a student unionist, when he used to beg for brown envelopes in return for tricks and when he lived off crumbs from the table of others in return for little favours.
"He was nothing more than a tout then and nothing has changed. Fat, ugly, balding, obese man, even at a relatively young age. Enough for now. I will say more about this gu*ter snipe and mannerless, ill-br*d pe*sant later. This campaign has only just started. We have plenty of time and we shall meet in the field," Femi Fani-Kayode, who chose carefully the presentations of his name callings at Dino Melaye, said with much still loading in his stomach.