By KEMI KASUMU
For Atiku/Okowa Campaign Council to "steal" achievements of All Progressives Congress (APC) government of Lagos State, it is a big error unpardonable.
This was revealed in a tweet by Tinubu-Shettima campaign council, picked by The DEFENDER, on Wednesday.
The tweet, brought to the attention of our multilingual newspaper, was made by Minister of State for Labour and Employment and Official Spokesperson of the APC Presidential Campaign Council, Mr. Festus Keyamo (SAN).
It was accompanied with a photo showing Lekki Bridge conspicuously embedded in the Peoples Democratic Party (PDP) campaign banner.
It read, "You all, please come and see something!! In their first campaign advert, after scouting from Delta to Adamawa and seeing nothing with which to campaign, Atiku & Okowa had to borrow @officialABAT Lekki Bridge in Lagos as a campaign material! Chai.
"This is disaster for PDP!" The tweet said.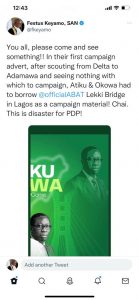 The Lekki Bridge was built by Babatunde Raji Fashola (SAN)-led administration during his time as governor of Lagos State.
Fashola, who succeed Asiwaju Bola Ahmed Tinubu and continued from where he stopped in 2007, was later succeeded in 2015 by Mr. Akinwumi Ambode, who also magnificently made his own impact in the continuity project of building a New Lagos for the four years he spent on office.
Ambode was succeeded by the sitting Governor, Mr. Babajide Olusola Sanwo-Olu in 2019 till date and their immediate past and current administrations have, respectively, seen to unprecedented development of the Centre of Excellence.