By OUR REPORTER
…many other Nigerians from across faiths especially Pastor Kumuyi and the entire Deeper Life Bible Church and Jehovah Witness of the world, who refuse to see UNILORIN and, by extension, Nigeria from the lens of CAN, have been with this administration with some having congratulated the new helmsman of the all-important Institution.
It has been brought to the notice of Nigerian establishment that Christian Association of Nigeria (CAN)'s failure to congratulate the new Vice Chancellor of University of Ilorin, Prof. Wahab Egbewole (SAN), is a clear display of its religious bias and another way of its future crisis in the making that must be watched.
Concerned Nigerian Citizens, a voluntary group that is designed to respond to behaviours considered to be inimical to national interest, in an interview titled, "NEW UNILORIN VC: WHAT IS CAN WAITING FOR?", congratulated Egbewole on behalf of all Muslims, Christians and animists of Nigeria, who are patriotic and challenged Christian Association of Nigeria to do sane to show patriotism.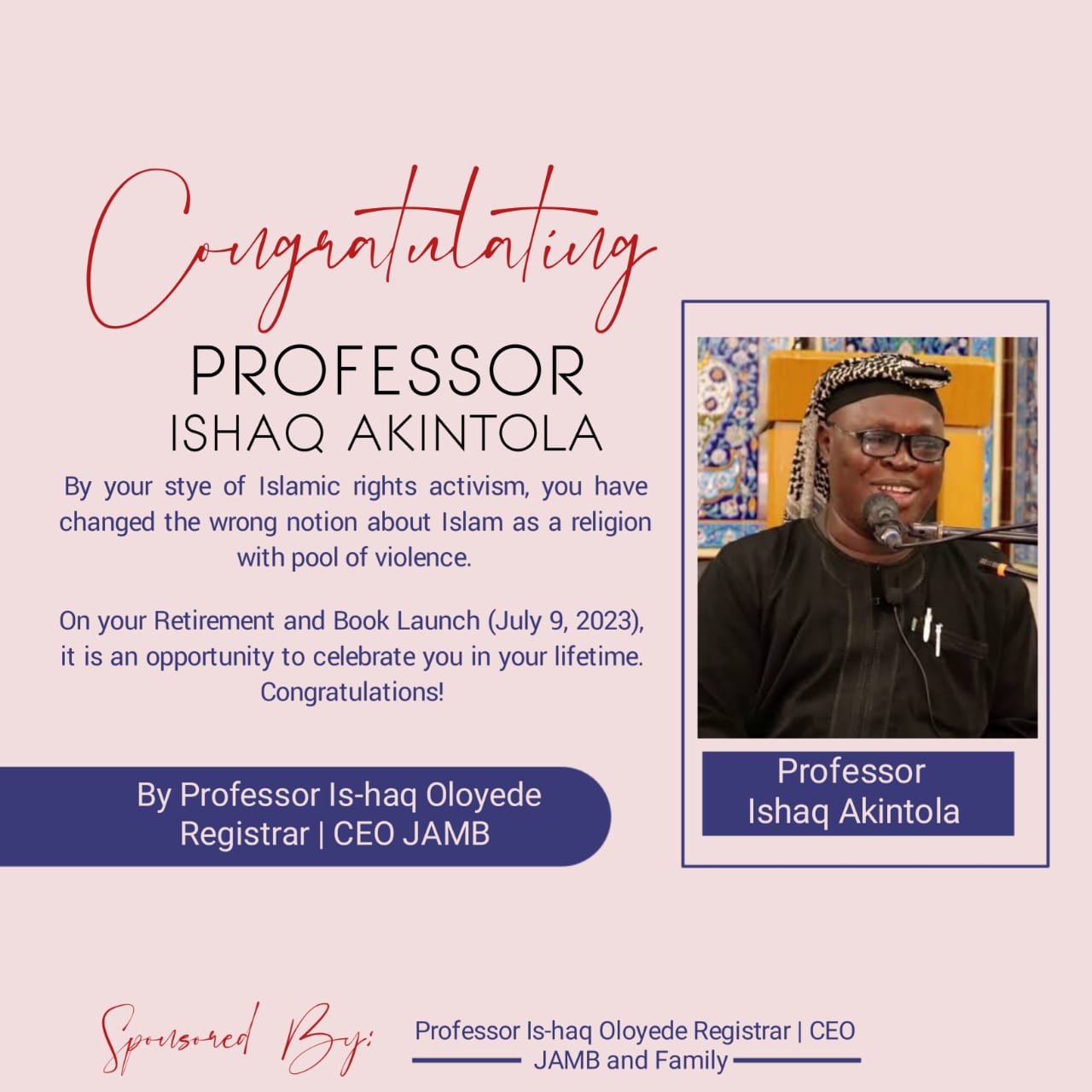 The general belief is that all campaigns of calumny against UNILORIN over its zero tolerance for indecent dressing and its other moral uplifting measures are handworks of CAN and its agents, one of the reasons it became conspicuous, the group posited, that the religious body will not congratulate any Muslim emergence as top man or woman in the university.
Speaking for the group, which has been working in helping government know areas of dangers that people see but keep silent about and yet inimical to national security such activities of smugglers and unpatriotic politicians in the past, Olurode Iklab, exclusively asked Nigerian establishment and all lovers of the country to rise to voluntary responsibility of checking all classes of actors, whose attitudes are unkind to Nigeria, so that government will spend less and security forces will have less to do in terms of providing security and safety for citizens.
Describing doing so as the primary way to go in actualising the new Nigeria that berthed since May 29, 2015 when President Muhammadu Buhari came to power, Olurode submitted that enough of religion-based crisis and controversies the nation has had since 2015.
"To be specific, the Christian Association of Nigeria will continue to find itself in our kind of complaint until the day it comes out to tell Nigerians that it will no longer be part of using of religion as tool for national disturbance."
Asked why single out CAN, he said, "Why do you need to ask when the evidences abound everywhere? Tell me one time that Muslims have justified insecurity when it appears to happen by one bearing Muslim name or hiding under Islam. It never happened but CAN has justified insecurity and evidences are there.
"Look at JAIZ Bank Plc, it is this CAN that goes around using its means and unpatriotic propaganda to paint it bad so members of the public will be wary of transacting with it, until the natural beauties of the truly Islamic bank proved the bigots wrong and JAIZ is now at the frontline in the doing-well group of banks today in Nigeria.
"We have pushed across to CAN, especially when recently it kicked against JAIZ Bank development of the Jos Terminus Main Market in partnership with the state government, that the religious group – apparently designed to wage war against Islam, Muslims and Fulani as seen already – should give directives to all its Christian members who are today gainfully employed and are enjoying their working with the Islamic bank to resign. It has failed to do that. How do you work to earn your living in environment you consider as of 'blood suckers' if indeed you are sincere?" He asked.
Continuing he said, "We have patiently watched Christian Association of Nigeria (CAN) for three days now, essentially because it put itself in it, and we have seen that it has failed to congratulate the new Vice Chancellor of University of Ilorin, Prof Wahab Egbewole, a senior advocate of Nigeria (SAN), who has just emerged from a keenly contested election process and declared by the Governing Council of the University.
"Its problem is simply because of 'Wahab' in his name – a Muslim. CAN would have collapsed the media airspace had one of the Christian contestants emerged. This religious bigotism is unNigerian and must stop," he said.
He added that, "It means CAN is actually a liar over its accusations of intolerance hurled on the Nigerian Muslim Ummah especially since one of its own, innocent Muhammadu Buhari (GCFR), became President in 2015. We have seen how CAN led the front to say Buhari being a Muslim and Fulani man was using Fulani herdsmen and Nigerian military to kill Christians in the country. His American collaborators and government believed him.
"We have seen how CAN and its media as well as civil society agents failed to acknowledge talk less that they would condemn the killing of four Muslims of Igbo origin, who were picked in Okigwe market in Imo and slaughtered by terrorist ethnic fighters, Indigenous People of Biafra (IPOB). More have happened and last Sunday September 4, 2022 murder of very important Islamic scholar of Ebonyi, Sheikh Ibrahim Iyiorji, has not attracted CAN's need for condemnation. But its member, Prelate of Methodist Church could dramatically concocted his kidnap and release, after payment of N100 million, to Fulani who to him and his co-travellers are automatic Muslims.
"Only for CAN, one week after Okigwe wicked killing of Muslims that it failed to condemn, to cry to the world that by the unsupported mob of Deborah in a Sokoto school over her disrespect for other people's religious values, blasphemy, using it to justify its falsehood, there is religious intolerate from Muslim led Federal Government against Christians in Nigeria.
"Remember the five US Senators and their letter to US Secretary of State Anthony Blinken, demanding that Nigeria be blacklisted completely based on the CAN's claims using both Deborah and Owo Church attack cases as unverifiable evidence? Thanks to the General Lucky Irabor-led armed forces, which apprehended the Owo attackers and it became clear they were not Fulani. So, CAN lied and yet failed to apologise till present. They won't be allowed to rest until they change for better. Nigeria is bigger than them."
The Concerned citizens, however, acknowledged with appreciation the quick and positive reactions of patriotic Nigerians, especially Christians despite CAN's cold feet, who have congratulated the professor, who is fourth in succession to Prof. Is-haq Oloyede, now JAMB Registrar, and third after Prof. AbdulGaniyu Ambali to be Vice Chancellor of the "Better by Far" university.
Recall the Muslim Rights Concern (MURIC) earlier today congratulated Professor Wahab Egbewole for emerging the 12th Vice Chancellor of the University of Ilorin.
MURIC, who noted that Professor Wahab Olasupo Egbewole will succeed Professor Sulyman AbdulKareem Age, whose five-year tenure will end 15th October this year, said the professor of law beat 29 contestants out of whom 13 were shortlisted in the race for the highly coveted office of the prestigious tertiary institution in a keenly contested exercise.
"A Senior Advocate of Nigeria (SAN), Egbewole has spent 25 years in the university. He is a legal luminary with a PhD in law and jurisprudence. He is therefore most eminently qualified for the post of vice chancellor.
"We rejoice with professor Wahab Egbewole on this lofty appointment. For somebody who is very hardworking, an unparalleled academic and a seasoned administrator, it is a well-deserved position. As a quiet humanist and unsung philanthropist, both the students and staff of the university are set for pleasant surprises in welfare matters. The University of Ilorin has caught a big fish," it said.
Governor of Osun State Gboyega Oyetola too has congratulated the new UNILORIN Vince Chancellor, and many other Nigerians from across faiths especially Pastor Kumuyi and the entire Deeper Life Bible Church and Jehovah Witness of the world, who refuse to see UNILORIN and, by extension, Nigeria from the lens of CAN, have been with this administration with some having congratulated the new helmsman of the all-important Institution.